What Are Positive Things About Football?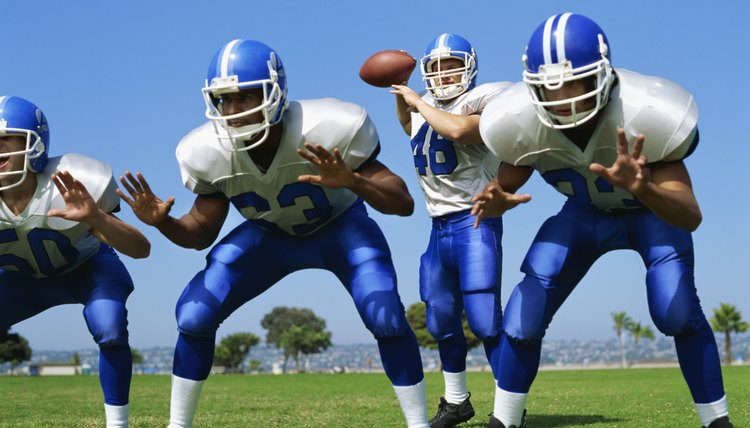 Physical pain is just part of the game of football. However, as of 2013, the scariest issue was how all of those collisions impacted a player's post-game life. The National Collegiate Athletic Association claimed there were 2.5 concussions for 1,000 contacts during college football games in 2011. Concussion talk alone led President Obama to say he wasn't sure he'd allow a child of his to play football. Despite that talk, the game's popularity endured because it still offered significant benefits to its participants, both on and off the field.
Academic Opportunities
A good high school football player can turn that skill into a free college education. That's an option in other sports of course, but none have as many opportunities as football. As of 2013, all Division 1 schools had 85 scholarships for football, and all of them had to be "full rides." According to the NCAA, only 1.7 percent of college players ultimately go pro. However, the players who take advantage of those paid scholarships can set themselves up for some other career.
Social Status
Although few football players ever make the pros, just being a football hero can still raise a player's social status. In small towns, football can become the center of social life according to "Contemporary Issues in Sociology of Sport." A 2008 study it published followed four African-American college football players. It found that participation in the sport significantly raised their social status and encouraged others to listen to them and respect their opinions.
Social Skills
In football, it's routine that all 22 players have something to do on every snap. If one fails, chances are the whole play fails. That means football players have to learn how to actively strategize and communicate, a skill that can carry over to other parts of life. The simple act of a quarterback calling signals nurtures an environment where players must learn to listen to one another, according to "Football and Philosophy."
Exercise
Like other sports, football provides plenty of opportunities for exercise. Unlike some, it encourages both cardiovascular exercise such as running and jumping and strength training. Strength training is a critical component even at the high school level. The book "Survival Guide for Coaching Youth Football" also notes that the constant motion required in football means extra exercise for the players.
Reasoning Skills
Even the strongest and fastest player won't succeed if he can't follow a team's strategy, which can involve learning a huge number of plays and signals. He'll also have to learn why those plays should work and how to apply them under pressure. A 2011 study published in "Social and Behavioral Sciences" specifically mentions that football can help improve spatial reasoning skills. These skills can benefit players off the field. For example, a 2010 article in "Scientific American" emphasizes the important role spatial reasoning plays in math and science achievement.
References
Resources
Writer Bio
Van Thompson is an attorney and writer. A former martial arts instructor, he holds bachelor's degrees in music and computer science from Westchester University, and a juris doctor from Georgia State University. He is the recipient of numerous writing awards, including a 2009 CALI Legal Writing Award.