4 Workout Mash-Ups and Why You Should Mix it Up
Hollywood's got Cyclelates (Spinning combined with Pilates), Manhattan has Piloxing (Pilates and boxing), and across the U.S. there are hundreds of new mash-up exercise classes. Unlike trendy workouts that don't deliver, however, incorporating Pilates and aerobics in one session has been proven to yield results. A study in the journal Medicine and Science in Sports and Exercise found that combining resistance training (like Pilates) and cardio into a single workout measurably improved body composition and built muscular strength much better then aerobic exercise alone. In case you need more convincing, here are three experts' opinions on the hybrid workouts and four workout classes to try for yourself.
1. YAS (Yoga and Spinning)
Kimberly Fowler is widely regarded as the pioneer of these types of hybrid workouts. She opened her first YAS studio in Venice, California, in 2001, and stars like Olivia Wilde and Jake Gyllenhaal love her classes. "If you want a well-rounded workout, you need cardio and you need strength and flexibility training: The key advantage in any of these kinds of workouts is that they provide both," says Fowler. "You start to burn fat 15 minutes into a cardio workout, and we keep your heart rate up for the whole class. The signature YAS class includes a half-hour of Spinning and a half-hour of yoga. Within an hour, you've gotten a tremendous workout. And if you keep at it you're body will be transformed."
Tamara Dragovic/iStock/Getty Images
Expert: Joel Harper
Dr. Oz's personal trainer has spent 20 years helping people achieve their weight-loss goals, and he says he's a big fan of hybrid workouts. "I have been doing mash-up workouts for years: The key is that they work the mind as well as the body. Mixtures of yoga, Pilates and Gyrotonics with another cardio workout is great for your mind and keeps you stimulated and challenged. You want to use all your muscles from different angles. When you mix up your workout, you're challenging your body. When you do something rote, you start to check out mentally, and it isn't as effective."
Tamara Dragovic/iStock/Getty Images
2. Cyclelates
This chic Hollywood studio offers a signature class that's a hybrid of Reformer-based Pilates (30 minutes) followed by Spinning (20 minutes), so you're working hard every second and in and out in about 55 minutes. You get a full-body cardio, isometric and stretching workout, and you'll burn up to 700 calories in one session.
Tamara Dragovic/iStock/Getty Images
Expert: Dr. John Kennedy
The director of preventive cardiology and wellness at Marina Del Rey Hospital in California gives these Pilates-cardio workouts a thumbs-up, especially for women. "The repetitive microtrauma of low-impact aerobics improves bone growth," he says, "and Pilates is awesome for improving core strength and posture. It's excellent for your spine, and, of course, cardio is great for your heart." Dr. Kennedy also points out a stealth advantage of a Pilates or yoga hybrid workout: "These disciplines remind us of our breathing and to be present. You need to find time in your day to relax, and these types of activities help you live in the moment. When you don't work to reduce stress, you tend to exercise less and eat more."
Tamara Dragovic/iStock/Getty Images
3. Piloxing
The creation of Swedish dancer and trainer Viveca Jensen, Piloxing entails an interval-training combo of Pilates and boxing in each class. These classes combine the benefits of boxing (agility, increased muscle strength and personal empowerment) with those of Pilates (flexibility, core strength and long, lean muscles). Piloxing -- with its nonstop movement and resistance work -- burns fat like crazy. With various locations across the U.S., you can go to Piloxing.com to find a trainer or studio near you.
Tamara Dragovic/iStock/Getty Images
Expert: Nadia Zaki
The innovative trainer at Equinox New York believes in hybrid articles so completely she created a fusion workout incorporating the body's core and aerobics. "Using your own body for resistance, you'll always see the best results," she says. "Tools, machines and weights are all great, but at the end of the day, using your own body weight is more organic. You'll build your core, and that will improve your fitness level in a way you'll feel in everything you do."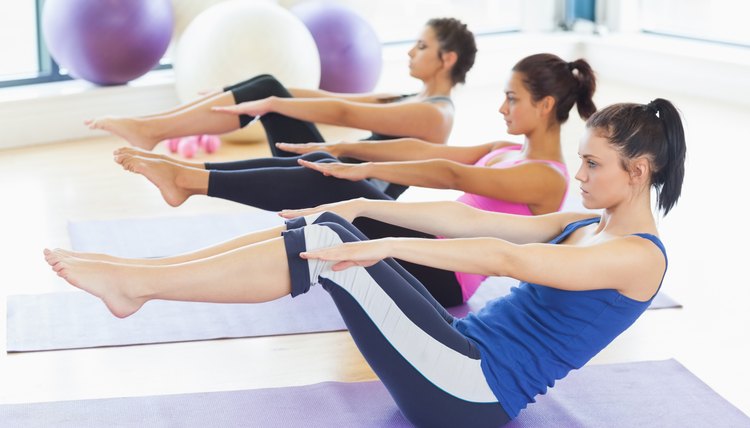 Tamara Dragovic/iStock/Getty Images
4. Cardiolates
Pilates on Fifth co-owners Kimberly and Katherine Corp are pioneers in the hybrid-workout scene and developed the Cardiolates workout in 2004. "We've taken Pilates from horizontal to vertical," says Kimberly. The classes are taught on rebounders (mini trampolines), which, says Corp, "absorb 87 percent of the stress on your joints." The Cardiolates classes include a 10- to 15-minute warm-up (done on a floor mat or the rebounder), 30 to 35 minutes of aerobic work on the rebounder (with a focus on alignment and core consciousness) and 10 minutes of cool-down. "Rebounding gets your body to work in many planes. Focusing in a Pilates manner -- on form and technique -- when performing aerobics yields excellent results," she says.
Tamara Dragovic/iStock/Getty Images
Hybrid Workouts at Home
For those who love the idea of doing a Pilates-hybrid workout but don't have the funds or proximity to a studio, there are many DIY options. Kimberly Fowler has YAS videos available at GoToYAS.com, as does Piloxing's Viveca Jensen on Piloxing.com. Or you can follow the advice of Equinox's Nadia Zaki: "If you cannot get outside for a run or power walk, put your favorite party songs on and get moving in your house. Dancing around, knee-ups, walking in place, jumping jacks, skate jumps or stepping side to side can all be a great cardio option, and four to seven songs can equal up to 20 minutes or more of cardio. Follow up with Pilates-based floor exercises like plank variations, abdominal series and back exercises on your belly -- also called the Superman series."
Tamara Dragovic/iStock/Getty Images
What Do YOU Think?
Have you ever tried a Pilates-cardio hybrid workout? Which classes or DVDs have you tried? Which ones were your favorite?
Tamara Dragovic/iStock/Getty Images
Writer Bio
Laura Vogel has worked in professional publishing since 1994. She has served as a writer for Zagat, copy chief of "ELLE," assistant managing editor of "Us Weekly" and features editor for the "Pulse" section of "The New York Post." Vogel has a B.A. in media studies from Hampshire College in Amherst, Mass.