Casual Discrimination in Olympics Coverage Is the Worst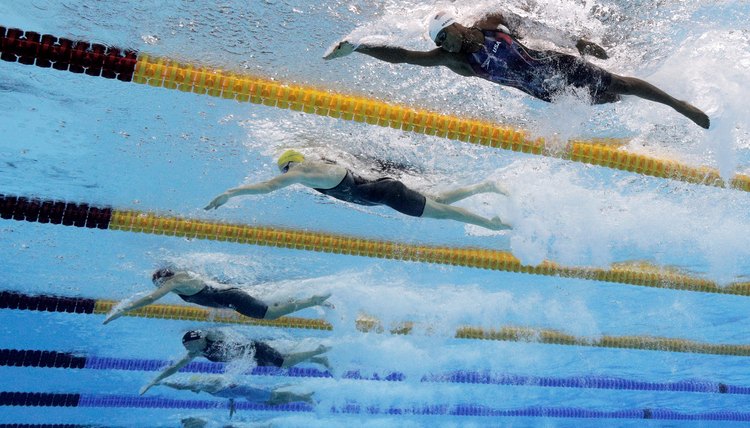 The internet is clapping back at media outlets, commentators and tweeters alike for their casual yet atrocious discrimination of female Olympians this summer. And it's no wonder: New research shows that men are almost three times as likely to be mentioned in relation to sports as women. What's more, when women are mentioned, it is often in association with words like "aged," "older," "pregnant," "married" and "unmarried."
But this is 2016, and people are doing something about it.
The Twittersphere recently slammed NBC commentators for referring to Olympic female athletes as "girls" instead of "women." NBC is joined in the hot seat by the official Australian Olympic Team's Twitter, which used the patronizing term on multiple occasions. And the bill doesn't stop there.
Below are some female Olympians who won't be stifled by casual discrimination.
Katinka Hosszu
Hungarian swimmer Katinka Hosszu demolished the world record by nearly two seconds in the 400-meter individual medley early on in the games. When NBC later telecasted the event, sportscaster Dan Hicks attributed her win to her husband and coach Shane Tusup, naming him "the man responsible."
Viewers took to Twitter to call Hicks out, shouting in all caps and gesturing with emojis. Hicks responded with a "sorry, not sorry" by saying: "It is impossible to tell Katinka's story accurately without giving appropriate credit to Shane, and that's what I was trying to do."
Making Hicks "the man responsible" for an incident of casual sexism.
Simone Manuel
Some female Olympians face an additional competitor: intersectional discrimination — or the kind of discrimination that affects people who have intersecting identities, such as female and African-American.
Olympic swimmer Simone Manuel has won two gold and two silver medals in this year's Olympics. She recently made history by winning the 100-meter freestyle, becoming the first African-American woman to win an individual Olympic gold medal in swimming.
Though it may seem as though her accomplishments warrant name recognition, The San Jose Mercury News thought otherwise when they published an article with the headline "Olympics: Michael Phelps Shares Historic Night With African-American" — a headline which has even more problems than just its casual racism.
After a wave of criticism, the newspaper apologized and edited the headline to include Manuel's name. And although the editor responsible for publishing that travesty didn't seem to get her importance in history, at least the Olympian does:
"This medal is not just for me," Manuel said in the story. "It's for a whole bunch of people that came before me and have been an inspiration to me. It's for all the people after me, who believe they can't do it. And I just want to be inspiration to others that you can do it."
Corey Cogdell-Unrein
Corey Cogdell-Unrein seized her second Olympic bronze in women's trap shooting in a nail-biting tiebreaker on August 7. To congratulate her, the Chicago Tribune tweeted, "Wife of a Bears' lineman wins a bronze medal today in Rio Olympics." The Twitterverse reacted aversely to the media outlet's complete erasure of Cogdell-Unrein. User Erin Ruberry, for one, suggested that the tweet had a major typo: "I think you spelled 'Three-time Olympian Corey Cogdell-Unrein wins her second bronze medal' wrong."
The Tribune later apologized, citing its intention to make the story relevant to Chicago readers: "[Corey Cogdell-Unrein is] awesome on her own. We focused too hard on trying to emphasize the local connection Cogdell-Unrein has to Chicago."
If you're feeling skeptical about their apology, read this article of theirs, which might be more aptly titled, "Bears lineman Mitch Unrein trains for season, has a wife."
He Zi
Chinese diver He Zi earned a silver medal in the women's three-meter springboard on August 14, though it is safe to say that her massive achievement was hijacked by the arguably more banal "achievement" of being publicly proposed to by her boyfriend and fellow Olympian, Qin Kai.
While many were smitten with Qin's romantic offer to take the plunge, others are calling it sexist and saying that he stole the spotlight. And they could be right: The first Google suggestion — which indicates the current most popular search — when inputting "Chinese Olympic" after her medal ceremony was "Chinese Olympic Proposal."
Venus and Serena Williams
Serena Williams is "the most dominant figure in sports today," according to Rolling Stone magazine. She's won four Olympic gold medals to date in tennis singles and doubles. And her sister, Venus, is not one to scoff at either, with four golds under her belt as well.
So when British tennis player Andy Murray won his second consecutive gold medal in men's singles tennis on August 14, he was surprised to hear that BBC presenter John Inverdale had completely forgotten about the Williams sisters.
"You're the first person to ever win two Olympic tennis gold medals. That's an extraordinary feat, isn't it?" Inverdale asked Murray.
"Well, to defend the singles title," Murray quickly responded. "I think Venus and Serena have won about four each."
Twitter also replied, jumping down Inverdale's throat. Some lauded Murray, while others pointed out Inverdale's other sexist blunders. Some went so far as to demand his resignation, but Inverdale still works for the BBC.
Kudos to Murray for his impeccable memory.
Katie Ledecky
In what world is a silver medal worth more than a record-breaking gold medal? Ours, apparently.
In Rio, swimming powerhouse Katie Ledecky broke her own world record in the 800-meter freestyle, set back in 2012. Her earlier wins in the 200 and 400-meter rallies make her the first woman to seize the gold in all three events since American Debbie Meyer in 1968. But apparently that wasn't up to scratch for the Greeley Tribune.
Law professor Nancy Leong threw the Internet into frenzy when she tweeted a photo of a headline from the Colorado-based newspaper. It reads, "Phelps Ties for Silver in 100 Fly," in large, bold print, followed by a sad microcosm of women's reality: "Ledecky sets world record in women's 100 freestyle," in smaller print. Leong wraps it up nicely with her comment: "This headline is a metaphor for basically the entire world."
One commenter fired back at Leong, saying that Phelps' name would likely garner more interest and sell papers. Another politely advised male dissenters to Google "mansplaining," then kindly stop doing it.
While Phelps is undoubtedly a living legend, having broken a 2,000-year-old record with his 22nd Olympic gold medal, it's telling that a newspaper — which appears to have course-corrected online — would chose to run a headline about a runner-up rather than a winner.
Shawn Johnson's (Sponsored) Crusade
Olympic gold medalist Shawn Johnson has been speaking up about the media's excessive and disproportionate need to critique female gymnasts' bodies. She describes being constantly compared to USA gymnast Nastia Liukin.
"We were always told that if we were like the other, we'd be stronger, but it doesn't work that way," Johnson tells Huffington Post. "And I remember always hearing that I had to be taller and leaner and more flexible, and a lot of that was impossible. I obviously can't be taller. It was always in the back of my mind."
Johnson's stance is linked to Dove's #MyBeautyMySay campaign, evidence that, in today's environment, corporate America is even willing to pay to counter all that awfulness.
Is This Racist?
Controversy, of course, is not limited to female athletes.
On Sunday, August 14, 2016, two pro photographers — Getty Images' Cameron Spencer and Reuters' Kai Pfaffenbach — captured Jamaican sprinter Usain Bolt smiling back at his competition in the 100 meter semifinal of the Olympics in Rio. The photographs immediately took off across social media, with fans of the six-time gold medalist and press like Yahoo Sports hailing the images as among the "best sports photos ever."
Enter: Ellen DeGeneres. After the talk-show host posted a photoshopped image of herself riding on Bolt's back with the caption "This is how I'm running errands from now on. #Rio2016," the Twittersphere erupted in accusations of racism.
"You thought it'd be funny to post a pic of yourself riding on the back of a Black man? Nope. Delete this racist garbage," user @MikeAllen_47 replied.
"I am highly aware of the racism that exists in our country," DeGeneres tweeted in response to the backlash. "It is the furthest thing from who I am."
Has the internet overreacted here? Some think so.
"Honestly, there's nothing offensive in this photo. Its merely a compliment on his speed. Get over yourselves, world," replied user @vivelagaia.
Olympic Bulges
In another instance, male objectification grabbed the spotlight when Cosmopolitan magazine posted a lineup of male Olympian crotch shots. Twitter quickly slammed the women's magazine, deeming the article sexist and hypocritical.
"Double standards are 'effing horrible,'" tweeted user @o_beswetherick with images of contradicting content.
The magazine responded by sharing an article of theirs from 2014. (Apparently, this isn't the first time Cosmo has come under fire for its banana-hammock breakdown.)
"Objectifying women, reducing them to nothing but body parts, has been de rigeur in our celeb culture for as long as I can remember," Anna Breslow writes, "but every time in recent memory that a famous man has received the same treatment, his team immediately demands that we Respect the Craft of This Very Serious Man."
She has a point, but the real question is: Do any of their female readers actually enjoy their gallery of grape smugglers?
This article was updated on Aug. 16, 2016, to include a section on Katie Ledecky and to note that two photographers had captured versions of the iconic Usain Bolt image.
What Do YOU Think?
Did you think any of these cringe-worthy moments were casual discrimination when they first happened? What do you think of the social-media uproar? To what extent should comedians practice discretion in order to avoid offending groups of people?
References
Writer Bio
Hoku Krueger recently graduated from Occidental College with a B.A. in English and Comparative Literature Studies and a minor in French Language Studies. During her time there she wrote for the Occidental Weekly and interned with The Maui News.