How to Stretch the Upper Thigh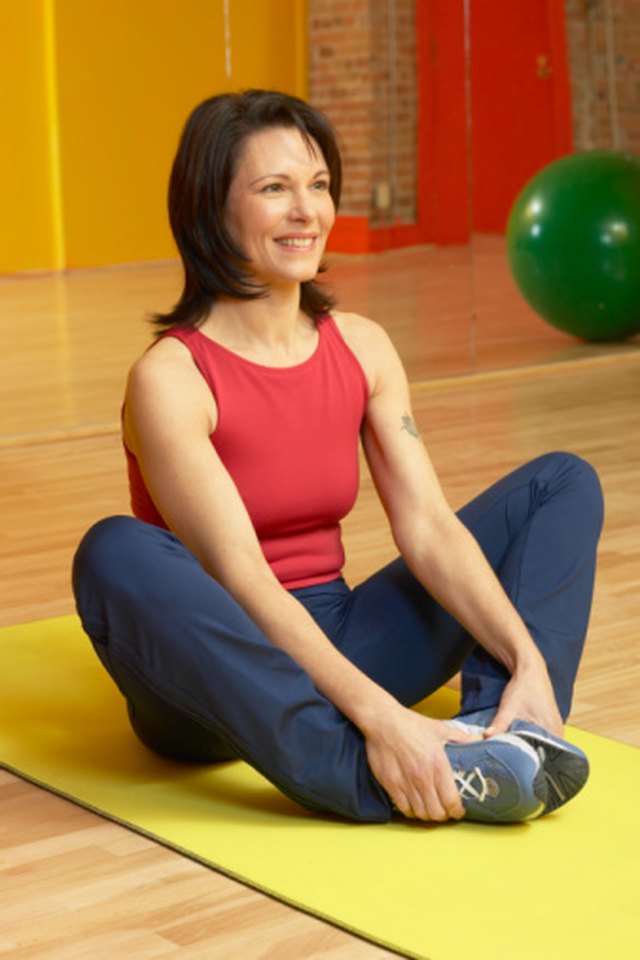 The muscles that attach to or lie within your upper thigh act on your hip joints, allowing you to move your thighs through various ranges of motion. These include the hip adductors, the buttocks, which enable hip abduction and extension, the hamstrings, which assist with hip extension, and the hip flexors. Stretching these muscles involves lengthening them until you feel gentle tension, and then holding the stretch for 10 to 30 seconds, which may increase your flexibility and your hip-joint range of motion. Ask an exercise professional for a comprehensive list of stretches.
Sit upright on the floor to perform the butterfly stretch, which targets the hip adductors on the inside of your thighs. Place the bottoms of your feet together with your knees spread apart, then press on the insides of your knees until you feel a light stretch. You also can have a partner push your knees apart, if desired.
Start in the same position as the butterfly exercise to stretch the hip abductors, but extend your legs forward and cross one foot over the opposite knee. Hug your bent leg with both arms, pulling it toward your chest until you feel light tension through the outside of your buttocks, then hold. Perform the stretch with your opposite leg, as well.
Lie on your back to stretch the gluteus maximus and hamstrings, which cooperate to extend your hip joints. Lift your left foot and bend your knee, drawing it toward your chest, and pull it closer with both hands. Hold the stretch for your desired amount of time, then switch legs.
Kneel on one knee to stretch the hip flexors. Place your opposite foot on the floor in front of your body and flex the same knee to press your weight forward until you feel tension through the hip flexors of your back leg. Hold this position for 10 to 30 seconds, then switch legs.
Tips
Perform a low-intensity aerobic activity -- such as jogging, jumping rope or walking -- for five to 15 minutes to warm up before stretching.
Pay attention to your breathing as you hold each stretch and try to deepen the stretch slightly with each exhalation.
Hold each stretch for a second and return to the starting position repeatedly to perform it dynamically.
Warnings
Stretching can cause muscle-strain injuries if you apply too much force.
References
Basic Biomechanics; Susan Hall
NSCA's Essentials of Personal Training; Roger Earle and Thomas Baechle
Relax Into Stretch; Pavel Tsatsouline
Writer Bio
Matthew Schirm has worked in the sports-performance field since 1998. He has professional experience as a college baseball coach and weight-training instructor. He earned a Master of Science in human movement from A.T. Still University in 2009.