George W. Bush Is on a Wellness Makeover Journey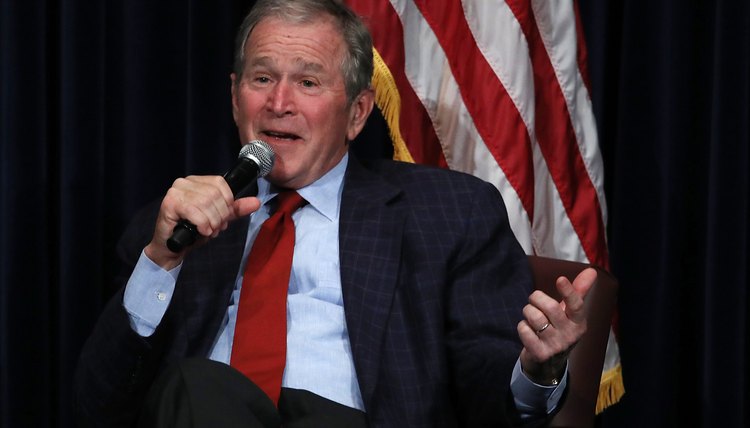 Ever since George W. Bush publicly struggled with getting his rain poncho on during Trump's inauguration, we've been seeing a more human side of him than ever before. But according to recent revelations, Bush is a lot more like many of us than we ever thought. The former president is currently working on living a healthier, more fit lifestyle. Good for you, Dubya!
Bush has added a variety of activities as part of his wellness makeover, and they include painting, mountain biking with military men and women and even yoga! That last one seems to have gotten our energetic former prez into a bit of hot water, however.
Former first lady Laura Bush remembers one January when she and the former president were vacationing in Florida and did an interview with People. She recalls a specific situation when her husband and former Commerce Secretary Don Evans arrived late for a yoga class taught by her favorite instructor.
"George and Donny will go work out, so they're really sweaty — warmed up so they can stretch — and then come to yoga in the back row," she recalled while chuckling during the interview. "Donny, George and Charlie, our other friend — one time, they had to be asked to leave because they were behaving badly."
It seems that Bush, who has admitted he prefers playing speed golf, might've gotten a bit bored during a long planking session or a downward-facing dog, proving once again that he's just like most of us when it comes to a snooze-inducing yoga session. Maybe he could learn a thing or two from Sylvester Stallone, who recently tried Pilates with his daughter. Maybe it's more his speed?
No matter how the former president decides to work out or tend to his mental well-being, we're happy he's determined to live a long and healthy life so he can continue to enjoy time with his growing family. Also, how weird is it that he's actually pretty good at painting?
What Do YOU Think?
How would you have reacted if former president Bush was kicked out of your yoga class? What if you were the teacher and had to ask him to leave?
Writer Bio
The LIVESTRONG.COM editorial team works hard to help you live stronger, healthier and happier. We are a team of editors working hard to bring you informative and engaging healthy lifestyle content.