The Best Ankle Braces for Volleyball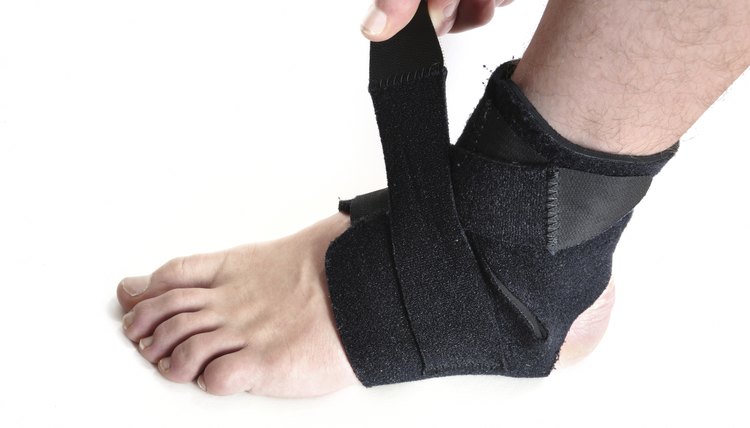 Ankle injuries commonly occur when a player at the net lands on the foot of an opponent or teammate after jumping to block or attack the ball. The best braces on the market consist of sock braces, mechanical braces and aircell braces. Each of these braces are alike, offering support and comfort but vary in the way they provide support. The best brace varies depending on the player's needs.
Put a Sock In It
Sock braces are one size fits all and adjusted with laces. The material consists of non-stretch fabric. Sock braces are simple to use, effective and provide stability to the entire ankle. Sock braces are the best in terms of ease of use and comfort.
The Mechanic
Mechanical braces are designed to provide rigid support. The brace wraps around the ankle with straps and is secured with a stirrup under the base of the foot. This brace provides support on both sides of the ankle, which is effective since majority of ankle sprains are in the lateral plane. Mechanical braces are one of the most widely used braces in volleyball and considered the best for ankle support without limiting range of motion.
Pumped Up
Aircell braces are designed similarly to the mechanical braces but are lined with aircells or gels. This feature provides compression and protection for injured ankles and can help decrease swelling and discomfort. Aircells are the best braces for volleyball players recovering from an injury, providing protection and support.
References
Handbook of Sports Medicine and Science, Volleyball; Jonathon Reeser and Ronald Bahr
Athletic Footwear and Orthoses in Sports Medicine; Matthew Werd and Leslie Knight
Writer Bio
Heather Steele is a nutritional sciences graduate from the University of Oklahoma. She is a nationally registered dietitian and medically licensed. Steele currently practices dietetics in multiple public school systems promoting healthy eating, exercise and well-being by providing nutrition educations.