How to Become a Zumba Instructor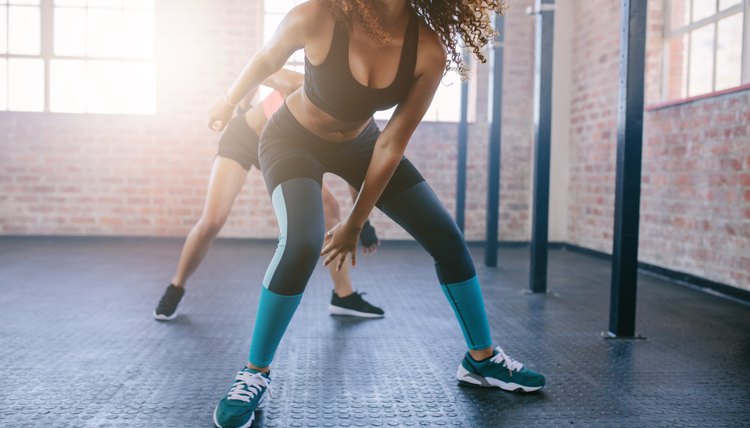 Stay Fit With a Fun Career
Zumba is a trademarked fitness program that combines aerobic exercise with Latin dance moves. It incorporates fast and slow rhythms with resistance training, making it an effective workout for people of almost any age. Instructors can set their own hours, so it's easy to balance teaching with family life. You can even involve your kids with Zumba classes tailored just for them.
Job Description
There are several different kinds of Zumba classes, and instructors can opt to teach one or more. Aqua Zumba classes are held in the shallow end of a pool, and students do not need to be able to swim to participate. Zumba Toning and Zumba Step incorporate weights for strength training and extra calorie burning. Zumba Sentao provides an intense core-strengthening workout. Zumba Gold and Zumba Gold-Toning classes are slower paced for active, older adults, while Zumba Kids and Zumbini recreate the dance party experience for children and babies.
Because Zumba classes are so intense, most instructors teach only three to five classes per week. You will not teach Zumba full-time. Full-time positions are available if Zumba instruction is combined with other duties at a fitness center or another venue where classes are taught and people work out.
Education Requirements
No formal degree is required to become a Zumba instructor. Anyone 18 years or older may enroll in training. While it's helpful to have experience as a Zumba class participant, it's not necessary. Zumba Basic or Zumba Jump Start Gold Instructor Trainings take you through all the moves and teach you how to lead a group exercise class. An outgoing personality and a passion for Zumba fitness are essential.
Basic training is delivered through a one- or two-day class by a certified Zumba instructor. As part of the training, you'll receive take-home CDs and DVDs to reinforce what you've learned and provide you with the music to get started with classes. Upon successful completion of the training, you'll be licensed to teach Zumba for one year. Numerous options are available to take the necessary training to renew licensure and to obtain licenses to teach specialty classes. Each training class typically costs $225 to $295.
About the Industry
Zumba's tagline is "Ditch the Workout, Join the Party!" Zumba, which was developed in Colombia in 1986 by aerobics instructor Alberto Perez, makes fitness fun by incorporating moves from Latin dances such as salsa, merengue and samba. First introduced in the U.S. in the late 1990s, Zumba has developed a huge following, with more than 10 million regular participants worldwide.
You can find Zumba classes in fitness centers, community centers, dance studios and dedicated Zumba studios. Depending on demand, classes are offered during daytime and evening hours and on weekends.
Years of Experience
The U.S. Bureau of Labor Statistics includes Zumba instructors in its classification of all fitness trainers and aerobics instructors. The median hourly wage is $18.34, which means that half of the instructors earn more, and half earn less. The annual salary for a full-time instructor averages $38,160. Years of experience are not as important to wages as geographic location. Instructors at upscale facilities and in metropolitan areas with a higher cost of living often make more.
Some typical salary ranges for full-time fitness trainers and aerobics instructors:
Less than one year of experience: $37,015–$42,248
5–6 years of experience: $42,918–$53,994
10–14 years of experience: $43,589–$55,570
20+ years of experience: $43,589–$55,570
Job Growth Trend
Job opportunities for fitness instructors, including Zumba instructors, are expected to grow faster than average over the next 10 years. Businesses, insurance companies and government institutions are increasingly recognizing the benefits of health and fitness programs for employees, and many offer incentives for participation.
References
Writer Bio
Denise Dayton, M.Ed., M.S. teaches career readiness and workplace success, along with other business courses, at a small college in New England.