The Sacrifice Michael B. Jordan Made for His Black Panther Physique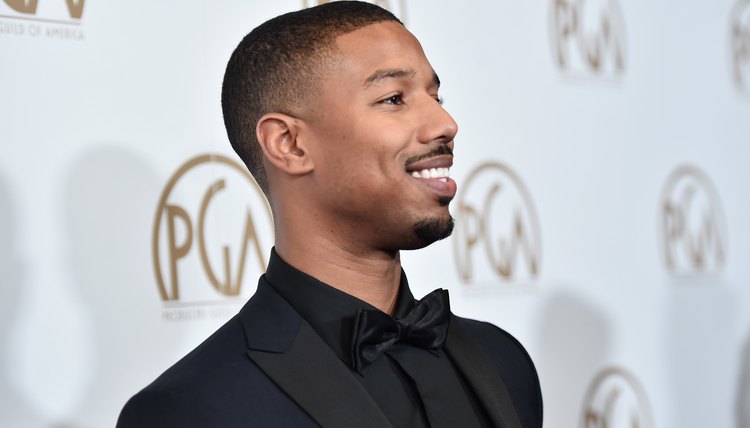 Michael B. Jordan is learning firsthand that training to be a kickass on-screen superhero takes quite a bit of sacrifice.
Ahead of filming for Marvel's latest superhero blockbuster, "Black Panther," the 30-year-old followed a strict regimen of six meals, two to three workouts and one gallon of water a day — and the stringent program did a number on his social life.
"I was on the press tour for 'Creed,' and [director Ryan Coogler] called me up and was like, 'Hey, we're about to go shoot this other movie. Do you want to do it?' And I was like, 'Cool, let's go have some fun.' And that was literally it," he tells Ellen DeGeneres on a recent episode of The Ellen DeGeneres Show. "From that moment on, I just decided to dedicate everything to getting in shape and becoming Eric Killmonger."
While you'd think that all that meal prepping and working out would leave Jordan completely wiped out and able to sleep though anything, his commitment to hydration affected his sleep in an unexpected way.
"Do you know how often you have to go to the bathroom when you're drinking a gallon of water? It's not fun," he says. "Especially in the middle of the night, you're trying to sleep, and you gotta wake up, and you're like, I'm just going to hold it, and it just doesn't quite work out."
His training also impacted his ability to socialize: "I mean, it's hard to go out to a club or party when you're like, 'Oh wait, meal prep. I've got to go pop this thing in the microwave,'" he says. "It's tough to socialize when you've got to get in shape like that."
Does this mean he's single? Asking for a friend.
Jordan stars alongside Academy Award-winner Lupita Nyong'o, who takes on the role of Nakia, and Chadwick Boseman, who plays T'Challa (aka Black Panther). The film, which tells the story of prince T'Challa's return home to the African nation of Wakanda following his father's death, opens in theaters everywhere on February 16. It's already received rave reviews from critics, one of whom noted that it's "the first comic-based studio movie with a black hero at the center since 1998's 'Blade.'"
But how do you get as shredded as Jordan? Last year his trainer, Corey Callait, revealed that to get in shape to play boxer Adonis Creed, he combined cardio with circuit training to melt fat and gain muscle. And, in a short film he made in collaboration with Nike and Vice called "Grounded," Jordan can be seen doing various weight training, body-weight, cardio and boxing moves.
Although "Black Panther" wrapped a long time ago, Jordan is now training for "Creed 2". Meaning that his post-interview plans were to go directly to the gym. DeGeneres promptly asked if he ever wanted to play a character who laid around and did nothing.
"Yeah, just eat pizza and hang out? I think that's next. Just become method and sit there with the belly. Six-pack to a keg," Jordan responds jokingly. "I'm working on that."
Writer Bio
Cathleen Krueger is a freelance writer who specializes in health, wellness, celebrity, entertainment, tech and gaming.