What Are the Average Yards Per Club for a Pro Golfer? (With Video)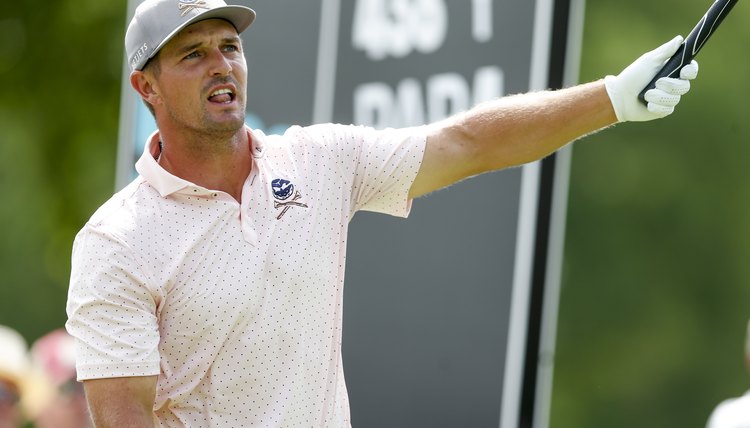 PGA Tour golfers are, not surprisingly, capable of hitting the ball farther than amateur golfers and even average golfers -- not only off the tee but also with each golf club in the bag. A pro player is also careful to note how far he can hit each club, so he knows which iron, wood or hybrid to pull from the bag during tournament play. The PGA Tour, meanwhile, keeps a variety of statistics regarding the distances that players typically hit the ball with each club like clubhead speed, swing speed, yardage, carry distance, ball speed and more. Here's the average shots for PGA golfers as they fly fairways on the golf course.
Average Carry Per Club
A 2022 article on the Golfing Focus website listed the average carry (the distance a ball travels in the air) of each club used by PGA Tour players over the previous four years. The statistics are based on the PGA Tour's Shotlink system, which tracks each shot played on the tour.
The average driving distance carried 296.6 yards and traveled a driver distance total of 307.3 yards, including the roll. An average 3-wood shot carried 249 yards and the average 5-wood carried 235 yards. The typical carry for a 3-iron shot was 217 yards; for a 4-iron 208; for a 5-iron 199; for a 6-iron 188; for a 7-iron 177; for an 8-iron 164; and for a 9-iron 153. The average PGA Tour pitching wedge shot carried 122 yards.
How has average carry increased in recent years?
SportsRec
Total distance has increased in recent years, not due to skill level but because of new technology championed by golfers like Bryson Dechambeau. This has made hitting the driving range more important as average golf club distances grow for the average male professional. Emphasis on launch angle and spin rate has led to many tour pros skipping their local courses and heading to driving ranges with launch monitors so they can improve iron distance and create more smash factor.
Average Total Yards Per Club
According the Leaderboard website, PGA Tour players' average 4-iron shots travel 203 to 254 yards (including the roll).
They can hit 5-iron shots 194 to 243 yards; 6-iron shots 183 to 229 yards; 7-iron shots 172 to 215 yards; 8-iron shots 160 to 200 yards; and 9-iron shots 148 to 185 yards. The average distance for a pitching wedge is 136 to 170 yards; for a sand wedge 115 to 120 yards; and for lob wedges 75 to 95 yards.
Average Yards for LPGA Players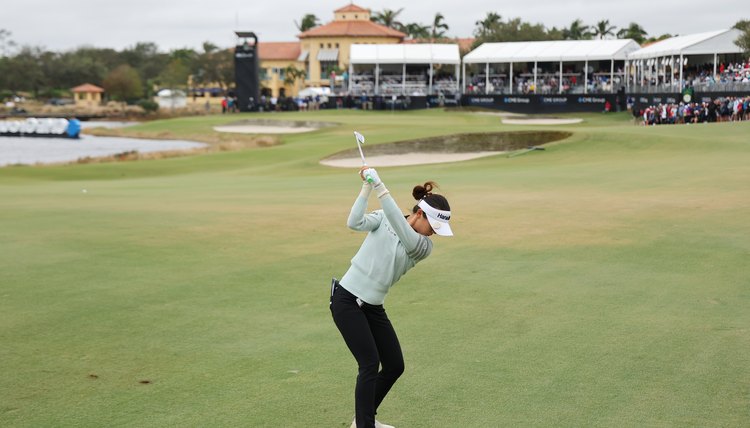 SportsRec
Since male golfers hit further than female golfers, the golf club distance chart is much different for female pros. But that doesn't make them short hitters by any means.
According to LPGA tour statistics, the average female professional's driver carries 246 yards and travels 258 total yards. Her 3-, 5- and 7-woods carry 195, 185 and 174 yards, respectively and total 218, 200 and 186 yards.
LPGA pros hit 4-irons that total 180 yards; 5-irons 170; 6-irons 152; 7-irons 141; 8-irons 135; and 9-irons 123 yards. Typical pitching wedge shots total 109 yards.
Driving Distance
SportsRec
Rory McIlroy was the PGA Tour's longest hitter off the tee in 2023, averaging 328 yards on his tee shots, according to PGA Tour statistics. Ninety one other golfers average over 300 yards with their golf drivers. This is a major increase from just three golfers over the 300 yard mark in 2011.
Writer Bio
M.L. Rose has worked as a print and online journalist for more than 20 years. He has contributed to a variety of national and local publications, specializing in sports writing. Rose holds a B.A. in communications.