What does fact checked mean?
At SportsRec, we strive to deliver objective content that is accurate and up-to-date. Our team periodically reviews articles in order to ensure content quality. The sources cited below consist of evidence from peer-reviewed journals, prominent medical organizations, academic associations, and government data.
The information contained on this site is for informational purposes only, and should not be used as a substitute for the advice of a professional health care provider. Please check with the appropriate physician regarding health questions and concerns. Although we strive to deliver accurate and up-to-date information, no guarantee to that effect is made.
Core Strength Training Workouts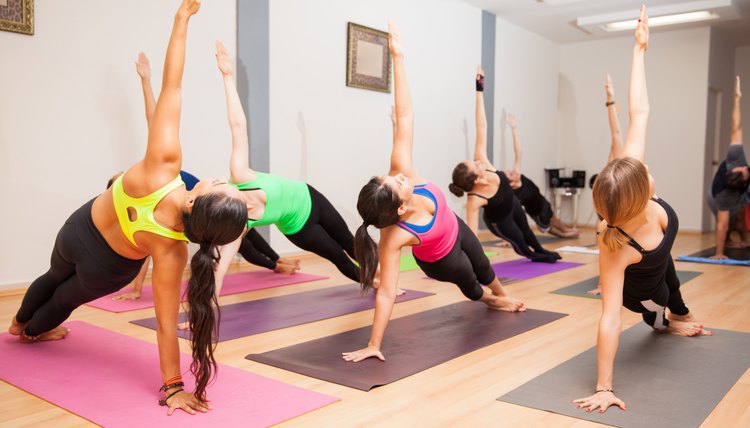 Your core provides strength and stability for the rest of your body, which is why it is important to develop these muscle groups. The core not only consists of the rectus abdominis and transverse abdominis, better known as the abdominal muscles, but it also includes the obliques, lower-back and glutes. A great core workout needs to address each area and from multiple angles to get a toned six-pack and a powerful midsection.
Crunches
While crunches shouldn't be the only exercise that your core workout plan consists of, the basic crunch, and modifications of it to add difficulty, is a good starting point to target the abdominal muscles. Begin by lying on your back with your feet flat on the ground and your knees bent. Your heels should be about 12 inches from your bottom. Put your hands behind your head and keep your elbows out to the sides. Engage your abs to curl your head and shoulders off of the ground and lift your torso toward your knees until your upper back is off the ground. Slowly lower your torso back to the ground to complete one rep. Extend your arms over your head to make the exercise more difficult. Do two to three sets of 10 to 12 reps with 45 to 60 seconds of rest between each set.
Standing Cable Rotation
The standing cable rotation works many of the core muscle groups including the abs, obliques and lower back with it's side-to-side, twisting motion. This exercise needs to be done with a piece of resistance tubing or cable machine. Start with your feet hip-width apart, standing alongside either the cable machine or the resistance tubing. Hold the cable close to your body just under your chest. Twist away from the cable by moving your head, chest and torso together. Hold for a moment and then return to the starting position. Extend your arms to increase the intensity of the exercise. Do two to three sets of eight to 12 reps for each side, resting for 45 to 60 seconds between sets.
Stability Ball Knee Tucks
Work your abs, lower back and glutes with stability ball knee tucks. Begin in the pushup position with your shins resting on top of the stability ball. Draw your legs in towards your chest while pulling the stability ball in as well. Keep your arms and shoulders locked to stabilize your upper body. Squeeze your glutes and extend your legs back to the starting position to complete one rep. Do two to three sets of eight to 12 reps.
Rolling Side Plank
This exercise targets the abs and obliques while also working the entire core. Begin in the plank position by resting on your forearms with your legs extended behind you. Rotate onto your left forearm so that you are in the left side plank position. Hold for a moment before returning to the starting position. Hold this position for a moment and then rotate onto your right forearm so that you are in the right plank position. Hold and then return to the starting position. Continue this pattern for 45 seconds.
References
Writer Bio
Based in the Los Angeles area, Brandi Junious specializes in health-related articles. Her writing reflects her expertise in fitness and education. Junious is the author of children's book "A World Without Trees" and her work has appeared on Modern Mom, The Nest Woman, Chron Healthy Living and at Loseweightandlivehealthy.blogspot.com. Junious holds a bachelor's degree in psychology from the University of Southern California and a master's degree in Education.