What does fact checked mean?
At SportsRec, we strive to deliver objective content that is accurate and up-to-date. Our team periodically reviews articles in order to ensure content quality. The sources cited below consist of evidence from peer-reviewed journals, prominent medical organizations, academic associations, and government data.
The information contained on this site is for informational purposes only, and should not be used as a substitute for the advice of a professional health care provider. Please check with the appropriate physician regarding health questions and concerns. Although we strive to deliver accurate and up-to-date information, no guarantee to that effect is made.
What Are the Benefits of Walking Poles?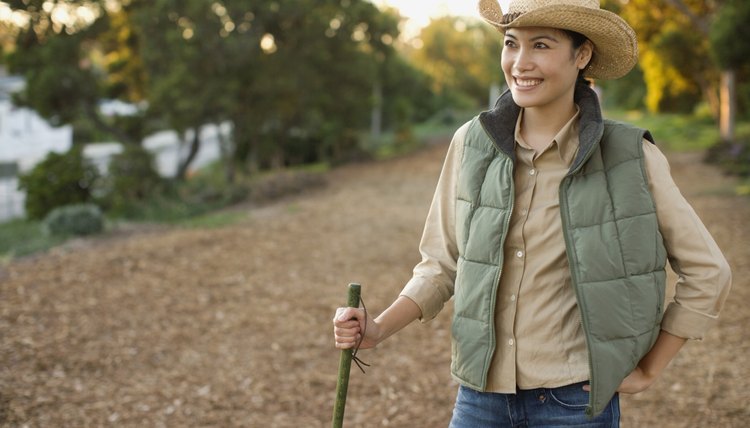 Walking with poles is an exercise that is easy on the joints and gives you a great workout. Walking poles began to appear in the news in 1988 but are still relatively uncommon. You can enjoy the benefits of increased upper body strength and improved balance by adding walking poles to your daily walk. Tom Rutlin, creator of the Exerstride Nordic Walking method, is credited with bringing the first commercial walking poles to the United States.
Get a Total Body Workout
Brisk walking is an effective workout that works your heart and develops strong leg muscles. However, walking by itself does not tone your upper body. Walking poles work your arms, shoulders, chest and upper back muscles through a full range of motion as you walk. The effort you use swinging the poles transforms your daily walk into a total body workout. The motion you use is similar to that of cross-country skiing.
Build Your Balance
A 2009 study published in the Clinical Rehabilitation journal compared groups of men who walked with poles with those who did not. The study found that lower body endurance and dynamic balance were significantly better in the Nordic Walking group in comparison with the walking training and control groups. You improve your balance while walking with poles because the walking poles force you to move with good posture in an upright position, which trains your body and properly aligns your spine while in motion. This correct walking posture will improve your balance over time.
Sneak in Some Core Strengthening
Walking with poles also strengthens your core abdominal muscles, which are the muscles you use to lift, bend over and support yourself as you walk. When you use walking poles, you engage your abdominal muscles every time you lift and plant the poles in front of you and as you bring the poles back to front. This keeps your core muscles engaged throughout your entire walk. You will not only feel the difference as you exercise, but over time you may also see a difference in the appearance of your abdominal muscles.
Boost Your Calories Burned
According to a study published in 2002 edition of the Research Quarterly for Exercise and Sport, walking with poles significantly increased the amount of oxygen the participants used and the number of calories they burned. Walking without poles burns approximately 200 calories per half an hour, but by adding poles to your workout, you will increase the rate you burn calories, which gives you a more efficient workout for your time. If losing weight is one of your goals, walking with poles may help you reach your goal weight more quickly.
References
Writer Bio
Diane Lynn began writing in 1998 as a guest columnist for the "Tallahassee Democrat." After losing 158 pounds, she wrote her own weight-loss curriculum and now teaches classes on diet and fitness. Lynn also writes for The Oz Blog and her own blog, Fit to the Finish. She has a Bachelor of Science in finance from Florida State University.