The Best 30 Minute Workout DVDs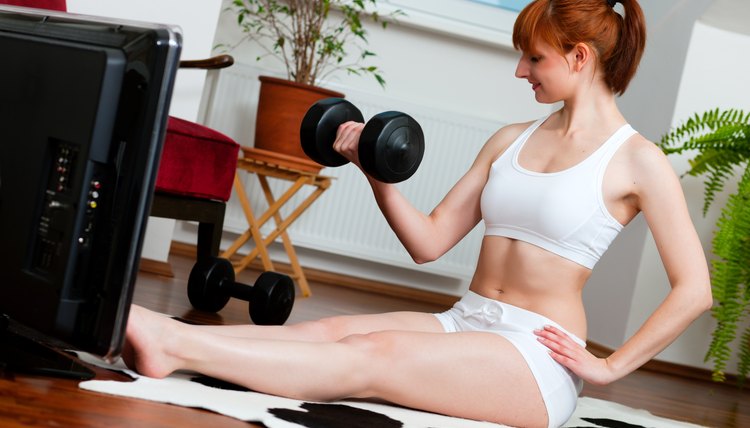 With the typical gym membership costing hundreds or even thousands of dollars per year, home exercise DVDs give you a cheaper alternative. Not only are they budget-friendly, they let you work out from the privacy and comfort of your living room. While there are hundreds of DVD titles on store shelves, magazine reviewers and fitness professionals have highlighted some of their favorites to help you narrow your choices.
The Booty Barre with Tracey Mallett
Tracey Mallett works in Los Angeles, California, as a Pilates instructor. No need to drive to the Golden State to tap into her fitness expertise. Certified fitness instructor Amanda Vogel reviewed more than 40 exercise DVDs for "Best Health" magazine and selected Mallett's "The Booty Barre" as the best DVD for total-body toning. Vogel says her favorite part of the DVD was its main 30-minute workout, noting that she really felt the exercise burn in her hips and legs. Besides the 30-minute workout, the DVD also includes body area-specific exercise segments and a warm-up segment. It blends Pilates with other exercise strategies, such as calisthenics.
Denise Austin: Shrink Belly Fat
"Fitness" magazine had more than 100 women test dozens of workout DVDs, and Denise Austin's DVD targeting your abs and core was ranked as one of the "hottest workout DVDs of 2013." It has three 15-minute core workouts you can combine and switch up depending on if you want a 15-, 30- or 45-minute workout. If you like Austin's teaching style, you can also try her "Body Makeover Mix" DVD, which "Woman's Day" magazine rated as one of the 10 best fitness DVDs of 2013. It includes three 15-minute-long exercise segments, focusing on the upper body, lower body and core.
Physique 57: Express 30-Minute Full Body Workout
"Real Simple" magazine's reviewers called this full-body workout DVD, produced by a boutique exercise studio in New York City, one of the best options for someone who wants to hit all of her major muscles in as little time as possible. "Woman's Day" magazine's reviewers named it one of 2013's top exercise DVDs and reported that the targeted, fatigue-inducing exercise routines were "infamous" in their intensity.
Dancing with the Stars: Dance Body Tone
If the idea of traditional exercises sounds boring, try dancing your way to a fitter, healthier self. "Woman's Day" magazine picked this dance-based fitness routine as one of its top workout DVD choices. This DVD is based on the "Dancing with the Stars" television show, and features Kym Johnson and other contestants from the show who lead you through workouts that incorporate dancing moves. It features three 15-minute workout routines built around Latin, tango and jazzy freestyle music.
Jillian Michaels Yoga Meltdown
Jillian Michaels' yoga DVD includes two 30-minute yoga workouts, with one being a little easier than the other. "More" magazine picked this yoga DVD as one of the best fitness DVDs on the market, but with a catch. The magazine's reviewer wrote that it's aimed at people who want to build muscle and burn calories, not those who want a calm, relaxing yoga session.
References
Writer Bio
Joshua Duvauchelle is a certified personal trainer and health journalist, relationships expert and gardening specialist. His articles and advice have appeared in dozens of magazines, including exercise workouts in Shape, relationship guides for Alive and lifestyle tips for Lifehacker. In his spare time, he enjoys yoga and urban patio gardening.