The Best All-Terrain Bikes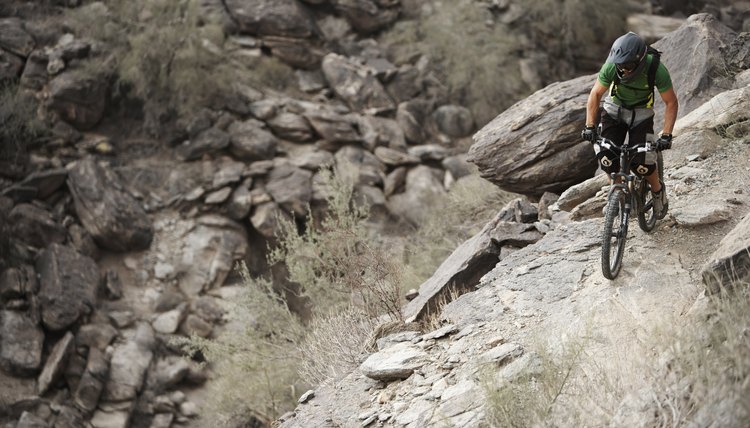 Mud, grit, grime and dirt are calling your name, and with the right pair of wheels underneath you, you can answer back. Off-roading on a bicycle is completely possible with the right bike; these rigs have design features and specialized components that allow cross-country travel over the roughest terrain. All-terrain bikes come suited to a variety of disciplines and conditions. Whether you're looking to conquer a local mountain or just the dirt road to your house, getting the best bike for the job can give you the comfort and control you need to proceed with confidence.
Wheeling and Dealing
The biggest issue with taking a bicycle off-road is traction. Without it, you won't get very far in loose soil or sand. The best off-road bicycles all share a similar tire design. Wide tires with rows of rubber teeth provide flotation and damping against the vibration and jarring of tough terrain, and the rubber teeth sink into loose terrain like the soles of a pair of hiking boots. This grip allows passage over areas where the smooth, narrow tires of a road bike would be ill-suited.
All-Mountain Crusher
The quintessential off-road bicycle is the mountain bike. With wide, knobby tires, this bike can conquer almost everything on trail and off. Mountain bikes can include a front or rear suspension, or both. These suspension systems use a metal spring or hydraulic pump to provide absorption against small to medium sized obstacles like roots and rocks. Suspension is about more than comfort; deadening the impact from obstacles helps the rider maintain control of the bike, giving mountain bikes a big advantage over rigid bicycles. Mountain bikes are all-rounders and are the best for off-road travel in a wide range of conditions and seasons.
Fat Can Be a Good Thing
Fatbikes are a specialized subgroup of mountain bikes that have extra-wide tire sizes for maximum flotation. Flotation allows the bike to travel over especially loose ground, like beach sand or snow. A fatbike is usually designed with a rigid frame, since the bike is designed to move slower over obstacles. In addition, the super-wide tires do a pretty good job of absorbing everything a suspension system would. Fatbikes are especially popular for winter cyclists, since they're capable of travel over ice and snow. The fatbike is the best bike for the most forbidding terrain, but it comes at the cost of speed and agility.
My Life is Going Downhill Fast
As more and more riders began taking mountain bikes down especially steep hills, a specific niche racing sport within mountain biking -- called downhill riding -- was born. A downhill bike is similar to a mountain bike, but has a few key features that set it apart. Downhill bikes are always full-suspension and feature an oversized front shock with several inches of travel beyond that of a typical trail mountain bike's suspension system. A long wheelbase and slack head tube sets the rider far back in the seat, which is ideal for the sharp gradient of most downhill tracks. Downhill bikes are the most durable and stable all-terrain bikes and are best for riders who are specifically racing down steep hills.
Road Biking Off-Road
A cyclocross bike is the off-road cousin of the modern road bike, with drop bars and a tight racing geometry that is evocative of the bikes used in pavement-based competition. Cyclocross bikes have a few key differences in their setup from road bikes, including accommodation in the frame and fork for knobbier, wider tires. These bikes are also often set up with disc brakes instead of rim brakes for the increase in braking performance in wet, muddy or icy conditions. A cyclocross bike is the best for riders who want lightweight, speedy performance and don't need the shock absorption found on mountain bikes.
Resources
Writer Bio
Max Roman Dilthey is a science, health and culture writer currently pursuing a master's of sustainability science. Based in Massachusetts, he blogs about cycling at MaxTheCyclist.com.