The Best Tennis Sunglasses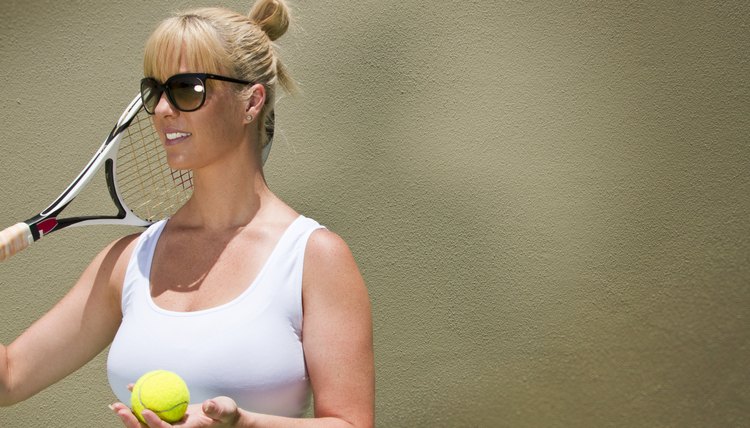 What to Look For
Tennis sunglasses must provide superior UV protection and light protection while letting you move around quickly without the danger of the glasses falling off of your head. Tennis glasses are also designed to make it easier to see the yellow tennis ball flying at your head even with the sun directly in your eyes. Look for scratch-resistant lenses made of polycarbonate plastic and tight silicone nose grips so the glasses will not fall off when you sweat. The Tennis Coach Dave website recommends the Aruba Sports DRIVR tennis sunglasses because of their superior lenses and ideal fit. Optics Planet rates the Bolle Kicker Sport Tennis Sunglasses with five stars. These glasses have a special lens filter that darkens all colors but tennis ball yellow. On the Do It Tennis website, the Maxx Cinco HD Sport Sunglasses have a high rating because of their lenses and fit.
Common Pitfalls
The problem that many tennis players fall into is using regular sunglasses during tennis. Not only are regular glasses much easier to slip off during a high-impact sport like tennis, they also diminish your ability to see the tennis ball. Tennis sunglasses are specifically designed to brighten the ball while dimming other lights. Make sure the glasses you purchase are designed for use with tennis and have superior grip on the nose and around the head to prevent the glasses from flying off during jumps and dives.
Where to Buy
Find tennis sunglasses at sports stores. Some tennis stores online sell several versions and brands of tennis glasses such as Maxx Cinco, Bolle, Aruba and Oakley. Sports Authority has a selection of tennis sunglasses. For a more tennis-specific store, try the Do It Tennis website. They offer many brands of tennis sunglasses as well as other tennis products. Both of these stores offer periodic discounts and shipping offers.
Cost
Expect to pay more for tennis sunglasses than you would for regular sunglasses. The fact that the glasses must be shatter- and scratch-proof, as well as have a special lens for highlighting tennis balls, makes the price go up. Expect to pay between $50 and $100 for most tennis sunglasses. The Aruba Sports DRIVR tennis sunglasses cost about $65. The Bolle Kicker Sport Tennis Sunglasses cost about $92 and the Cinco HD Sport Sunglasses cost about $25.
References
Writer Bio
Brenda Priddy has more than 10 years of crafting and design experience, as well as more than six years of professional writing experience. Her work appears in online publications such as Donna Rae at Home, Five Minutes for Going Green and Daily Mayo. Priddy also writes for Archstone Business Solutions and holds an Associate of Arts in English from McLennan Community College.