Online Treadmill Workouts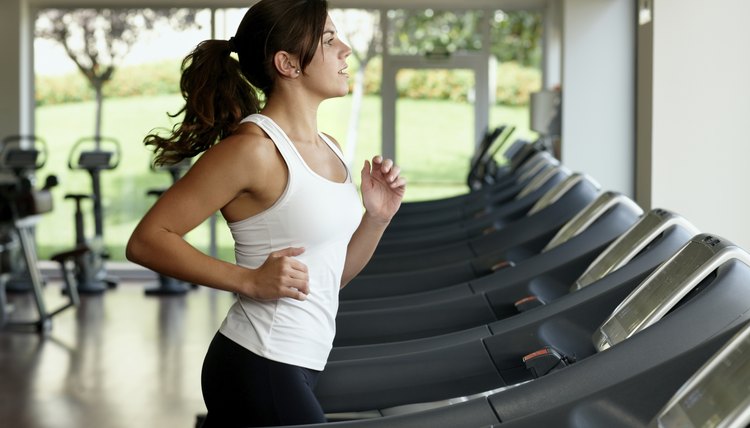 Many treadmills come with build in workout plans that you can follow while walking or jogging on the treadmill. If you've spent any amount of time on a particular machine, though, you're bound to get bored by the options. When you're ready for a change, look online for treadmill workout ideas that keep you focused and working hard. You can find workout plans on magazine websites, fitness equipment websites and even gym websites.
Online Magazines
Fitness related magazines often offer free, online access to articles and workout plans designed to keep you motivated and on track. If you have a favorite fitness related magazine, check out its website in order to see if they offer online treadmill workouts. "Fitness" magazine online offers a number of workouts for the treadmill, including a 20-minute run/walk challenge and a seven day plan to help you burn 2,000 calories. Each of these workouts walks you through the time, intensity level and speed you should exercise while on the treadmill. Print off the workout and take it with you to the gym.
Gym Websites
If you're a member of a well-known fitness center, its website might offer a treasure trove of workouts, including treadmill workouts. Both Anytime Fitness and Life Time Fitness offer online communities for their members. You can create an account and log in using your member account number, then have access to all of its resources including forums, workouts you can download, and "ask the trainer" areas. Even if your fitness facility doesn't offer a full-service member portal on its website, you may have the opportunity to post questions to the community as a way to get ideas for switching up your treadmill workout.
Fitness Equipment Websites
If you use a well-known commercial-brand treadmill, like Precor or Life Fitness, you may have access through the brand's website to additional workout plans. For instance, Life Fitness even offers a Virtual Trainer website where you can download a treadmill workout or build your own workout, then download it to a USB drive. After downloading the file, you can actually plug your USB device into the Life Fitness treadmill, and the treadmill will allow you to pick one of the workouts you chose online. Not all equipment offers high-tech options like this, but manufacturers are looking for new ways to engage their users, and more of them are looking to provide high-tech benefits as a way to keep customers loyal to their products.
References
Writer Bio
Laura Williams has worked in recreation management since 2004. She holds a master's degree in exercise and sport science education from Texas State University, as well as a B.A. in exercise and sport science from the University of Mary Hardin-Baylor.