The Best GPS for Snowmobiles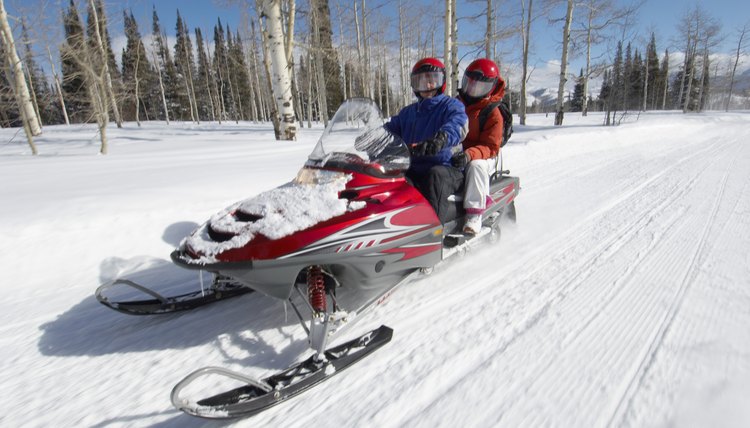 What to Look For
Most personal GPS devices provide little coverage for snowmobilers, according to online GPS snowmobile map provider GPSSledmaps.com. The best GPS units for snowmobilers incorporate downloadable snowmobile map content listings. This means that quality handheld GPS units accepting downloadable content, such as Garmin, Magellan and Lowrance Electronics, work best, according to online adventure publication Off-Road Outdoors. Look for handheld GPS devices allowing for simple map uploading, and purchase maps covering areas of snowmobile use. Quality GPS snowmobile maps provide shelters, local roads and gas stations in addition to trail listings. GPSSledmaps.com even provides tools for creating personalized maps.
Common Pitfalls
Do not expect personal GPS devices to function acceptably for snowmobile use fresh out of the box. Download snowmobile maps for trails and access points. Do not take trails marked for use other than by snowmobiles, even if included in the GPS maps. Though many hiking and biking trails allow winter snowmobile use, trails limiting snowmobile access typically do so for safety reasons. Often bridges unable to support the weight of snowmobiles span sections of these trails. Ensure you have a full GPS device charge before leaving. Losing power can prove deadly, especially during a blizzard with low visibility.
Where to Buy
Many sporting goods stores and online GPS retailers, such as Off-Road Outdoors, sell personal GPS devices. Choose a device suited for cold weather excursions or store the device within inner jacket pockets to retain warmth. Many snowmobile map products, such as the GPSSledmaps.com offerings, feature either downloadable versions or data card versions. Ensure that a map covers the area desired before purchase. Ensure that there's a return policy before purchasing unknown online products. Investigate the cost of purchasing information and any hidden fees. Many map providers release updates at significant reductions to the cost of initial map purchases.
Cost
Personal GPS devices featuring few bells and whistles often sell from $100 to $200. High-tech lightweight devices offering the latest GPS technology often sell from $300 to $600. Downloadable GPS snowmobile maps typically sell from $30 to $60 per map. Maps typically cover large statewide areas. Map updates offered from GPS manufacturers often cost nearly as much as a new inexpensive system. Serious GPS users may want to purchase update packages at significantly reduced prices. Research available maps and decide which maps best fit your individual needs.
References
Writer Bio
Jonathan D. Septer offers more than a decade of professional writing experience and owns/operates Bone Machine Books in Kent, Ohio. A professional bicycle mechanic with more than ten years experience at various Midwestern shops, Septer studied at Kent State University, where he earned his Bachelor of Arts in English.