Zumba Fitness Instructor Certification
If you love to dance, a career as a Zumba instructor might be right for you. However, you can't just open up a Zumba studio; you need to acquire a certification before you can teach the classes. Instructor trainings are done through the official Zumba organization and start with Zumba Basic Level 1 Instructor Training, which prepares you with both the formula and foundation to teach this Latin dance class. All potential Zumba teachers must be age 18 or older to take the Zumba training classes.
Types of Zumba
New instructors have to start with Zumba Basic or Zumba Gold before expanding their horizons. Zumba Basic teaches basic steps for merengue, salsa, cumbia and reggaeton and teaches you to build routines from these steps. Zumba Basic 2 adds four additional steps to your repertoire: belly dance, flamenco, tango and samba. These steps allow you to design more advanced routines. Zumba Gold is designed to meet the needs of a deconditioned participant or an active older adult. In addition to teaching physiological differences in these populations, Zumba Gold includes instruction on a chair workout.
Read more: The Best Zumba Exercise Videos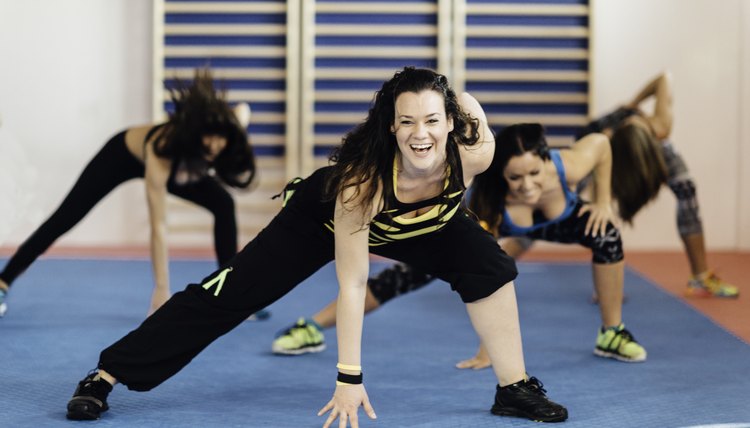 Zumba Fitness Instructor Certification
The Zumba Academy for instructors has branched out from the basic Zumba certification to specialty certifications. Zumba Toning incorporates weighted maraca sticks to facilitate additional strength training. Zumba Aqua takes Zumba into the pool, teaching techniques that allow you to transfer Zumba steps into an effective water routine. Zumbatomic is designed for children ages 4 to 12. This workout teaches children to get active in a way that meets their needs and psychological profile.
Continuing Education
Zumba instructor certification is valid for one year, at which time a person must attend continuing education classes to stay up-to-date on industry knowledge and skills. One continuing education course is the Zumba Basic Level 2 Instructor Training, which add four more rhythms to an instructor's repertoire: belly dance, flamenco, tango and samba.
Read more: How Many Calories Does Zumba Burn?
Keep in Mind
Getting certified to teach Zumba doesn't guarantee you a teaching position. And even though positions are in high demand, many gyms require a tryout before they will hire you. Make sure you know your stuff and that you're an enthusiastic instructor—these skills help you stand out, get hired and build a following.
References
Writer Bio
Laura Williams has worked in recreation management since 2004. She holds a master's degree in exercise and sport science education from Texas State University, as well as a B.A. in exercise and sport science from the University of Mary Hardin-Baylor.