What does fact checked mean?
At SportsRec, we strive to deliver objective content that is accurate and up-to-date. Our team periodically reviews articles in order to ensure content quality. The sources cited below consist of evidence from peer-reviewed journals, prominent medical organizations, academic associations, and government data.
The information contained on this site is for informational purposes only, and should not be used as a substitute for the advice of a professional health care provider. Please check with the appropriate physician regarding health questions and concerns. Although we strive to deliver accurate and up-to-date information, no guarantee to that effect is made.
Chest Machine Exercises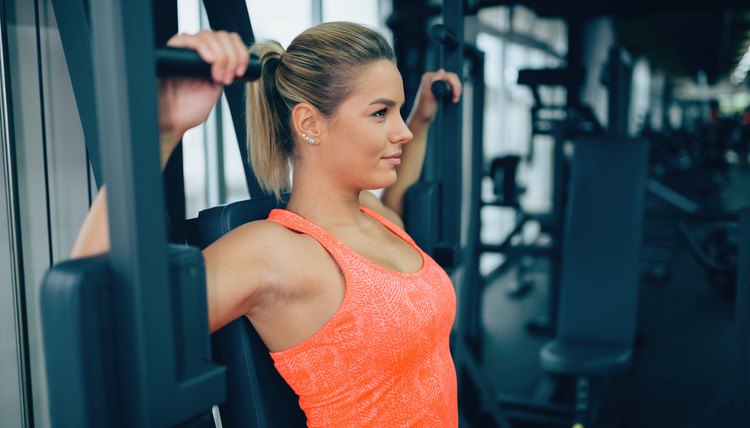 Free weights can be intimidating for beginners, particularly because proper form is vital to using those weights safely and effectively. If you have a gym membership, however, you can start with the weight machines—although they isolate muscles, rather than allowing you to work multiple muscle groups at one time, the machines challenge you while guiding you through the exercise safely. Build up your chest muscles with the chest press and cable machines.
Chest Press Machine
Chest press machines simulate a bench press and target the chest, as well as the triceps and shoulders, depending on which grip you choose.
Standard Chest Press
Sit with your back against the pad. Set the weights to an appropriate amount for your strength. Place your hands on the handles facing parallel to your body.
On the exhale, push the handles forward until your elbows are fully extended, but not locked. Focus on keep your shoulder blades flat against the backrest.
Pause at the top and slowly lower the weight back to the starting position to complete one rep.
As a variation, press one arm at a time.
Close-Grip Chest Press
This variation will increase the activation of your triceps, as compared to the standard grip.
Sit on the machine, just as you do in the standard press. This time, grip the handles that are perpendicular to your body. Keep your wrists neutral during the exercise.
Push the handles forward while exhaling; push through until your arms are extended. Pause at the top, focusing on keeping your shoulders back, not rounded.
Lower the weight back to the beginning position to complete one rep.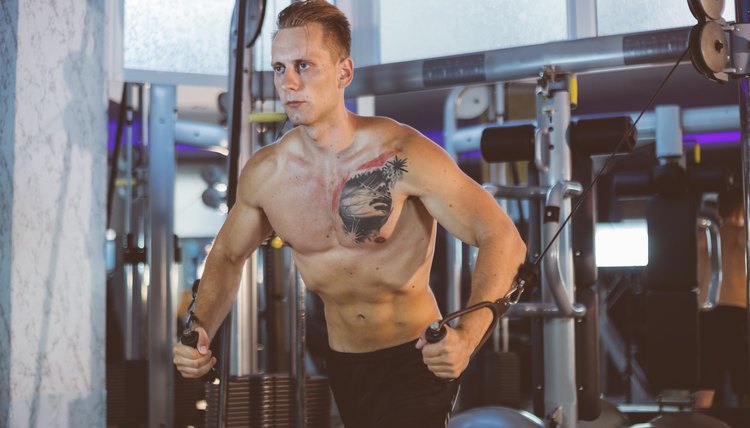 The chest press machine guides you through the exercise with good form.
Seated Cable Press
Cable machines give you a little more leeway than weight machines; therefore, watch your form to make sure you're doing the exercise safely.
Sit with your back pressed against the backrest. The cable's handles should be level with your mid-chest. Hold the handles and move your handles so they're in front of your chest, keeping your wrists neutral, not bent, throughout the entire exercise.
On the exhale, push the handles forward to straighten your arms. Keep your shoulders back. Press through until your arms are straight, but your elbows are not locked.
Return to the starting position to complete one repetition. As variations, you can press the cables down toward your thighs to complete a decline cable press or up toward the ceiling, to complete an incline cable press. These variations work your muscles from different angles and offer new challenges.
Standing Decline Cable Flyes
While doing a standing cable fly, engage your core to stabilize your spine and give your midsection a little extra workout.
Position the machine's cable handles so they're level with the top of your hand and then grab a handle with each hand. Stand in split-stance position, meaning one foot is in front of the other slightly.
Push both arms down in front of your body until your elbows are straight, keeping a slight bend in your arms and your wrists neutral.
Return to the starting position, moving in a slow, controlled manner. You can also complete this move by pulling the cables directly in front of you or above you, to work different muscles. To do so, adjust the height of the cables appropriately.
References
Writer Bio
Kelsey Casselbury is a freelance writer and editor based in central Maryland. Her clients have included Livestrong, School Nutrition magazine, What's Up? Media, American Academy of Clinical Chemistry, SmartBrief and more. She has a formal education in personal training/nutrition and a bachelor's degree in journalism from The Pennsylvania State University.