A List of Football Equipment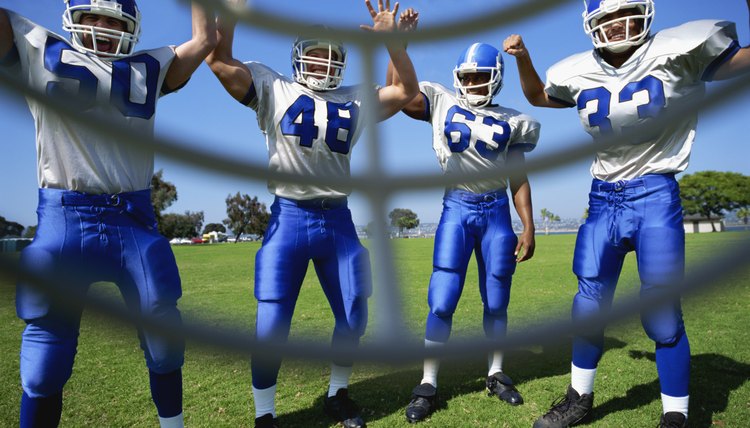 When football began to be popular in the late 1800s, the uniforms and equipment were similar to those used in rugby. It wasn't until 1939 that football helmets were even considered mandatory. Present-day football has evolved considerably, and safety is a key issue. Whether you are playing for fun or for competition, a fair amount of equipment will be needed to safely enjoy the sport.
Basic Safety Equipment
Even the most rudimentary style of tackle football will require some equipment to play with a reduced risk of injury. The basic list of what will be needed for any position includes a helmet, jockstrap and cup, thigh, hip and knee pads, a neck collar, gloves, a mouth guard and shoulder pads. Neck collars are especially important for defensive linemen and linebackers because they protect against whiplash.
General Rules for Helmets
For extra protection, visors and jaw pads can be attached to a helmet. Face masks are mandatory for football helmets. When purchasing a helmet, make sure it is of good quality and certified. The helmet should be recertified each year to ensure that it is still safe to use. Helmet maintenance should be performed with water only, and helmets should never be shared between other players or friends.
Shoulder Pads and Gloves
Generally, two types of shoulder pads are manufactured for football play. Cantilevered shoulder pads are of a larger size and are made especially for the offensive and defensive line, as well as linebackers. Cantilevered pads are also more restrictive in movement. Flat shoulder pads are designed primarily for wide receivers and quarterbacks, and they are of a smaller size. There is also a difference in gloves. There are receiving gloves with a grip made specifically for those who catch the ball, and gloves for linemen that are designed more for protection and safety.
Other Equipment
Those who may be organizing an official football team will need to invest in much more than the mandatory equipment. Jerseys, belts, girdles, and laces will be needed for uniforms. Field equipment will also be required, such as tackling dummies, scrimmage vests, sideline markers and pylons. Teams also need equipment bags and water bottles.
Making the Equipment Investment
According to the University of Nebraska, the approximate cost to equip and clothe each member of the Cornhuskers' football team is $1,000 per person. The biggest expenses will be the helmet and shoulder pads. A quality pair of shoulder pads may be roughly $350 and the helmet may be approximately $340. With safety being the most important concern, however, these investments will far outweigh the possible consequences of playing without the proper equipment.
References
Resources
Writer Bio
Dori Pinkerton is a writer based in New Haven, Conn. Her articles have appeared in the "Lancaster New Era" newspaper. Pinkerton is currently attending Yale University, as well as pursuing her Bachelor of Science in nursing at Southern Connecticut State University, with concentrations in psychology and German.