Tips on Coaching 9 & 10 Year Old Baseball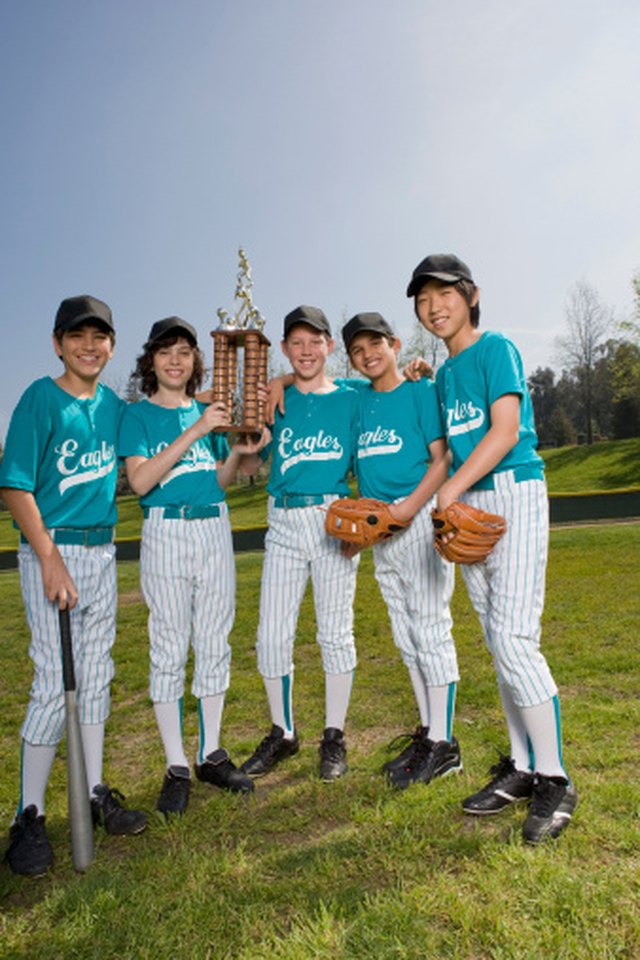 Poor coaching can lead to injuries in 9- and 10-year-old players that can result in chronic conditions, according to the American Sports Medicine Institute. In considering the physical development of young players, baseball coaches must be mindful of mental and social developmental issues their preteen players might be experiencing.
Arm Limitations
Nine and 10-year-old pitchers typically throw about five pitches to every batter they face, according to the American Sports Medicine Institute. The repetitive motion of the pitching can lead to elbow and shoulder injuries, resulting in chronic joint pain. Coaches should limit the time a pitcher spends on the mound to reduce the risks. Additionally, pitchers should be given time to cool down between pitching times rather than be moved to another position, a common tactic in youth baseball. When a young player complains of arm pain, he should be removed from the game immediately.
Coach as Role Model
Young players are impressionable and look to their baseball coach for guidance on how to deal with defeat and victory. According to Quality Coaching Baseball, coaches have a responsibility to teach 9- and 10-year-old players how to work as a team as much as they need to teach them how to field balls. Attitude and effort should be emphasized as more important than winning. Good sportsmanship is an attribute that helps young players develop positive attitudes that transfer well into other areas of their lives.
Emotional Development
At ages 9 and 10, children thrive on positive feelings of accomplishment, according to Education.com. Coaches should respect this period of development and praise ball players for progress. They also are dealing with self-control and need to see their coach practice self-control and not lose his temper when things go wrong.
Social Practice
The baseball team is a microcosm of society that can provide a safe environment for youngsters to develop social skills that are budding at that age. According to Education.com, 9- and 10-year-old ball players are learning the meaning of competition and how to interact with other team members and opponents. Coaches should include instruction and gently guide kids through their social development. It also is a time when boys and girls begin to test authority and the limits to their independence, so coaches must teach self-discipline while strictly and fairly designing and implementing rules for the team.
References
Resources
Writer Bio
Linda Ray is an award-winning journalist with more than 20 years reporting experience. She's covered business for newspapers and magazines, including the "Greenville News," "Success Magazine" and "American City Business Journals." Ray holds a journalism degree and teaches writing, career development and an FDIC course called "Money Smart."