The Best Cheap Mountain Bikes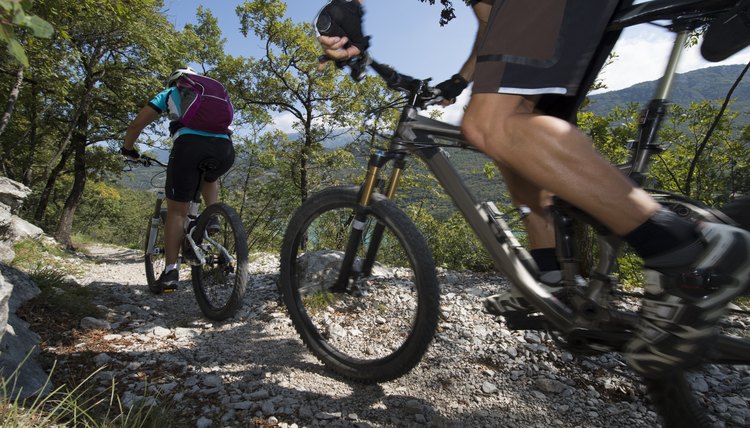 The technologies in the top performing mountain bikes can be outrageously expensive. Luckily, mountain bikes exist for every type of budget. For beginners or especially frugal riders, knowing how to get the best bike for a lot less money can make a big difference in ride quality. The best cheap mountain bikes balance durability and weight with a low price. It's important to consider the reliability of cheaper parts; you could end up spending the money you saved making repairs.
Shockingly Expensive
One of the most expensive components on a mountain bike is its suspension system. A full suspension bike features a few inches of travel along pneumatic or spring-loaded shock absorbers at the front fork and beneath the seat. Depending on the type of terrain you expect to face, you can likely forgo one or both shocks without sacrificing your ability to control the bike. A hardtail bike features a shock in the fork and a rigid rear wheel, while a rigid bike has no shocks at all. Hardtail or rigid mountain bikes are simpler than full suspension bikes, which reduces their cost of maintenance.
Heavy Metal
For the best cheap mountain bike frame, steel is one of the best materials. Steel's durability has been proven over decades, and can be easily repaired in an accident. Alternative materials like aluminum and carbon fiber are lighter, but their strength is comparable for most riders. The cheapest variety of carbon steel used on mountain bikes is 1020, but it's extremely heavy. Stepping up to 4130 cromoly steel is still relatively affordable, and provides a much higher ride quality and longevity at a much lower weight.
Finding the Sweet Spot
For components like derailleurs and brakes, there's a sweet spot between durability and performance versus price. Usually, stepping up from the absolute cheapest offerings from a component manufacturer to the next least expensive part gives you a good balance. These components are slightly more expensive than the baseline offerings because they're more precise and more durable, and will require less maintenance overall. Some parts, like your brake levers and front derailleur, require little maintenance, so it's OK to go cheaper. Other parts, like your rear derailleur, are worth the investment.
Nearly New Bikes
You can also save a lot of money on your mountain bike by going used. A few parts like seats, cranks, and handlebars are great to pick up off of used or broken bikes as a way to save money. Your local bike shop may even sell perfectly good used bikes, which can let you save a lot against a full priced bike. Beware of the parts of the bike that routinely see failures, however; the wheels and drivetrain should be checked thoroughly by a professional to ensure they're up to the task.
References
Resources
Writer Bio
Max Roman Dilthey is a science, health and culture writer currently pursuing a master's of sustainability science. Based in Massachusetts, he blogs about cycling at MaxTheCyclist.com.