The Best Headphones for a Treadmill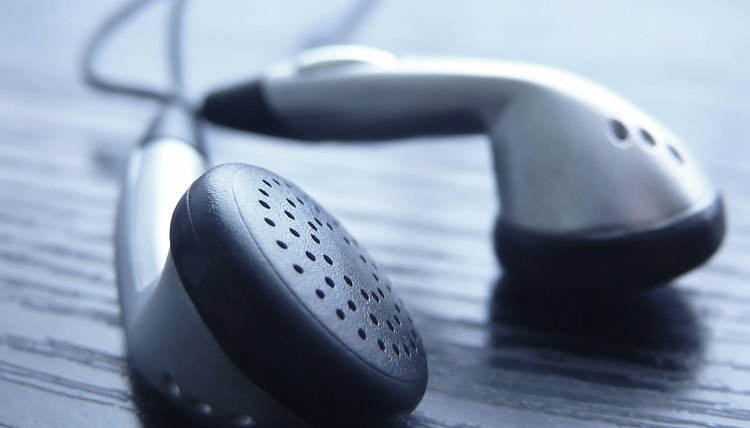 There is nothing more aggravating when you're running on the treadmill and you have to keep adjusting your headphones due to the jostling that is created by your running, or you have to move the cord out of the way so that it doesn't impede your workout. The truth is, most of the headphones that come stock with your favorite media devices probably aren't made to stand up to a physical activity like running on a treadmill. Purchasing headphones made specifically for sport can cut back on those small annoyances.
Sport Flow by Philips and Nike
A reviewer for the BoingBoingGadgets online magazine tested the Sport Flow by Nike and Philips and had a good experience using them. According to her review, these over-the-ear-styled headphones are lightweight and comfortable wear and use a rubber material to create traction so that they don't slip from the ear. They also feature a winding device for keeping unused cord at bay and out of your way, a must when running and trying to stay focused. You can throw the cord over your shoulder if you don't like it hanging down the front of your shirt.
Sennheiser PMX80 Sport Series II
Sennheiser has long been a fixture when it comes to good-quality sports headphones. The Sennheiser PMX80 Sport Series II boasts a secure, behind-the-ear design that will keep the snug headphones in place, unlike those slippery and small ear bud designs. The entire set of headphones is covered in a rubberized, water- and sweat-resistant coating, and comes with an included connector that is helpful if you want to connect them to a variety of devices, including the gym treadmill's adapter for listening to television while working out.
Sennheiser's MX85
Sennheiser continues its dominance over the high-quality sport headphones market to give you a model that is comfortable for both walking and running on the treadmill. Using a traditional ear bud design, it features a rubberized clip on the top of the headphone so that it can be adjusted to fit any size ear. Sound quality is good, and a reviewer at BoingBoingGadgets noted that the cord was just long enough that it could be worn behind the neck and out of the way while on the treadmill. Sound is crisp, so hearing your music over the sounds of the treadmill or gym isn't a problem.
References
Writer Bio
Kay Ireland specializes in health, fitness and lifestyle topics. She is a support worker in the neonatal intensive care and antepartum units of her local hospital and recently became a certified group fitness instructor.