The Best Golf Drivers for Slow Swing Speed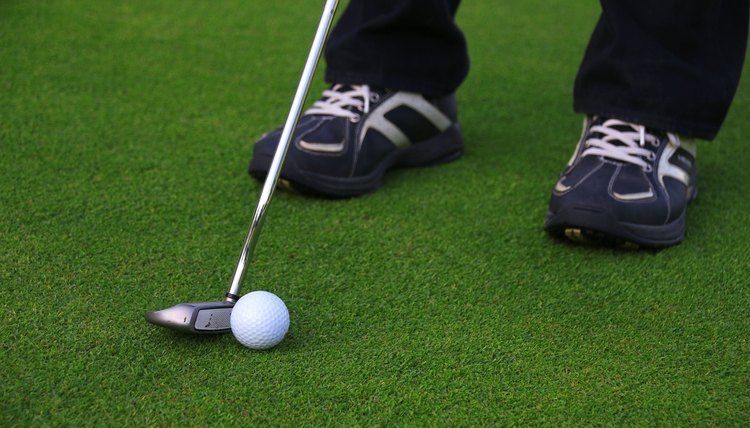 Many golfers have a slow swing speed, so it shouldn't embarrass you. Perhaps your age, body or natural rhythm doesn't permit a quick swing. But it's also possible that you're using the wrong equipment. Experts at "Golf" magazine and "Golf Digest" regularly recommend the best drivers for players with slow swing speeds, based on technology such as club face milling, weight reduction and in-club adjustments.
Shaft Flex
If you have a slow swing speed, you cannot use a stiff or extra-stiff shaft flex. These shafts are designed for players with fast swing speeds. To determine your speed, have a certified golf pro time you on the tee; you might find that your swing speed isn't as slow as you thought. For example, as Marc Solomon of Golf Instruction states, "(Ernie) Els' swing is very fluid and appears that he is swinging slow, but he is not swinging slow. The speed of his driver is moving in excess of 115 mph."
Callaway Diablo Octane Tour
Driver technology can help increase your swing speed without any other changes in your game. The Callaway Diablo is an example of a high-tech driver. According to "Golf Digest's" Hot List 2011, "(The Octane's) 46-inch lightweight shaft is designed to increase swing speed, and a chemically milled cupface helps improve ball speed." The cost is $300 as of January 2011.
Cleveland Launcher UltraLite XL270
Instead of milling the club face, Cleveland decreased the overall weight of the Launcher to increase potential swing speed. "Golf" magazine writes: "The XL 270 (460cc) and XL 270 Draw (460cc) weigh just 270 grams and work best for those with smooth swing tempos. The XL 270 delivers 4 to 5 mph more ball speed than traditional 315-gram drivers." The cost is $300 as of 2011.
TaylorMade R11
Making adjustments on the fly is helpful on the golf course. Thanks to modern technology, you can change your clubs as well. The TaylorMade R11's face angle can be adjusted for a combination of 48 different settings. Finding the right one for you might result in better accuracy and a higher swing speed. The cost is $400 as of 2011. Don't adjust the club during a round, however, if you're playing according to the Rules of Golf.
References
Writer Bio
Chris O'Toole has previously written for several local newspapers in Colorado. He has also served as editor-in-chief of the Fine Print Literary Arts Magazine and was published in "Authors of Tomorrow" in 2008. He has written for more than five years and is working towards degrees in English and journalism.