How to Train to Become a Yoga Teacher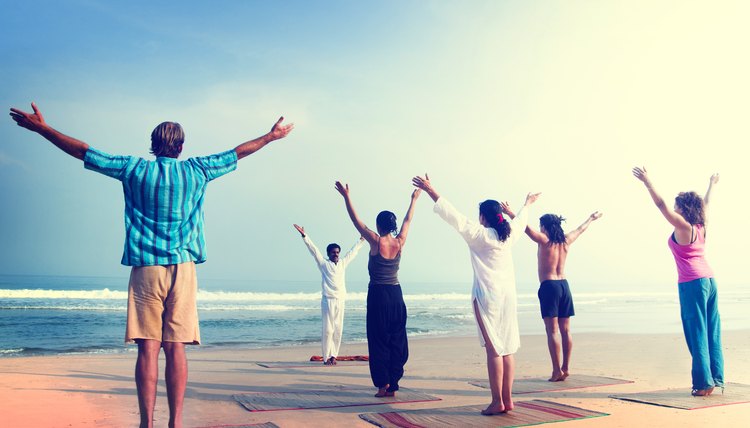 Yoga is an incredibly powerful practice for putting mind and body in harmony. For most people who fall in love with yoga, it's a lifetime relationship. Whether you aspire to a career teaching yoga or just want to deepen your practice with further education, here are some guidelines to set you on your way.
Develop Your Own Practice
Yoga is thousands of years old, so not surprisingly, many different approaches have evolved over time. If you haven't already, it's highly important to experience different styles of yoga for yourself. You'll benefit from a deep sense of the styles that work for you as an individual. And the way to do that is to go to classes. Lots of them. Some are gentle and focused on developing inner peace and developing meditative equipoise as much as rejuvenating the body. Others are all about literally sweating your buns off, sculpting your body and radiating external beauty. Find a style of yoga that's compatible with your own values.
Save Some Money
Getting certified isn't free, so you'll need to feed your piggy bank. And since teaching yoga is anything but a highly paid profession, it's worth keeping in mind that you might not make that money back right away. The cost of teacher training in yoga varies wildly. YogaWorks, a commercial chain of yoga studios, charges $3,100 to $3,600 for a 200-hour certification, which is about the industry average. Other disciplines may cost considerably more: aspiring Bikram instructors, for example, pay from $12,500 to $16,600 to attend weeks-long training courses held in exotic locations. (You may also find online yoga training that promises a certificate for a little as $69, but that money would be better spent on fresh Spandex).

Some teacher training courses are held in idyllic, tropical locations.
Plan
Some courses are month-long intensives that may require you to pay for room and board if they're distant from your home. Others carry on for weeks or months, allowing you to train while keeping up with the rest of your life.

There are different levels of certification, depending on the number of hours you train. The main markers are 200, 300 and 500 hours, with 200 hours of training being the minimum to earn your credential. Although higher levels of training may be attractive to prospective employers, so is experience; many accomplished teachers recommend first obtaining a 200-hour certificate and building from there after you've gotten a year or two of experience teaching.
Register with Yoga Alliance
Whatever school or course you choose, make sure it's recognized by Yoga Alliance, which serves as the voluntary regulating agency for a realm in which there are no iron-clad standards and practices. Yoga Alliance charges a nominal $105 fee for registration ($50 for renewal). It's a reassuring sign to prospective employers (if not an outright requirement) that you're a law-abiding yogi.
Brace Yourself
With the number of practitioners nearly doubling in the past five years, it's not surprising that many yoga enthusiasts entertain the idea of becoming certified yoga instructors. In fact, for every person already teaching yoga, there are two people who want to become teachers, according to the 2016 Yoga in America Study.

Competition is fierce. So whatever you do, don't let it disturb your inner peace.
References
Writer Bio
Martin Booe is a health, fitness and wellness writer who lives in Los Angeles. He is currently collaborating on a book about digital addiction to be published in the UK this December.