Is Certification Required to Teach Yoga?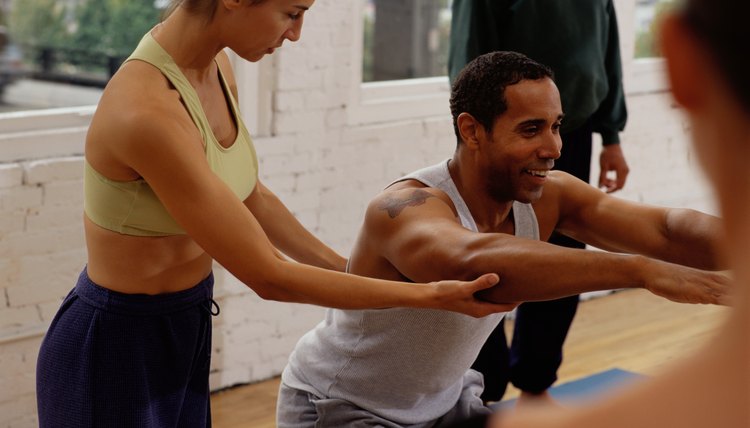 If you lived deep in the Bolivian rain forest and the nearest clinic was inaccessible, you'd go to the village shaman to treat your illness. If you live in New York City and want to learn yoga, you would not ask the girl next door who taught herself a week ago from a DVD. There's no current law that prevents anyone from teaching yoga without a certificate, but yoga is a discipline that involves potential injury if taught by someone without the proper credentials.
History
With 5,000 years of history and most of it undocumented, it cannot be determined with accuracy if the ancient yogis had a teacher or class tradition; or was it every man for himself? It wasn't until the first half of the 20th century that evidence emerged to suggest that yoga schools even existed. The Maharaja of Mysore, India, promoted a school which was run by Krishnamacharya, the "father" of the 20th century's leading yoga masters. B.K.S. Iyengar, Sri K. Pattabhis Jois, T.K.V. Desikachar, son of Krishnamacharya -- all the leading lights of yoga whose teachings influence the yoga you experience today. But not one of them was certified as we know it today.
Modern Masters
Today's yoga superstars can trace their lineage to the old masters. Some are even able to claim training and face time. Doug Swenson, one of America's senior yoga teachers and authors, was taught by Jois; while Erich Schiffmann, featured teacher in the DVD "Yoga Mind and Body" with actress Ali MacGraw, studied with Desikachar. Swenson went on to provide his own teacher training which does include accreditation after successful completion of the course. Both icons are registered with the Yoga Alliance, an organization whose aim it is to ensure that certain standards are met nationwide.
The Yoga Alliance
There is no current federal law that governs yoga teaching or the certification of students who want to become teachers. Recognizing that all that freedom could open doors leading to questions of safety and ethics, the Yoga Alliance was formed from two nonprofit organizations, Unity in Yoga and Ad Hoc Yoga Alliance. Since 1999, the Yoga Alliance has maintained a registry of teachers who conform to the Yoga Alliance's minimum standards which include 200- and 500-hour yoga teacher training programs. Registration is not mandatory. The yoga community is still concerned with the advisability of any "ruling" body that sets down mandates for what is essentially a program of self-development.
Certification
The ultimate answer to the question is certification required to teach yoga is no. Is it advisable? Yes. If an injury occurs during a class, you cannot be assured that your carefully cultivated bond of trust with your student won't fly out the window and return in the form of a lawsuit. Fitness and Wellness Insurance have been offering liability and property protection for yoga teachers for 15 years. In addition to insuring against injury to you or your student, this plan can include protection against libel, slander and sexual abuse charges.
Consideration
A yoga teaching certificate is not only recommended, but it also provides your students with the assurance that you believe in your discipline and have been willing to put in the time to prove you are ready to teach. In addition to your credentials, it's advisable to have a strong personal practice.
References
Writer Bio
Linda Kaban is a certified yoga teacher and professional life coach who specializes in helping people achieve their fitness goals. With a bachelor's degree in the humanities, Kaban has been writing since 1998 and has been published in YOGALife magazine along with other healthy living publications.