Women's Vs. Men's Softball Size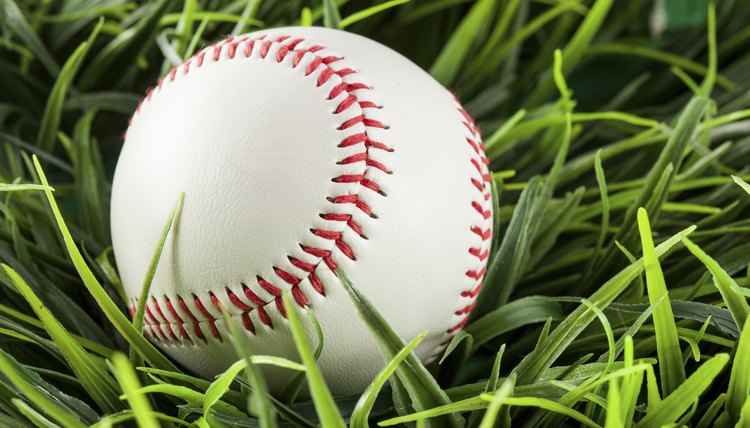 Both women's and men's softball games require a regulation size softball to play. The softball may also vary in size depending on whether it is being used to play fastpitch or slowpitch softball. The American Softball Association measures softballs by their circumference, or a line going all the way around the ball.
11-Inch Softball
The 11-Inch softball must weigh at least six ounces to be used in regulation play. Like the 12-inch ball, the 11-inch ball comes in two types of compression, which affect the "spring" of the ball and how far it flies when struck. Fast pitch 11-inch balls have a higher compression than slow-pitch 11-inch balls and are used by boys' and girls' fast pitch teams when the players are 10 years old or younger. The 11-inch slow pitch ball is used by women's slow-pitch teams, women's senior teams, coed teams when a woman is up to bat, and all youth slow pitch teams, according to the ASA. Men do not use the 11-inch ball in regulation play, except when fielding for a female batter.
12-Inch Softballs
Most softball players are familiar with 12-inch softballs. A softball 12 inches in diameter is required for regulation play by men's fast pitch softball teams, including senior men's fast pitch teams and boys' youth fast pitch teams. It is also used by women's fast pitch softball teams and girls' youth fast pitch teams. The balls are also used in modified fast pitch games, but the ASA requires modified games to use 12-inch balls with modified compression.
14-Inch Softballs
The American Softball Association also approves 14-inch softballs that meet the ASA's requirements. As of 2010, a 14-inch softball was required to weigh at least 8 ounces. The American Softball Association does not require the 14-inch softball for any regulation play, but it may be used in recreational softball play.
16-Inch Softballs
The largest softball approved by the ASA for regulation play is 16 inches in circumference and used in men's 16-inch softball games. The 16-inch softball dates back to the beginning of the sport, when the first balls used to play were 16 inches in diameter. As of 2011, a few men's 16-inch softball leagues in the U.S. are recognized by the ASA, but the ASA does not list any women's 16-inch softball leagues.
References
Writer Bio
A.L. Kennedy is a professional grant writer and nonprofit consultant. She has been writing and editing for various nonfiction publications since 2004. Her work includes various articles on nonprofit law, human resources, health and fitness for both print and online publications. She has a Bachelor of Arts from the University of South Alabama.