The History of College Basketball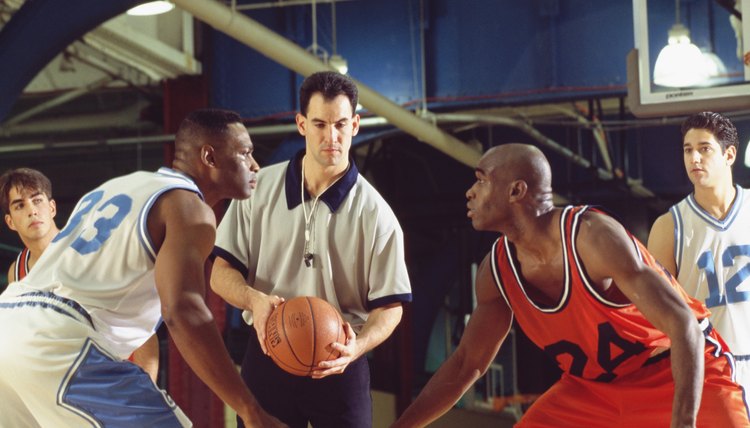 College basketball was conceived at Springfield College by James Naismith in 1891. It was popular enough to become a demonstration sport at the 1904 Olympics in St. Louis, and boomed in popularity in the 1930s because of doubleheaders in New York City, the 1936 Olympics and the start of two national postseason tournaments. The latter tournament was so popular by 2010 that all 64 games were nationally televised.
Origin
Basketball was invented because college physical education directors from all over the United States were upset that few students took physical education classes in the winter, according to "The Sports Answer Book." The administrators met at Springfield College in 1890 and asked Naismith, a Springfield physical education instructor, to invent a sport that would make winter classes as popular as baseball and football made summer and fall classes. In 1891, Naismith built two peach baskets put them at the opposite ends of a long court and used a soccer ball as the forerunner of today's basketball.
Instant Success
The new sport was instantly popular among Springfield's students, according to the Kansas Historical Society's profile of James Naismith. By 1900, numerous Eastern colleges had men's basketball teams that were playing each other, and Naismith was coaching Kansas. Games had far fewer points than 21st century games, partly because teams had an unlimited amount of time to shoot. In the first doubleheader at New York City's Madison Square Garden in 1934, New York University beat Notre Dame 25-18 and Westminster beat St. John's 37-33. In 1936, several college players were on the U.S. team that beat Canada 19-8 in the first Olympics gold-medal game.
National Tourneys
"The Sports Answer Book" author Bill Mazer credits Hank Luisetti with changing college basketball's low-scoring nature. Luisetti invented the running one-hand jump shot, which replaced the standing two-hand set shot as the most common shot. Luisetti, a Stanford University freshman, scored 70 points in two games in 1936. This led to Stanford playing games attended by more than 17,000 people at Madison Square Garden. In 1938, the National Invitation Tournament became the first national tournament. Every NIT was at Madison Square Garden. In 1939, the National Collegiate Athletic Association started an eight-team tourney, opting to play at a different site each year. Oregon won the first tourney in Evanston, Ill.
Growth of Sport
The NIT tourney was as prestigious as the NCAA tournament for decades because college basketball was so popular in New York, reported Mazer. In 1950, the City College of New York became the only team to win both tourneys in the same year. The NIT was helped by the NCAA tourney inviting only conference champions. The NCAA tournament gained popularity as super teams like the UCLA team that won 10 titles in the 1960s and 1970s made college basketball more popular outside the East. In the 1970s, the NCAA tourney became stronger when it allowed second-place teams to compete. The field expanded from 25 teams in 1974 to 32 in 1975, 48 in 1980 and 64 in 1985. This meant that only teams unranked in Top 25 polls played in the NIT.
References
Resources
Writer Bio
Jay Schwartz has had articles printed by the "Chicago Tribune," "USA Today" and many other publications since 1983. He's covered health, fitness, nutrition, business, real estate, government, features, sports and more. A Lafayette, Pa. college graduate, he's also written for several Fortune 500 corporate publications and produced business newsletters.