Dimensions of a UEFA Soccer Field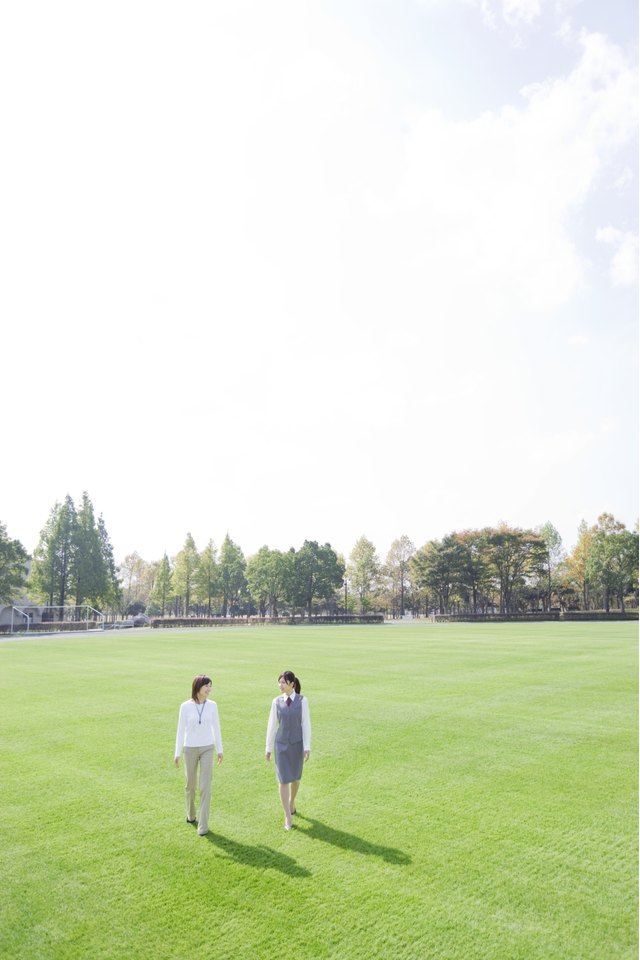 FIFA, the global organization governing soccer, has six member confederations. UEFA is the FIFA member confederation representing Europe. This means that UEFA-sanctioned soccer games must be played according to FIFA's Laws of the Game -- the same rules used here in America and elsewhere in the world. So whether you're travelling to participate in a foreign tournament or just taking in the UEFA Champions League on TV, the field dimensions must adhere to the same rules that you know at home.
Domestic Play
In domestic play, the touch line -- which runs the length of the field -- can be as short as 100 yards and as long as 130 yards. The goal line -- which runs the width of the field -- must be at least 50 yards long and no more than 100 yards long. This means that the maximum field dimensions are 130 yards by 100 yards and the minimum dimensions are 100 yards by 50 yards.
International Play
For international games UEFA has a more limited range of allowable fields. The touch line must be at least 110 yards long and can be no longer than 120 yards. The goal line has to be at least 70 yards in length and can be no longer than 80 yards. This makes the maximum field dimensions 120 yards by 80 yards and the minimum dimensions 110 yards by 70 yards.
Markings
The touch line and the goal line must be clearly marked with lines. The lines are considered part of the field of play. A line also separates the two halves of the field, running between the midpoint of each touch line. A center mark is placed at the midpoint of the center line and a circle with a 10-yard radius surrounds it. Two boxes are marked in front of the goals, the 18-yard penalty area and the 6-yard goal area. Additionally, a penalty mark is placed 11 yards in front of each net.
Exceptions
Individual UEFA member associations are allowed to make modifications to the size of the field of play, but only for certain games. Modifications are allowed for women's games, games played by players under age 16, games played by players over 35 years old and games played by players with disabilities. These rule modifications won't affect the top games you'll see on TV, like the UEFA European cup or the UEFA Champions League, but you may encounter modifications if you're visiting Europe to play in a tournament for teams in any of these categories.