What does fact checked mean?
At SportsRec, we strive to deliver objective content that is accurate and up-to-date. Our team periodically reviews articles in order to ensure content quality. The sources cited below consist of evidence from peer-reviewed journals, prominent medical organizations, academic associations, and government data.
The information contained on this site is for informational purposes only, and should not be used as a substitute for the advice of a professional health care provider. Please check with the appropriate physician regarding health questions and concerns. Although we strive to deliver accurate and up-to-date information, no guarantee to that effect is made.
The Best Step Aerobics Music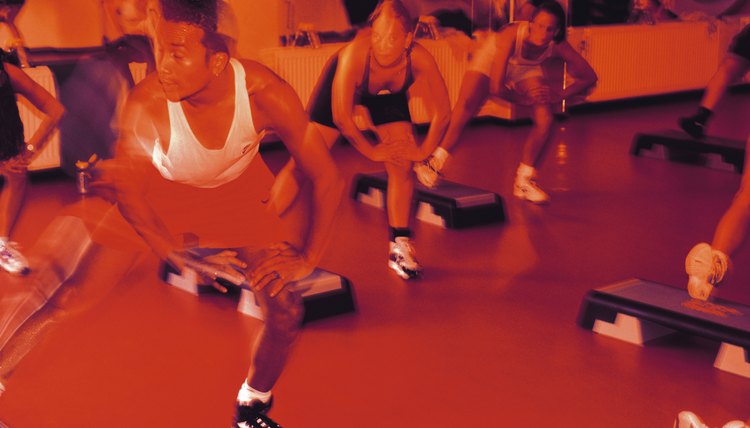 Adding music to a workout routine can set the pace of your movement patterns. In a form of exercise like step aerobics, where elevating your heart rate relies on maintaining an up-tempo speed, music can help make the workout challenging on an aerobic level. The best music for step aerobics purposefully combines beats per minute, repetitive rhythm, and seamless transitions from one song to the next.
Keep It Upbeat
The beats per minute (bpm) in a song is the base tempo that keeps you and your heart rate moving at a certain speed. When choosing music for the soundtrack of your workout, there is a balance between a bpm that sets the pace and one that promotes proper form, technique, and safety. Sports education scholar Costas Karageorghis, Ph.D., suggests music for general exercise be above 120bpm, which can reduce the effort you feel you're exerting. To avoid rushing movements and compromising step aerobic form, the bpm shouldn't exceed 128bpm.
Coordinate with Rhythm
The rhythm is the melodic pattern throughout a song. Rhythm is repetition and can assist in synchronizing physical movements based on the recurring sounds. In the context of step aerobics, sound patterns can be used to signal moving from one movement pattern to the next. With the coordination of arm and leg movement integral to step aerobic combinations, using the rhythm of a song to piece together movements throughout the body can assist in building coordination.
Seamlessly Transition
Moving from one song to the next can inform the combinations of a step aerobic workout, however maintaining movement and an elevated heart rate from one song to the next will work to build endurance. Rather than stacking songs in playlist form, try using a mixtape or fusing the songs in your playlist with a music editing program to create a fluidity throughout your music.
Make It Personal
Karageorghis told the "New York Times" in 2008, "[Music] can reduce the perception of effort significantly and increase endurance by as much as 15 percent." Regardless of your musical preferences, it is possible to find suitable stepping music in your genre of choice with an upbeat tempo. For alternative music, "Pumped Up Kicks" by Foster the People is 128 bpm. Sharing the same speed are "Levels" by Avicii (house) and "Amber Cascades" by America (classic rock). "Untrue (David Edward Remix)" by Louis La Rouche (dance) and "Club Can't Handle Me" by Flo Rida ft. David Guetta (hip hop/ rap) enjoy 127 bpm. Slowing things down, Mumford and Sons "Awake My Soul" (folk/ rock) sits at 135 bpm. Even songs like Tuxedo's "Do It" (funk) at 120 bpm bring a steady rhythm to set your pace.
References
Writer Bio
Situated in Fiji's Yasawa Islands, Leigh Stewart has been writing, teaching yoga, and inspiring the work of others since 2011. Her work has been featured on MindBodyGreen, MyYogaOnline and Nourish Organic. She holds degrees in English and sociology from Wesleyan University and uses her background in writing to engage yogis of all ages across the globe.