Top 10 Gyms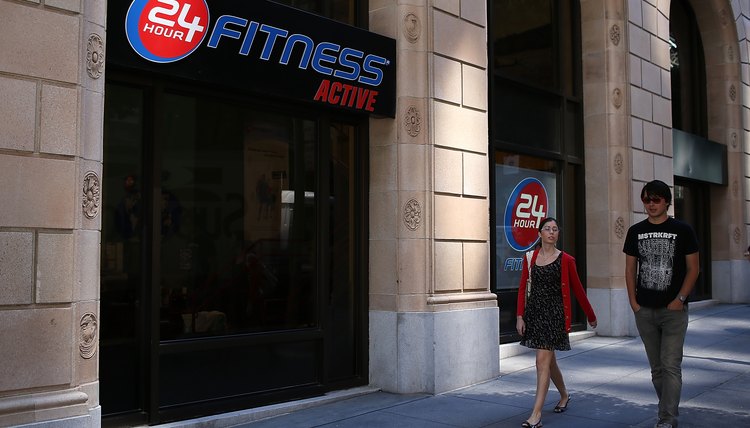 If there's one thing most major cities aren't lacking, it's places to work out—well, and maybe Starbucks. But finding the best gym to meet your needs can be difficult. Fortunately, there are thousands of gyms across the country—36,540 to be exact—each designed to meet different needs. So, whether you're in the market to sweat it out in a spin class or "find your center" while practicing some Hatha yoga, these gyms have practically everything you need—and then some.
Equinox
Fitness meets fantastic at these facilities that offer top trainers and signature group classes. A bit on the spendy side for many, but this gym promises to deliver some of the best group classes you will ever experience. They also offer elite equipment for cardio, strength training, and stretching. Equinox has locations across the United States, plus London Toronto, and Vancouver.
Lifetime Fitness
While not one of the flashiest gyms around, Lifetime Fitness might be one of the most practical and affordable. With more than 100 locations, Lifetime Fitness meets the needs of exercisers looking to get in and get out. They offer weights, cardio, classes, pool, sauna and more, all for a mere $30 per month for a basic membership. They also offer programs geared toward weight loss, running, cycling, swimming, and health monitoring.
Anytime Fitness
Yes, there are people who want to work out in the middle of the night, and that's why Anytime Fitness has seen so much success. With more than 3,000 gyms worldwide, this franchise gives members the ultimate convenience: They are open all the time. Members are given a special card key that gives them access to the facility any time of the day, where they focus on simple cardio and weight equipment.
24 Hour Fitness
Like Anytime Fitness, 24 Hour Fitness attracts people who are looking for the ultimate flexibility when it comes to working out. They have more than 400 locations in 13 states (some as big as 100,000 square feet) that sport the latest strength and cardio equipment plus a variety of classes and personal trainers to help customize your workouts.
Crunch Fitness
If you've seen one, you've seen them all—and that's not a bad thing. Crunch Fitness is known for its no-nonsense facility that gets right down to what's important: working out. They also focus on being a no-judging, nurturing and encouraging kind of place. But, the crown jewel of Crunch is actually the value it provides. With the basic membership starting at $9.95/month, there is no doubt this chain provides the most bang for your buck.
The Sports Center at Chelsea Pier
One of the best-known sports-oriented gyms in the country, The Sports Center at Chelsea Pier has a regulation-size boxing ring, a sand volleyball court, a quarter-mile indoor track, a rock climbing wall, three basketball courts, a sports-drill center and a 25-yard indoor swimming pool. Are you tired yet? Well, you better not be, because they also have a 14,000 square foot weightlifting area.
Curves International
If you're looking for a no-fuss female-only workout that gets you sweaty in 30 minutes, then you might want to check out a Curves facility. They are best known for their 30-minute circuit style workout that is said to hit cardio, stretching and strength training all at the same time.
New York Sports Club
"Fitness That Fits You." That's the philosophy behind the New York Sports Club. With 103 locations in Boston, Philadelphia, and Washington DC, they maintain the largest gym network n the Northeast. They offer innovative programs, pools, weight and cardio equipment, sports and recreation including squash, lacrosse, volleyball, tennis, and more. They also have a little something for the kids: A kids club, that helps adolescents build the skills and confidence needed for a positive body-image.
Gold's Gym
You can't talk about top gyms without mentioning the mother of them all: Gold's Gym. First started in Venice Beach, this chain has grown from a bodybuilder-only gym to a family-friendly facility appropriate for all fitness levels. They offer some of the best in strength training and cardio equipment, rows and rows of dumbbells, and group classes taught by top trainers.
YMCA
The YMCA is known for strengthening communities through youth development, social responsibility and healthy living. What's so great about "The Y" is that it provides a facility for the entire family. Most of the gyms have state-of-the-art equipment for serious lifters. They also offer sports and recreation such as basketball, swimming, pickleball, racquet ball and countless fitness classes.
References
Writer Bio
Sara Lindberg, B.S., M.Ed., is a freelance writer focusing on health and fitness. She holds a Bachelor's of Science Degree in Exercise Science and a Master's Degree in Counseling. Her work is published in LIVESTRONG, Men's Health, Runner's World, Bicycling Magazine, SheKnows, Healthline, Active.com, HealthyWay, Yahoo Health, Bodybuilding.com, and many more.