The Top Aerobics DVDs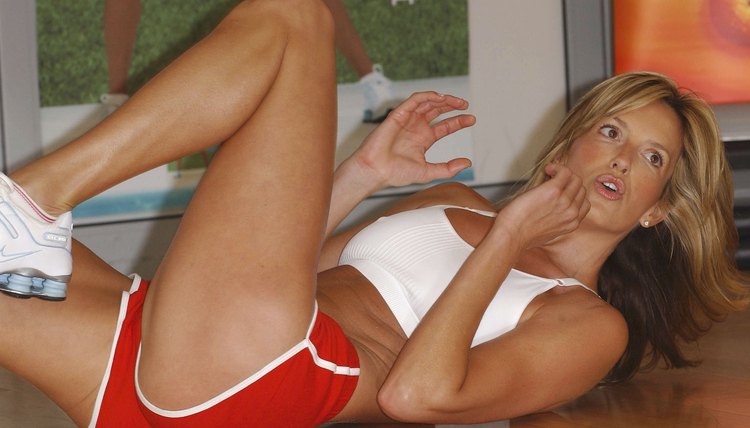 Staying in shape is much easier when you have someone to tell you what to do. While the top trainers in the world are rather expensive to work with, you can get a taste of their expertise by buying one of their workout DVDs. Try out one of these aerobic workouts to up your fitness level and receive expert instruction from some of the best in the business.
The Firm Low Impact Aerobics DVD (Classic Firm Volume 2)
The Firm promises to deliver results in 10 workouts. Each workout is designed to be low-impact, without any of the jumping and jarring movements that some other aerobic DVDs use. Over 141 five-star customer reviews on Amazon speak to the quality of the workout.
Instead, have light dumbbells and ankle weights ready because you'll use weights to increase the intensity of these workouts.
The entire workout is 65 minutes long and includes a warm-up, cardio, muscle toning and stretching.
Biggest Loser: Boot Camp
With over 250 five-star reviews and counting on Amazon, the Biggest Loser Boot Camp DVD is one of the highest-rated aerobics DVDs. The workouts are led by Bob Harper, one of the hosts on NBC's hit show The Biggest Loser, on which the DVD is based.
Bootcamp classes normally have large groups of people and are minimalist in terms of equipment used. This DVD only requires a medicine ball and resistance band, but you get the comfort of doing the workout solo in your home. There are three workouts in the DVD with varying difficulty, so you have room to progress unless you're already in great shape.
Tracy Anderson: Cardio Dance Express
An article from Woman's Day rates this one of the top 25 DVDs for getting in shape. There are six, 10-minute dance routines included in the DVD. The first workout is more of a dance lesson where you learn beginner steps.
As you progress through the workouts, you'll be better able to pick up the dance routines, which are designed by Tracy Anderson. A trainer of celebrities like Madonna and Jennifer Lopez, Tracy Anderson knows what it takes to get you into shape.
Denise Austin: Quick Burn Cardio
In addition to leading one of the longest-running fitness TV shows in history, Denise Austin has published 12 books and produced a series of workout DVDs.
This quick aerobics workout, which has almost 100 five-star reviews on Amazon and counting, is 50 minutes long. You start with a five-minute warm-up and then move into 20 minutes of interval training with leg and ab exercises. After that you have 20 minutes of weight training. Finally, there's a five-minute cool down with stretches.
References
Writer Bio
Henry is a freelance writer and personal trainer living in New York City. You can find out more about him by visiting his website: henryhalse.com.