Can a Vibration Exercise Machine Hurt Your Back?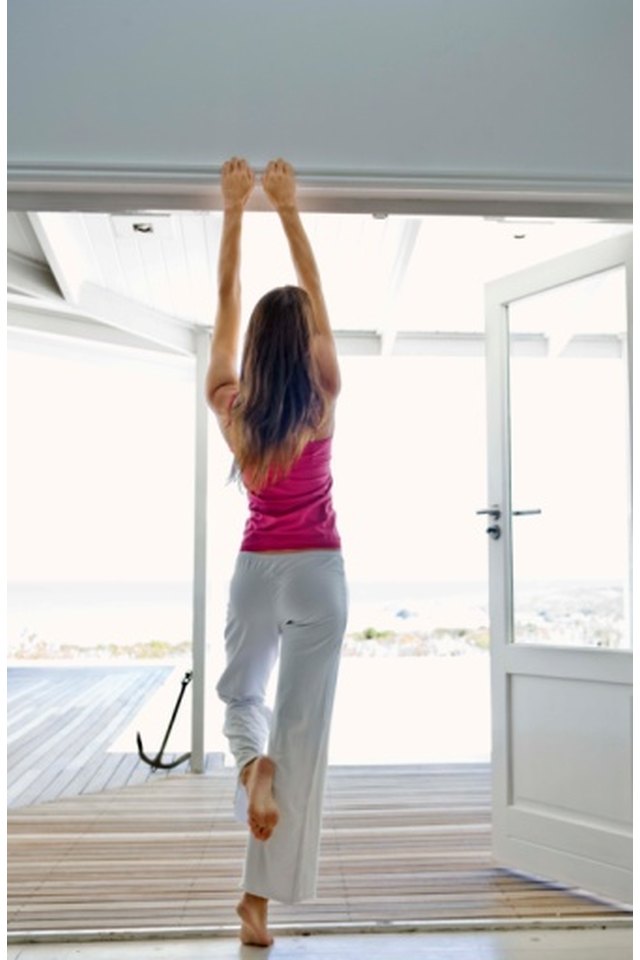 Vibration exercise machines are designed to be low-impact and accessible for people of all ages and physical conditions. They may help the elderly and those with injuries exercise and work up strength without causing pain. Opinions vary about whether using a vibration exercise machine can help or hurt your back and body, and too little scientific evidence exists to support either claim.
Genesis
The vibration exercise machines that you can buy or may be able to find at your local gym are based on vibration exercise machines that Russian astronauts developed and used in space in the 1960s and 1970s. The Russian astronauts used these vibration exercise machines to delay muscle atrophy and the lowering of bone density that can be suffered in space due to the lack of gravity. By using vibration exercise machines while in space, Russian astronauts were able to set a world record for length of time in space, staying up there 432 days, as opposed to the Americans, who were able to stay in space for only 300 days. The vibration exercise machines were able to help the Russian astronauts keep their bones and muscles stronger longer, and exercise manufacturing companies took note, developing vibration exercise machines for use by regular people on Earth.
Lessened Workout Time
The intensity of the muscle vibrations provided by vibration machines could harm back muscles unaccustomed to exercise. Vibration exercise machines, ranging in price from about $2,500 to $15,000 as of March 2011, provide workouts intended to last 10 or 15 minutes but provide the benefits of a workout three times as long. You should not use vibration machines for longer than 15 minutes at a time. Overuse could damage your back and other muscles due to extreme muscle fatigue.
Rapid Muscle Contractions
Vibration exercise machines work by creating rapid, involuntary muscle contractions, enabling your muscles to contract and retract much more quickly than would be possible from regular exercise. At a low setting of 30 vibrations per second, a 30-second squat would equal the equivalent of performing 900 squats manually. Vibration machines engage 90 to 100 percent of your engaged muscles. In a regular workout, you would use about 30 percent of your engaged muscles. The potential for back pain also increases — if you move incorrectly and pull a back muscle, you could repeat the action a multiple of times.
Benefits and Harm
Vibration exercises may help various medical conditions, including arthritis, because they are designed to put less stress on the body than other exercise machines. They may also decrease the production of cortisol, a stress hormone which can make you gain weight and make it difficult for you to lose weight. Vibration exercise machines may also increase your circulation, help you improve your coordination and reverse the affects of osteoporosis. It is important to keep in mind, however, that there are many different kinds of machines with varying vibration speeds, and certain machines and certain speeds may be better than others for your conditions. While some recommend vibration exercise machines for chronic pain, such as back pain, the machines can cause back pain, along with headaches and perhaps even brain damage from too much vibration of the brain. It is important to consult your doctor before beginning to use a vibration exercise machine.
References
"Sunday Mail"; Feel Good Vibrations; May 13, 2007
"The Toronto Star"; WAVE Machine Gives Good vibrations; Sept. 9, 2005
"The Courier Mail" Vibrating with Fitness; Fran Metcalf; June 6, 2007
"The Guardian"; All Shook Up; Peta Bee; Sept. 28, 2006
"The Gazette" Don't Get All Shook Up; Jill Barker; July 24, 2007
Cerciello S, Rossi S, Visonà E, Corona K, Oliva F. Clinical applications of vibration therapy in orthopaedic practice. Muscles Ligaments Tendons J. 2016;6(1):147–156. Published 2016 May 19. doi:10.11138/mltj/2016.6.1.147
Alentorn-Geli E, Padilla J, Moras G, Lázaro Haro C, Fernández-Solà J. Six weeks of whole-body vibration exercise improves pain and fatigue in women with fibromyalgia. J Altern Complement Med. 2008 Oct;14(8):975-81.
Cormie P, Deane RS, Triplett NT, McBride JM. Acute effects of whole-body vibration on muscle activity, strength, and power. J Strength Cond Res. 2006 May;20(2):257-61.
Goldstein BA, Lenhardt ML, Shulman A. Tinnitus improvement with ultra-high-frequency vibration therapy. Int Tinnitus J. 2005;11(1):14-22.
King LK, Almeida QJ, Ahonen H. Short-term effects of vibration therapy on motor impairments in Parkinson's disease. NeuroRehabilitation. 2009;25(4):297-306.
Lai CL1, Tseng SY1, Chen CN2, Liao WC3, Wang CH4, Lee MC5, Hsu PS6. Effect of 6 months of whole body vibration on lumbar spine bone density in postmenopausal women: a randomized controlled trial. Clin Interv Aging. 2013;8:1603-9.
Roelants M, Delecluse C, Goris M, Verschueren S. Effects of 24 weeks of whole body vibration training on body composition and muscle strength in untrained females. Int J Sports Med. 2004 Jan;25(1):1-5.
Schuhfried O, Mittermaier C, Jovanovic T, Pieber K, Paternostro-Sluga T. Effects of whole-body vibration in patients with multiple sclerosis: a pilot study. Clin Rehabil. 2005 Dec;19(8):834-42.
Slatkovska L, Alibhai SM, Beyene J, Hu H, Demaras A, Cheung AM. Effect of 12 months of whole-body vibration therapy on bone density and structure in postmenopausal women: a randomized trial. Ann Intern Med. 2011 Nov 15;155(10):668-79, W205.
Totosy de Zepetnek JO, Giangregorio LM, Craven BC. Whole-body vibration as potential intervention for people with low bone mineral density and osteoporosis: a review. J Rehabil Res Dev. 2009;46(4):529-42.
Von Stengel S, Kemmler W, Bebenek M, Engelke K, Kalender WA. Effects of whole-body vibration training on different devices on bone mineral density. Med Sci Sports Exerc. 2011 Jun;43(6):1071-9.
Resources
"Herald Sun"; Good Vibrations; Daniel Hoy; July 27 2009
Writer Bio
Since 2005, Milo Dakota has ghostwritten articles and book manuscripts for doctors, lawyers, psychologists, nutritionists, diet experts, fitness instructors, acupuncturists, chiropractors and others in the medical and health profession. Her work for others has appeared in the "Journal of the American Medical Society" and earned accolades in "The New York Times." She holds a Master of Art in journalism from the University of Michigan.