What does fact checked mean?
At SportsRec, we strive to deliver objective content that is accurate and up-to-date. Our team periodically reviews articles in order to ensure content quality. The sources cited below consist of evidence from peer-reviewed journals, prominent medical organizations, academic associations, and government data.
The information contained on this site is for informational purposes only, and should not be used as a substitute for the advice of a professional health care provider. Please check with the appropriate physician regarding health questions and concerns. Although we strive to deliver accurate and up-to-date information, no guarantee to that effect is made.
Are Chinups Good for Your Biceps?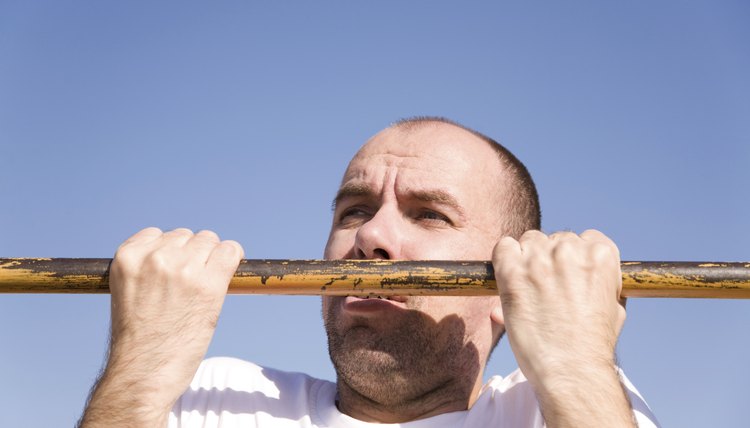 If you're looking to specifically develop your biceps, chin-ups are an effective exercise to incorporate into your arm workouts. While they're not responsible for handling most of the load, the hand placement of chin-ups requires the biceps to get more heavily involved. You can also apply the chin-up grip to other exercises to further overload the biceps.
Looking at Chinups
While traditional pull-ups call for a wide, overhand grip on the bar, chin-ups involve gripping the overhead bar with your hands at a shoulder-width position and with your palms facing inward. After you have a firm grip, pull your body up toward the bar by bending your elbows and driving your upper arms down by your sides. Once your chin is beyond the height of the bar, extend your arms to control your body back and complete the rep. Before doing chin-ups, be sure to properly warm up with light cardio and upper body dynamic stretches. When you're finished, walk for five minutes and then statically stretch your back and arm muscles.
Biceps Involvement
Your biceps brachii are responsible for bending your elbows against resistance. While you do bend your elbows during traditional pull-ups, it's not to the same degree as when you're performing chin-ups; the hand placement allows chin-ups to effectively work your biceps brachii. The narrow, underhand grip places the biceps in a stronger line of pull, thus placing them in a position where they can more effectively contribute to handling the load. As your hands get wider, the weaker the line of pull and the less the biceps are involved.
Other Muscles Worked
Despite the heavy biceps involvement, your latissimus dorsi in your back continues to be the primary mover during chin-ups. The latissimus dorsi is responsible for adducting and extending your arms, which means it drives your arms in to your sides and back behind you. Your posterior deltoid, which is the back of your major shoulder muscle, contributes to driving your arms back. Your trapezius, levator scapulae and rhomboids help out by controlling movement at your scapulas.
Chin-ups and Other Exercises for the Biceps
If incorporating chin-ups into your arm workouts, start your training session with chin-ups. Chin-ups are a compound exercise, which means they require movement at multiple joints, and should therefore be done before single-joint, isolation exercises like biceps curls. Chin-ups can be challenging as you have to lift your entire bodyweight, so if you struggle, you can work the biceps in a similar manner by using an assisting pull-up machine or doing lat pulldowns with a narrow, underhand grip. To make chin-ups more challenging, squeeze a weighted plate or dumbbell between your feet.
References
Writer Bio
Kim Nunley has been screenwriting and working as an online health and fitness writer since 2005. She's had multiple short screenplays produced and her feature scripts have placed at the Austin Film Festival. Prior to writing full-time, she worked as a strength coach, athletic coach and college instructor. She holds a master's degree in kinesiology from California State University, Fullerton.