Swimming Aids for the Disabled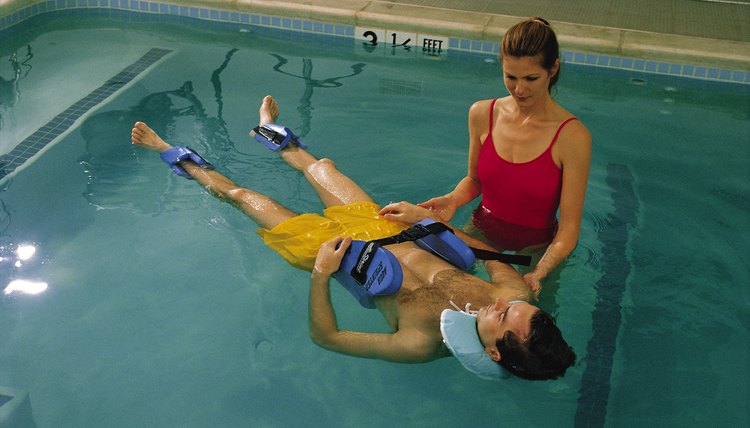 With the right kind of equipment, everyone can enjoy a swimming pool or lake regardless of physical abilities. If you are blind or physically disabled, you have several options available to help you navigate the water. Swimming aids provide access to the effective exercise you can get while swimming.
Flotation Devices
If you cannot hold your head out of the water without assistance or have difficulty controlling your limbs, a wide range of flotation devices can help. You can choose light inflatable rings that you can wear around your neck to keep your head above the waterline, rings that go around your arms to help you stay afloat and inflatable body suits that allow you to engage in as much physical movement as you can manage in the water.
Guides
Human swimming aides can be helpful to blind swimmers. An instructor can teach swimming techniques to a blind student by physically manipulating his limbs and holding him up in the water as he practices. When swimming laps, you can partner with an aide, who swims beside you and taps you on the shoulder when you move out of your lane. If you have low vision, you may benefit from the use of brightly colored lines that mark the edges of the pool. As a blind swimmer, you will eventually learn to count your strokes to let you know when you've reached the side of the pool. An aide can also ring a bell or use a prearranged signal to let you know when the side is approaching.
Ramps
If you use a wheelchair, you can enjoy swimming with the help of lifts and stair systems. Pools that are wheelchair accessible often have an area that can be turned into a ramp so that you can guide your chair to the edge of the water and slide in. Mobile lifts are available for locations that don't supply built-in access. The lift moves into place and you place a strap under the wheelchair, then lift and move it over the water. Once lowered, you can move safely into the pool. Stair systems slide up to the side of the pool and allow you to transfer from your chair and gently work your way down to the water.
Accessories
Accessories are available to solve other challenges that you may encounter as a swimmer with a disability. If you are an amputee, rubber prosthetics can provide resistance that you can use to perform swim strokes. Winged arm prosthetics are designed for backstrokes and to reduce the friction in the water during straight swim strokes. Belts and buckles used to tie your legs together are designed to float and stay on in the water to help you maintain control of your limbs while swimming. Undergarments for incontinent swimmers help make swimming exercise completely enjoyable without fear of accidents.
Writer Bio
Linda Ray is an award-winning journalist with more than 20 years reporting experience. She's covered business for newspapers and magazines, including the "Greenville News," "Success Magazine" and "American City Business Journals." Ray holds a journalism degree and teaches writing, career development and an FDIC course called "Money Smart."