The Best Martial Arts for Women's Self Defense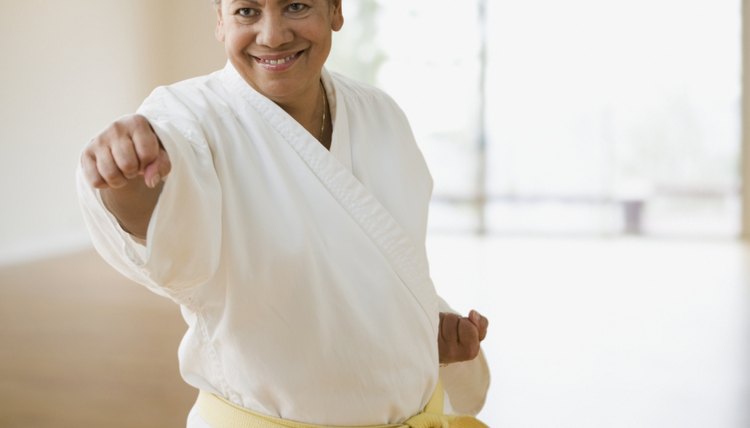 The world can be a dangerous place for women. Women are victims of violent crimes like sexual assault and domestic violence on a daily basis. Many women are interested in learning how to protect themselves against violent situations, but they are often not sure where to turn. Martial arts classes are a place where women can develop the mental and physical skills to defend themselves against attacks. Some of the best martial arts for women's self defense are Tae Kwon Do, Krav Maga, Aikido, Brazilian Jiu Jitsu and Jeet Kune Do.
Tae Kwon Do
Tae Kwon Do originated in Korea and is one of the world's most popular martial arts. The term Tae Kwon Do is translated as "the way of kicking and punching." This style is often thought of as a sport that can be seen in martial arts tournaments and even in the Olympics. However, Tae Kwon Do has many effective self-defense techniques. Tae Kwon Do is particularly well suited for women because of the art's emphasis on kicking. Men generally have more upper body strength than women and this factor can leave women vulnerable in an attack. Tae Kwon Do equips women with an arsenal of devastating kicks that can help combat the strength of male attackers.
Krav Maga
Krav Maga is an Israeli art that has gained some popularity. It is the official self-defense system of the Israeli Defense Force and it teaches its practitioners how to deal with armed and unarmed attacks. Women can benefit from Krav Maga because this system's drills help students to function both mentally and physically when under duress. Krav Maga can empower women to protect themselves against violent situations like sexual assaults. Women can learn how various parts of their bodies like elbows and knees can become weapons when necessary.
Aikido
Aikido is a Japanese martial art that is unlike most other styles. Many other martial arts are considered hard, linear styles that meet force with force. However, students of Aikido are taught to redirect an attacker's force and use it against him. Aikido is beneficial to women because it does not require women to be stronger than male attackers in order to defend themselves. Aikido teaches a wide variety of joint locking and throwing techniques that can help women escape dangerous situations.
Brazilian Jiu Jitsu
Brazilian Jiu Jitsu has become immensely popular since the beginning of the Ultimate Fighting Championship franchise. Many competitors in the UFC use Brazilian Jiu Jitsu in their matches. Although most women probably are not interested in getting into the UFC ring, the grappling techniques of Brazilian Jiu Jitsu can be beneficial for women to learn. Sexual assaults and other attacks against women often end up on the ground. Brazilian Jiu Jitsu has a strong emphasis on ground fighting, which can help women learn how to defend themselves when pinned underneath male attackers.
Jeet Kune Do
Jeet Kune Do was founded by famed martial artist Bruce Lee. Lee's desire was to take the best, most effective martial arts techniques from a variety of styles and blend them into one fighting system. Jeet Kune Do teaches its students to deal with attacks in the most efficient manner. Jeet Kune Do students learn how to hit the closest target on an attacker with the closest weapon that they have available. Striking an attacker in the eyes with the fingers would be an example of a Jeet Kune Do defense. Jeet Kune Do is a good art for women to learn because it teaches women how to escape dangerous situations as quickly as possible before the danger has an opportunity to escalate.
Preparation
The best way for women to protect themselves against violent attacks is to be prepared. There are martial arts classes in nearly every city that can help women learn the necessary skills to prevent and escape dangerous situations. The best way to find the right self defense class for women is to take that first step into a martial arts studio and try a class. Giving martial arts a try could be a live-saving decision.
References
Writer Bio
Henry is a Philadelphia-based personal trainer and writer. He has trained a wide range of clients, from professional athletes to working professionals. Feel free to contact Henry with any questions regarding an article that he's written.