Basketball Official Size & Weight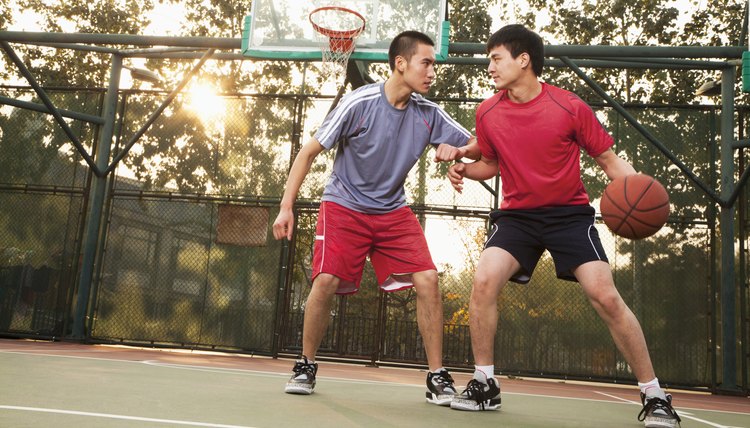 Basketball sizes vary depending on the league or governing body for a particular basketball game. Basketballs are measured by circumference, inflation pressure or weight. According to USA basketball, balls should be made of leather or synthetic leather. A properly inflated ball of the correct size for level of play is important to ensure safety and skill development.
The NBA and WNBA
NBA basketballs, according to USA Basketball, are 29.5 inches in circumference while the WNBA's basketballs have a maximum circumference of 29 inches. Both should be inflated to between 7.5 and 8.5 pounds per square inch.
The NCAA
NCAA men's basketballs have a maximum circumference of 30 inches, and the seams must be no wider than 1/4 inch, with a weight of approximately 22 ounces. NCAA women's basketballs are a maximum of 29 inches in circumference, with a maximum weight of 20 ounces and seams no wider than 1/4 inch.
FIBA
International basketballs for men's play have a circumference of 78 centimeters -- 30.7 inches -- and are referred to as size 7. In women's international play, the maximum size is 74 centimeters (29 inches), size 6. When dropped on the playing floor from a height of 1,800 millimeters (6 feet) the ball should bounce to a height between 1,200 millimeters and 1,400 millimeters (47 to 55 inches), measured to the top of the ball.
Youth Sizes
Most youth or junior basketball leagues for players 8 years old and above will use a collegiate or NBA size basketball. For players younger than 8, smaller sizes can be used. Most youth leagues will use basketballs between 28 and 29 inches in circumference.
References
Writer Bio
Carl Putman is the program director for the Parisi Speed School located in Melbourne, Fla. He received a Bachelor of Arts in sport management from Flagler College and has been working with athletes of all ages and abilities since 2008. He specializes in speed, agility and sport performance for athletes.