How to Train For a First Triathlon Swim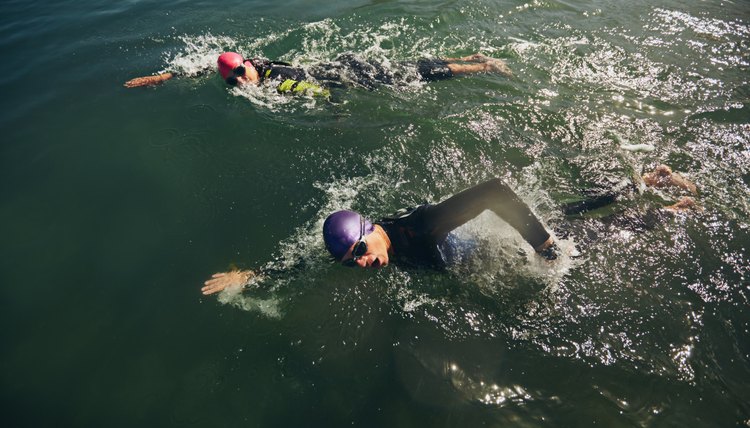 The swim leg is easily the most intimidating portion of a first triathlon for many people. If you are among the water wary. take heart. A good training regimen will help you make it through your open water swim with energy left over for the bike and run legs of the race. Focus on technique, efficiency and relaxing during your swim.
Plan your training calendar so you begin water training before your bike and run training if you are new to swimming or have difficulty in the water, recommends Priscilla Kawakami, U.S. Masters swim coach from Salt Lake City, Utah. Even if you have good running and biking endurance, you're not necessarily ready to jump into a swim race, because you use different muscles. Swimming also requires a different approach to oxygen intake than the other legs of triathlons. If you are anxious in the water, start early and get comfortable, which will help as your training progresses. Spend some time in the pool submerging yourself and looking around or floating if you are panicky; get used to being in the water before you begin swimming workouts.
Practice breathing before you practice swimming. Push off the pool wall in a prone position and kick. Exhale while your face is in the water instead of holding your breath. Turn your entire body and inhale. Holding your breath, then trying to exhale and rapidly inhale leaves you gasping and pulls your head too high, a habit that will impair your stroke technique.
Focus on swim technique over volume of laps or time spent swimming once you begin training. Start training 16 weeks before your event. Swim lap after lap instead of doing drills and you are likely to embed your technique mistakes instead of correcting them, warns "Triathlon 101" author John Mora. Set your sights on efficiency over speed because saving energy on your swim will help you perform better on the bike and run portions of the race.
Use a swim-focused triathlon training program. Perform a short, medium and long swim each week. For example, swim for 12, 16 and 20 minutes in Week 1, such as on Monday, Wednesday and Thursday. In a 16-week program, progress to swimming 23, 31 and 39 minutes by Week 14 before tapering your time back in weeks 15 and 16 in preparation for your event, recommends Beginner Triathlete.
Count your strokes regularly. Practice stroke elimination. If it usually takes 24 strokes for you to go the length of the pool. aim to reduce this by 10 percent, or two to three strokes. Strive to maintain a lower stroke count during swim training sessions, Mora recommends. As you tire and swim less efficiently, your stroke count can go up by 30 percent or more. If you are unable to reduce your stroke count, focus on drills over long swim workouts so they account for 60 percent of the time you spend in the water.
Practice skills that streamline you and make you a more efficient swimmer. Focus on lengthening your body. Use a good forward reach to extend. Release your head into a natural position instead of holding it up. Practice "swimming uphill," so your body is either level or inclined slightly downward at the front as you swim. Practice a proper catch, or entry into the water with your hand. Work on relaxing. Reach forward with a weightless arm instead of a tensed one. If you are unfamiliar with good swim technique, find a local coach or take lessons at your local pool, recommends USA Triathlon coach Marty Goal.
Use your long swim to help you build swimming endurance to match your race distance and your shorter swims to work on technique. Most pools are 25 yards long. If your sprint swim is 1/4 mile, 18 laps is equivalent to your race distance, or nine times down and back.
Work on speed training only when you have an endurance base. Skip this step if you need additional work on technique or endurance.
Rehearse swimming in the open water before race day. Practice using on-shore landmarks to navigate in the absence of lane lines. Do drills in open water as well as regular swims.
Warnings
Do not swim in open water alone. Swim with a group or with a guide who paddles alongside you in a kayak. Swim near the shoreline.
References
Writer Bio
Linda Tarr Kent is a reporter and editor with more than 20 years experience at Gannett Company Inc., The McClatchy Company, Sound Publishing Inc., Mach Publishing, MomFit The Movement and other companies. Her area of expertise is health and fitness. She is a Bosu fitness and stand-up paddle surfing instructor. Kent holds a bachelor's degree in journalism from Washington State University.