Football: Defensive End versus Linebacker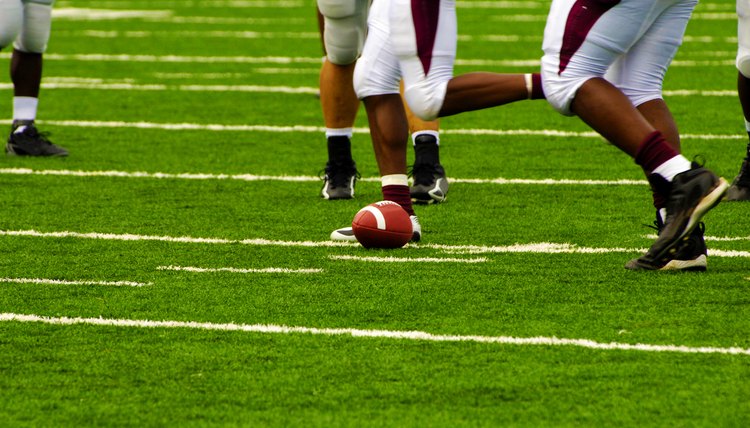 Defensive ends and linebackers play vital positions in American football. While players at both positions make tackles in the running game and rush the passer, there are key differences in the two spots. Defensive ends can set the tone in a football game with their ability to pressure opposing quarterbacks, while linebackers usually are defensive leaders because they can make plays all over the field. Here are the key differences between the two football positions.
What are the different positions for linebackers and defensive ends?
Just like safeties and running backs, there are different positional notations for linebackers. These positions are one of many key differences between the two positions. Linebackers have two different positions: middle linebackers and outside linebackers. The middle linebacker position, sometimes called the inside linebacker, is the quarterback of the defense and relays defensive plays to the defensive backs and other defensive positions from the sideline due to their location in the middle of the field.
The outside linebacker, or OLB, plays at the line of scrimmage and makes tackles on running backs and wide receivers coming out of the backfield. These players are split into weak side and strong side linebacker categories based on the offensive formation and what side of the field they are on.
Defensive ends have the same position, no matter what. They line up on the D-line next to the defensive tackles, or nose tackles, and are a part of the pass rush. However in recent years, DE's have been getting called EDGE rushers.
What is an EDGE rusher?
An edge rusher is a player who lines up outside of the tackles in a defensive formation. They act like a hybrid between an outside linebacker and a defensive end because they rush the passer and stay in space to tackle any rushers. They are popular in 4-3 defensive schemes and have become more utilized by defensive coordinators. However, it is not an official position on a football team.
Running Game
The defensive end and the linebacker have significant differences in their responsibilities against the run. The defensive end faces the offensive tackle as the ball is snapped and is responsible for the following:
Can't allow the running back to get outside of him on a running play
Must control the offensive tackle- can't allow himself to be pushed towards the outside on an inside run play, or pushed inside on an outside run play
Shed all blockers and tackle the ball carrier
Because they line up a few feet behind the defensive line, linebackers are responsible for tackling the ball carrier if they make it past the defensive line.
Rushing the Passer
The defensive end has the responsibility of rushing the passer and trying to sack him on nearly every pass play. When the quarterback drops back to pass, the defensive end will try to use an array of moves to get by the offensive tackle and close on the quarterback. The defensive end will use his speed, strength and ingenuity to get to the quarterback.
The linebacker occasionally will try to get to the quarterback by charging at him through a crease in the offensive line. This play is called a blitz and is designed to allow a linebacker to run full speed at the quarterback without having an offensive lineman block him. This play is supposed to take the offense by surprise.
Pass Coverage
On rare occasions, the defensive end will drop back five to 10 yards from his position on the defensive line and get involved in pass coverage by attempting to shut down the short passing game. The defensive end will try to get in the passing lanes to knock down a short- or intermediate-range pass.
The linebacker is regularly involved in pass coverage. He will be asked to cover opposing running backs or the tight end in pass coverage. He might be able to deflect the pass, intercept the pass or tackle the opponent after the reception is made.
Leadership
The linebacker usually takes more of a leadership role in the team's defense. Because the linebacker has more duties and makes plays all over the field, he often calls the plays in the defensive huddle and gives players specific assignments before the ball is snapped. Linebackers regularly serve as defensive captains on the field; defensive ends rarely have that responsibility.
Greatest Defensive Ends in NFL History
1. Reggie White
fred hall/iStock/Getty Images
After bursting into the scene and winning the NFL Defensive Rookie of the Year Award in 1985, Reggie White would go on to have one of the most dominant NFL careers ever. Perhaps his best season came in the 12-game, strike-shortened season of 1987, where he recorded an incredible 21 sacks on his way to his first of two consecutive sack titles in the NFL. The "Minister of Defense" retired as a Super Bowl Champion, 2x Defensive Player of the Year, 8x First Team All-Pro, 13x Pro Bowler, and 2nd on the all time career sacks list with 198.
2. Bruce Smith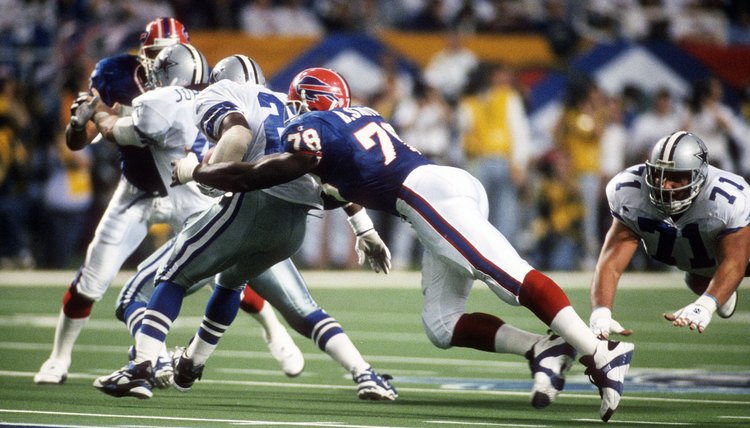 fred hall/iStock/Getty Images
Despite being double and triple teamed nearly every snap of his 19-year career, Bruce Smith still managed to amass the most career sacks in NFL history with 200. Smith also holds the NFL record for most seasons with 10 or more sacks, at 13 seasons. The epitome of strength and longevity, Bruce Smith retired as a 2x NFL Defensive Player of the Year, 4x AFC Defensive Player of the Year, 9x First Team All-Pro, 11x Pro Bowler, and a member of the 1980s and 1990s All-Decade Teams.
3. Lee Roy Salmon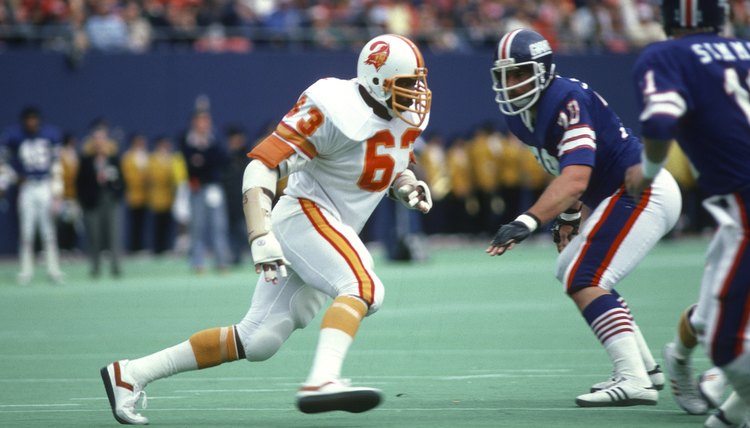 fred hall/iStock/Getty Images
The first pick in Tampa Bay Buccaneers history, Lee Roy Selmon instantly became a vital piece of the Buccaneers' early success. After being named the team's Most Valuable Player as a rookie, Selmon would go on to be named First or Second Team All-Pro five times, selected to six straight Pro Bowls in the 1980s, be named the NFL Players Association's NFC Defensive Lineman of the Year four times, and win the NFL Defensive Player of the Year award once before having to retire early due to injuries.
4. Deacon Jones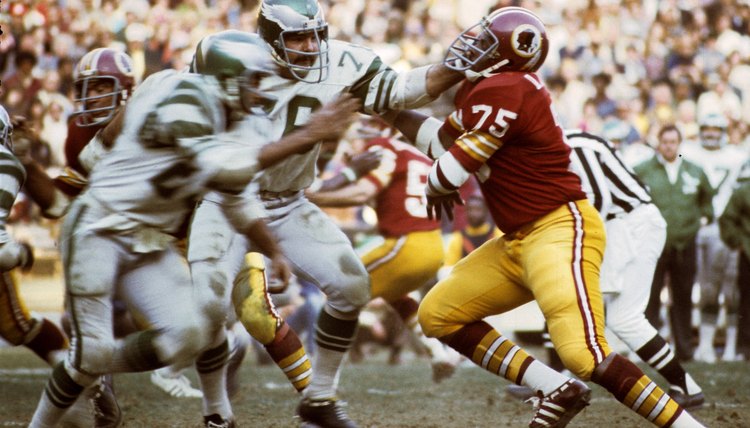 fred hall/iStock/Getty Images
After an obscure college career landed him a 14th round draft selection, Deacon Jones' NFL career was nothing short of remarkable. Missing only five out of 196 career games, Jones was unanimously given all-league honors six straight seasons and selected to eight Pro Bowls in his career, and was also named the league's top defensive player by major news services.
5. Jack Youngblood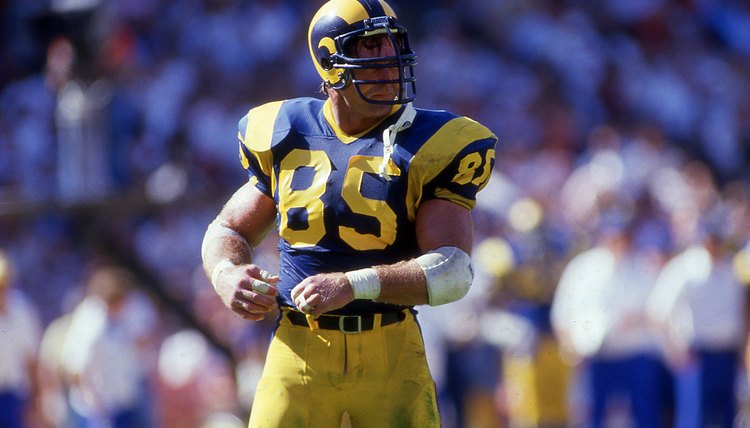 fred hall/iStock/Getty Images
Jack Youngblood was about as tough as they came in the NFL. Missing only one game throughout his entire 14-year career, he was named First Team All-Pro five times, selected to seven Pro Bowls, and lead the league in sacks twice. One of the best games of his career came against the St. Louis Cardinals in a 1975 playoff game, when he recorded one sack, one forced fumble, blocked an extra point, and returned an interception for a 47-yard touchdown. One famous story about Youngblood is that he was fitted with a plastic brace for the NFC Title game and Super Bowl and continued to play every down despite a broken left fibula suffered in the first round of those same playoffs.
6. Gino Marchetti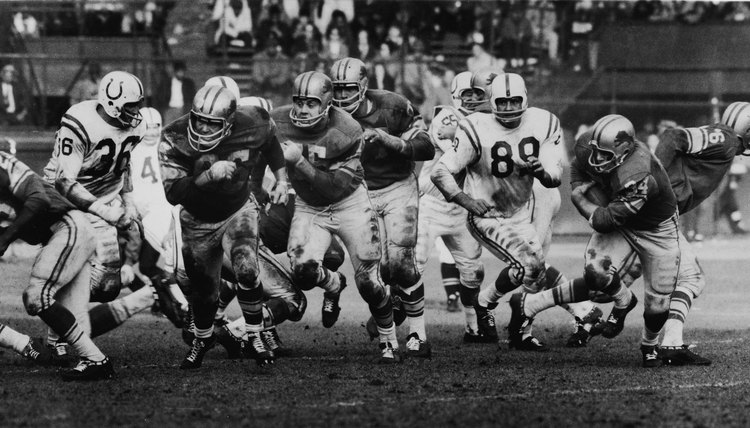 fred hall/iStock/Getty Images
One of the most feared pass rushers to ever play the game, Marchetti was a pivotal piece of the Colts' defense that won two Super Bowls in the late '50s. A Pro Bowler for 11 straight seasons, Marchetti is a member of the league's 50th, 75th, and 100th anniversary teams.
7. Michael Strahan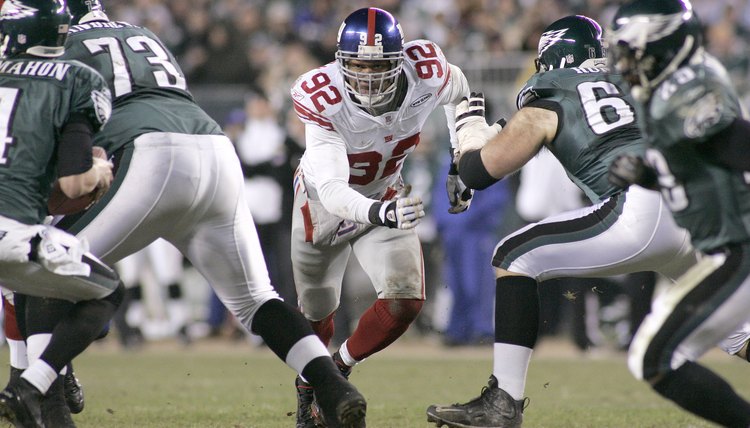 fred hall/iStock/Getty Images
After recording a school record 41.5 sacks at Texas Southern, Michael Strahan would continue to be a nightmare for opposing quarterbacks in the NFL by amassing a total of 141.5 sacks over his 15 seasons. His best season came in 2001, where he set a new NFL record with 22.5 sacks and lead the league with seven forced fumbles on his way to being named the NFL's Defensive Player of the Year. Strahan retired a Super Bowl Champion, 4x First Team All-Pro, 7x Pro Bowler, and a member of the NFL's 2000s All-Decade Team.
8. JJ Watt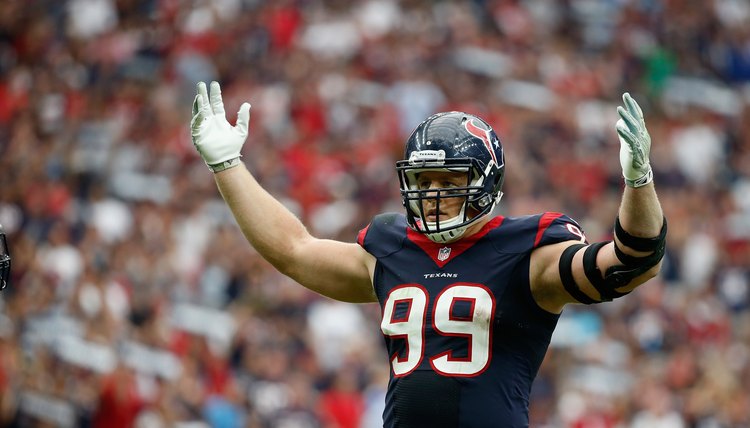 fred hall/iStock/Getty Images
JJ Watt is a future first ballot Hall of Famer. His storied career consists of three Defensive Player of the Year awards, 5x First Team All-Pro selections, five Pro Bowls, and being selected to the NFL's 2010s All-Decade Team. Watt's 2012 season was among the best in defensive player history, recording 69 solo tackles, 20.5 sacks, 16 passes defended, four forced fumbles, and two fumble recoveries.
9. Julius Peppers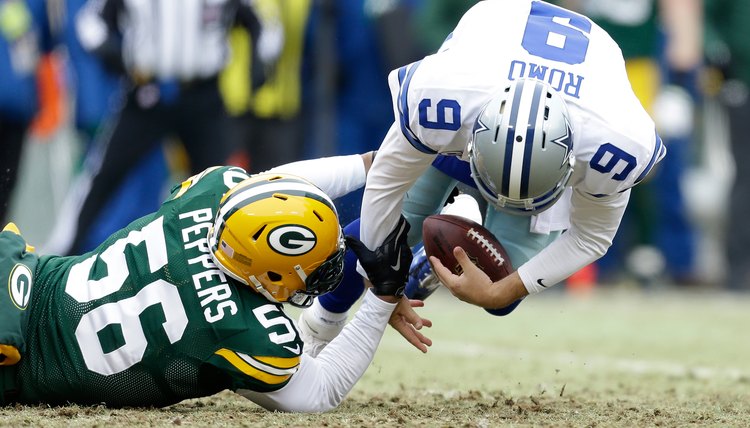 fred hall/iStock/Getty Images
Perhaps the only thing missing from Julius Peppers' resume is a Super Bowl, but that alone isn't enough to keep him off of this list. A future Hall of Famer, Peppers was named the NFL's Defensive Rookie of the Year in 2002, a 3x First Team All-Pro, a 9x Pro Bowl selection, and a member of the NFL's 2000s and 2010s All-Decade Teams.
10. Ed Jones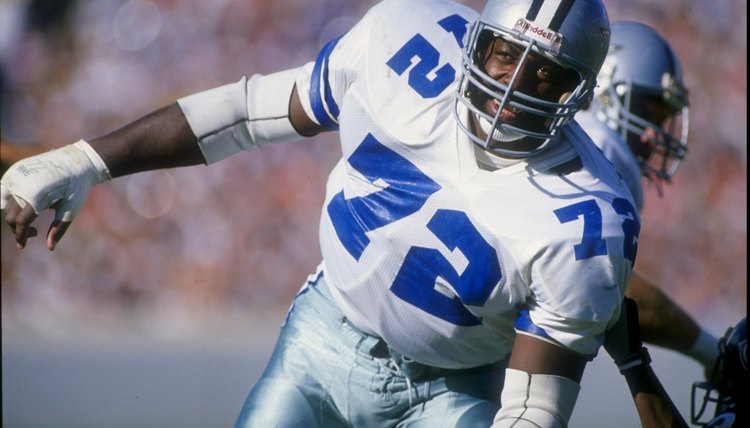 fred hall/iStock/Getty Images
6'9" Ed "Too Tall" Jones made an instant impact on the Cowboys upon bring drafted, helping lead the team to a Super Bowl XII victory. He retired a First Team All-Pro selection, a 2x Second Team All-Pro selection, a 3x Pro Bowler, and was a big part of why the NFL began to keep statistics on batted down passes.
Greatest Linebackers in NFL History
1. Lawrence Taylor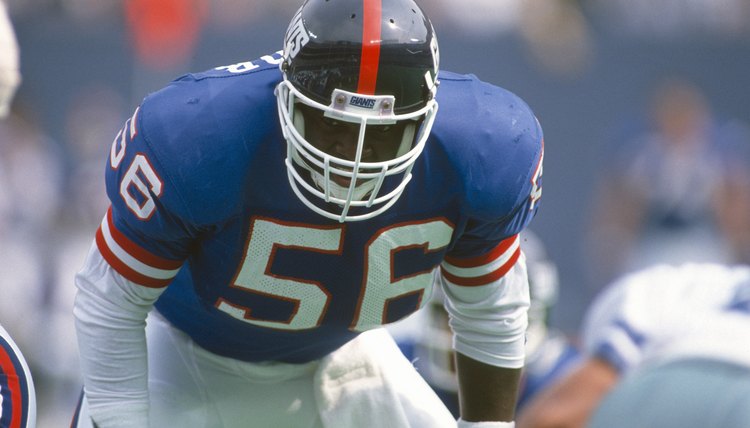 fred hall/iStock/Getty Images
Lawrence Taylor instantly made a name for himself in the NFL when he put together one of the best rookie seasons of all time, totaling a career-high 133 tackles, 9.5 sacks, 8 passes defended, two forced fumbles, a fumble recovery, an interception, and being named First Team All-Pro. Taylor would go on to be named a First Team All-Pro for 8 consecutive years after his rookie season, and was the first defensive player to be named the NFL MVP since 1971 in the 1986 season.
2. Ray Lewis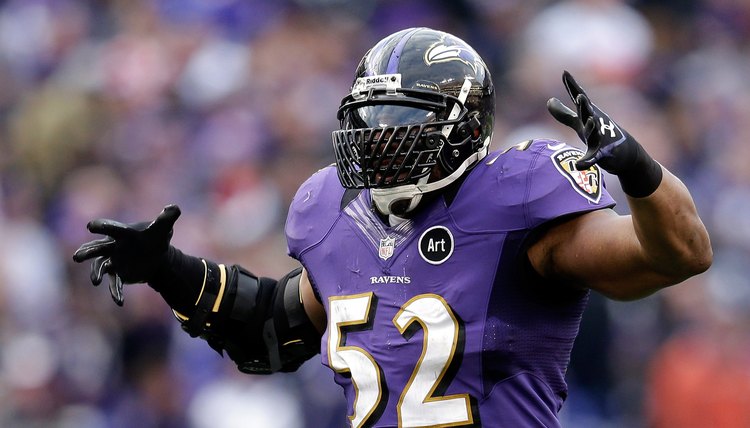 fred hall/iStock/Getty Images
Ray Lewis was a force to be reckoned with on the football field, with toughness and intensity that no one could match during his time. Retiring as a two-time Super Bowl champion, Lewis is recognized as the only player in NFL history to record at least 40 career sacks and 30 career interceptions, and is second to only Jack Ham for career takeaways by a linebacker since the 1970 merger with 31 interceptions and 19 fumble recoveries for a total of 50.
3. Dick Butkus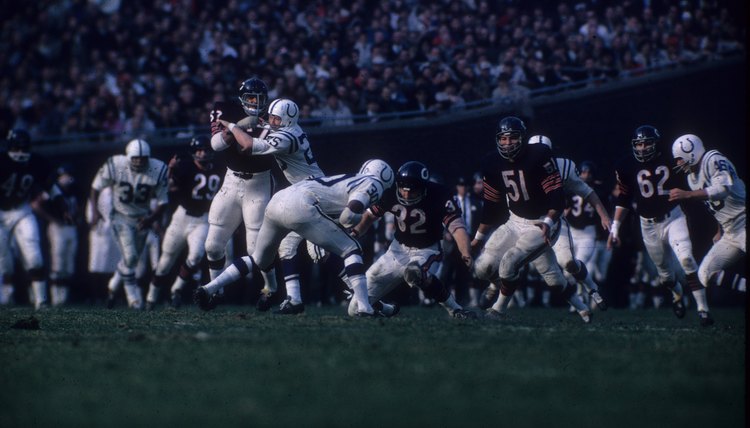 fred hall/iStock/Getty Images
Dick Butkus once said, "When I went out on the field to warm up, I would manufacture things to make me mad. If someone on the other team was laughing, I'd pretend he was laughing at me or the Bears. It always worked for me." That intensity helped Butkus earn First Team All-NFL honors as a rookie and be one of the best linebackers in each of the 9 seasons he played.
4. Derrick Thomas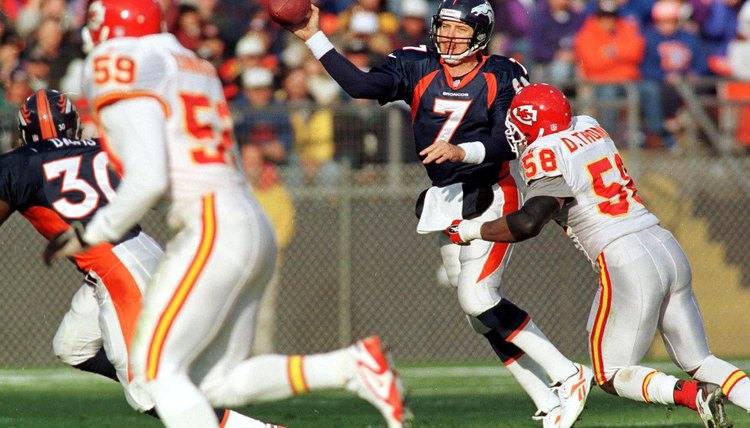 fred hall/iStock/Getty Images
After being the best pass rusher in college football at Alabama, Thomas instantly continued his success with the Chiefs, totaling 10 sacks and being named the Defensive Rookie of the Year in his first NFL season. In his second season, Thomas lead the league with 20.5 sacks, including a game against the Seahawks in which he had 7, and would go on to be named First Team All-Pro. Thomas would continue to dominate during his time in the NFL until his life was tragically cut short by an automobile accident after the 1999 season.
5. Ted Hendricks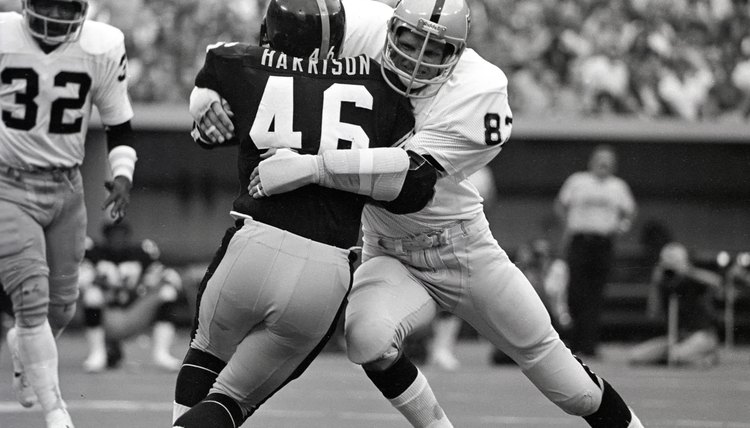 fred hall/iStock/Getty Images
One of the biggest linebackers to ever play the game, the 6-7, 220 pound Hendricks was an instant disruption to opponents' offensive games. Hendricks intercepted 26 passes throughout his career, returning them for a total of 332 yards and one touchdown. As durable as they come, Hendricks played in a total of 215 consecutive regular season games while also competing in eight Pro Bowls, seven AFC Championship games, and four Super Bowls.
6. Derrick Brooks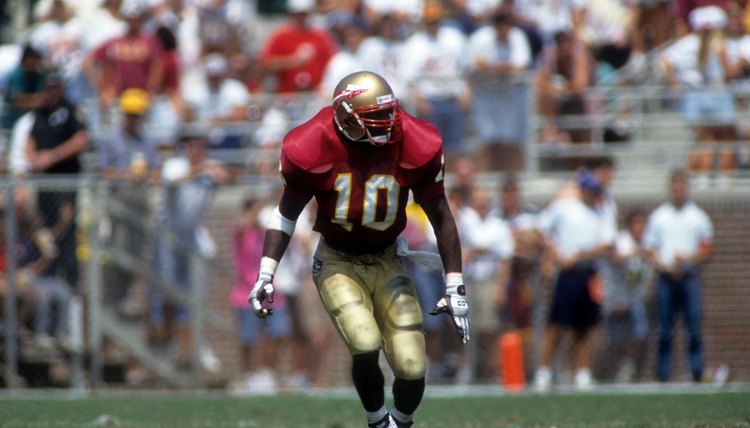 fred hall/iStock/Getty Images
After an outstanding collegiate career at Florida State, Derrick Brooks was instrumental in turning around the struggling Tampa Bay Buccaneers' defense. Never missing a game through his entire 14-season career, Brooks was named an All-Pro six times, selected to 11 Pro Bowls, and recorded 25 interceptions while also being named to the NFL's All-Decade Team of the 2000s.
7. Mike Singletary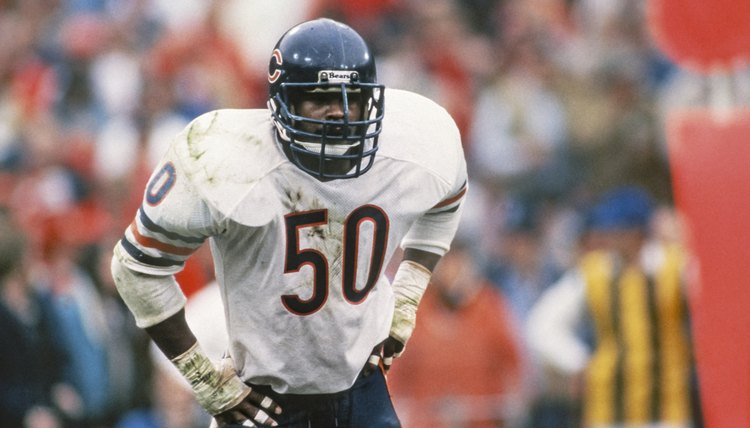 fred hall/iStock/Getty Images
Mike Singletary was one of the main leaders of the legendary 1985 Chicago Bears defense, a unit that is often considered one of the best in NFL history. Missing just two games throughout his entire career, Singletary brought a toughness and an edge to the NFL that not many players were able to do, helping him be selected to a Bears' record 10 Pro Bowls and being named All-Pro eight times.
8. Jack Lambert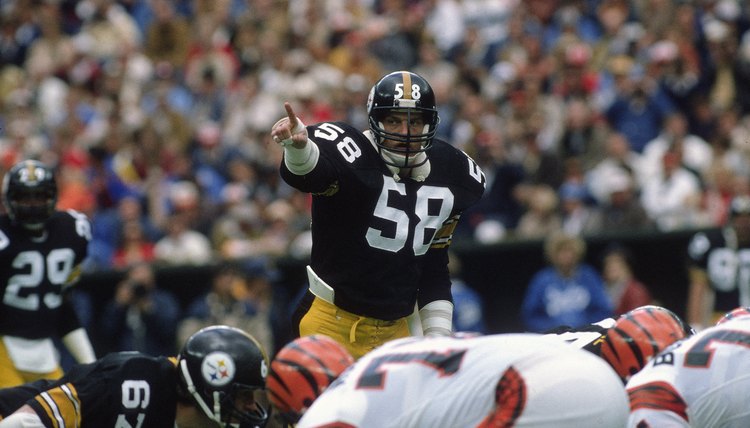 fred hall/iStock/Getty Images
After being named NFL Defensive Rookie of the Year in 1974, Lambert would become a huge piece of the Steelers' dynasty in the back half of the 1970s. One of the biggest plays of Lambert's career was a late fourth quarter interception to seal Pittsburgh's Super Bowl XIV win over the Los Angeles Rams.
9. Junior Seau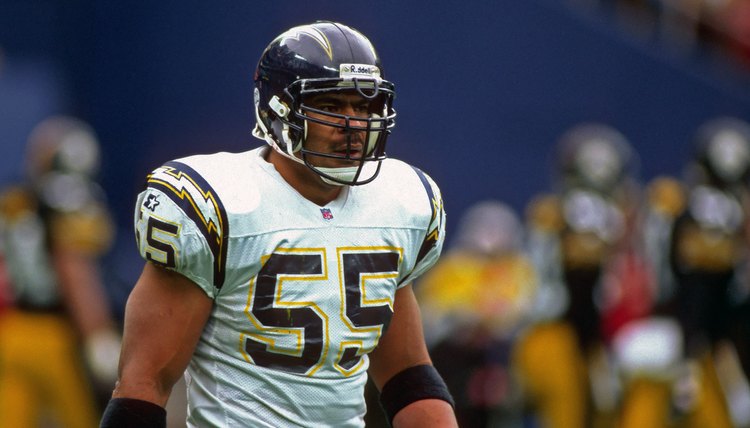 fred hall/iStock/Getty Images
Junior Seau's incredible career is highlighted by the perseverance and longevity to play 20 seasons in the NFL at an extremely high level. Playing in 268 career games, Seau recorded 10 or more tackles in a regular season game 64 times, totaled 56.5 career sacks, and intercepted 18 passes, returning them for a total of 238 yards.
Writer Bio
Blaise is a Freshman at the University of Missouri, studying Journalism at the world-renowned J school. He is the host of the Fast Five Podcast with his Childhood friend Sam Sinclair and interns with the Sports AI platform Pine Sports. He is a huge fan of the Kansas City Chiefs and the St Louis. Cardinals and hopes to cover them professionally in his near future.