What does fact checked mean?
At SportsRec, we strive to deliver objective content that is accurate and up-to-date. Our team periodically reviews articles in order to ensure content quality. The sources cited below consist of evidence from peer-reviewed journals, prominent medical organizations, academic associations, and government data.
The information contained on this site is for informational purposes only, and should not be used as a substitute for the advice of a professional health care provider. Please check with the appropriate physician regarding health questions and concerns. Although we strive to deliver accurate and up-to-date information, no guarantee to that effect is made.
Does Weight Lifting Make You Run Faster?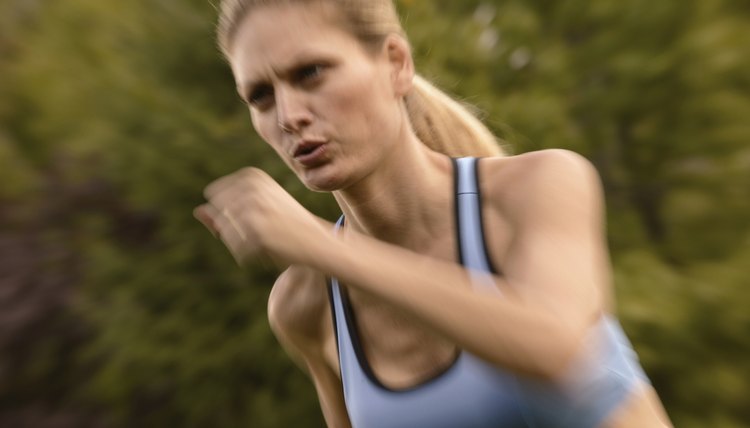 Many training methods can improve your running speed, and resistance training certainly helps. Resistance training is a tool and, like any other method, you must properly apply it. It's important to select the correct exercises and integrate them properly with your running program. Consult a health care practitioner before beginning any athletic training program.
Squatting
Barbell squatting must be the foundation of your lifting program. Deep barbell squatting builds strong, explosive legs. There is a direct correlation between your squatting power and your sprint times, according to a 2004 study published in the "British Journal of Sports Medicine." Squatting deeply builds not only your legs but your hips as well. The muscles of your hips are important in providing speed and power.
Hamstring Training
The muscles on the back of your thighs, or your hamstrings, do more than just provide running power. Your hamstrings function to protect your knee joint every time you straighten your leg. While squatting will strengthen your hamstrings to a degree, squatting alone is not enough. Exercises such as the stiff-legged deadlift and leg curl work your hamstrings much more than squatting, according to a 1999 study published in the "Journal of Strength and Conditioning Research." During your weight training, after squatting finish with a few sets of stiff-legged deadlifts and leg curls using a weight you can safely control with good technique.
Calf Training
The muscles of your calves contribute to your running power, but this depends on technique. Using good running mechanics you will strike with the front of your foot first, and get more power out of your stride. A 2007 study published in the "Journal of Strength and Conditioning Research" showed that elite runners generated more power by better utilization of the calf. Strong calves will generate more power when running, and will not only improve your running speed, but improve the stability of your ankle joints. A few sets of seated and standing calf raises will help build your calf strength.
Specific Training
All of the resistance training in the world will not help you if you do not improve your running technique. If you wish to be faster in the sprint, you need to sprint. If you wish to be able to run and quickly change directions, you must practice agility drills. Your training effects are very specific, so spend the bulk of your training time developing your running skills.
References
Writer Bio
Anthony Marrone holds a Ph.D. in kinesiology from the University of Michigan where he worked in both the athletic and nutrition departments. He began writing in 1985 and his writing has appeared in the "Journal of Strength and Conditioning Research" and the "American Journal of Clinical Nutrition."