Negative Health Effects of Football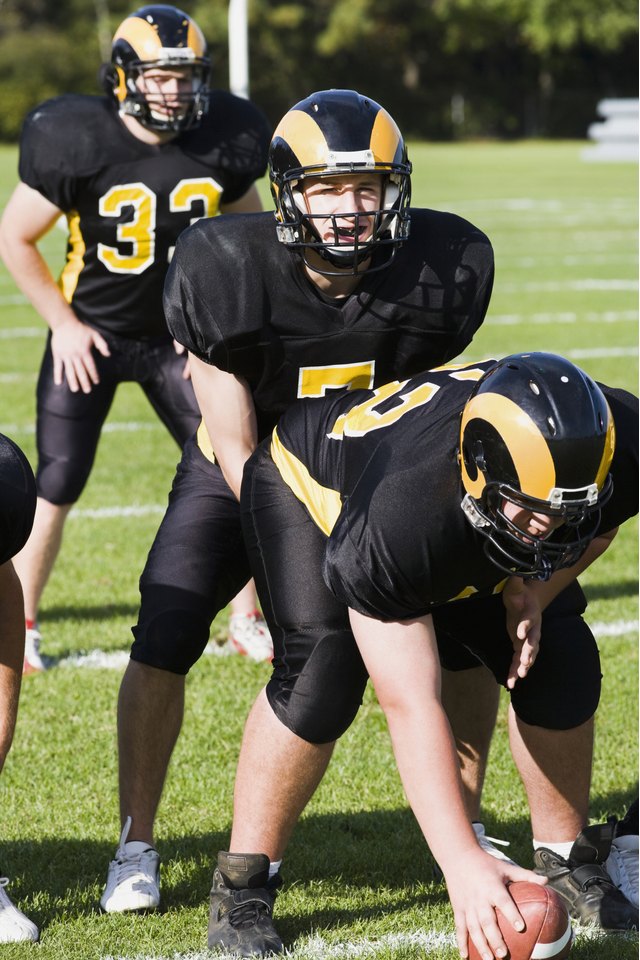 Because football in an inherently violent game, there is always the possibility of a player experiencing negative health effects, with increased attention on brain injuries. Since Roger Goodell became NFL commissioner in 2006, there has been a renewed effort to reduce the number of long-term health problems for current and former players, along with enhancing the safety of the game on the field.
Concussion Risk
The risk of concussions and concussion-related symptoms might be the biggest concern in football. According to Shankar Vedantam of Slate, researchers at Purdue University found that a high school football player received a blow to the head equal to 300 times the force of gravity and around 15 to 20 times the force of a rear-end car collision. In addition, many head injuries suffered on the football field do not produce concussion symptoms identifiable to trainers on the sideline, according to the same researchers at Purdue, meaning that players may be returning to the field after sustaining a concussion.
Chronic Traumatic Encephalopathy
A growing concern in football is chronic traumatic encephalopathy developing in the brains of players who experience repeated blows to the head. CTE is a chronic neurological condition that is believed to lead to depression and dementia among other neurological disorders. According to an article in The Washington Post, one of the leading CTE researchers at Boston University found evidence of CTE in 11 of 11 deceased players' brains that were studied.
Depression and Dementia
With the growing number of former players showing evidence of CTE at the time of their death, there is a belief that the repeated head trauma that takes place on the field leads to depression and dementia in former players. In 2011, former Chicago Bears defensive back Dave Duerson committed suicide after suffering from depression since his retirement from the NFL. After his death, Duerson was found to have a moderate case of CTE, providing even more evidence that the neurological disorder could lead to health issues in former players. The same fate awaited Junior Seau, celebrated linebacker, in 2012; who was also discovered to have suffered from CTE.
Physical Effects of the Game
In addition to neurological risk, the physical nature of the game creates additional health risks for joints and ligaments that are damaged during play. For example, football players could eventually have difficulties with their hips, knees and elbow joints because of repeated contact to those areas during their playing days. In addition, players may have difficulty with flexibility and movement as they grow older.
References
Writer Bio
Kenneth D. Hartline is a Doctor of Psychology student at Pepperdine University in Los Angeles, California. He is also the founder and CEO of Hartline Enterprises LLC, a mental performance consulting agency. In 2009 he graduated from the University of Oregon with dual bachelor's degrees in journalism and psychology and has been writing professionally since 2007.