How to Put on Baseball Stirrups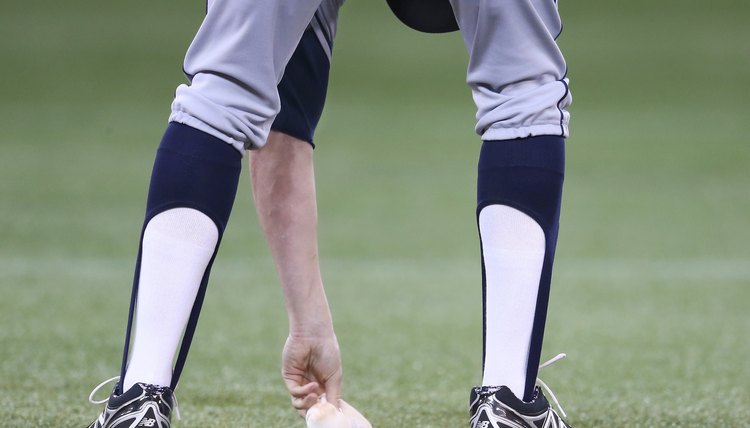 Baseball stirrups are a common addition to any ballplayer's basic uniform. Stirrups are baseball socks that are unique to the sport. They can be worn in several ways, depending on the look the player wants to achieve while playing. Styles have changed over the years and so have the socks themselves. The stirrups that youth players wear are quite a bit different than those worn by veteran players. They can also be daunting to put on for any player new to wearing stirrups.
1. Put on the baseball stirrups
Pull on your baseball pants and reach for the lower part of the pant leg.
Roll the lower parts of your pants up above your knees.
Put on your regular athletic socks. These are standard athletic socks and baseball players often refer to these as "sanitary socks."
Pull your stirrups on over your sanitary socks.
The top of your stirrup should be just below knee level.
2. Determine baseball stirrup height
Determine how high you want to wear your stirrups.
The cut out portion of your stirrup socks may go slightly above your ankle or they may go past the mid-calf level.
Lower your pant leg to the spot where you want your stirrups to be seen.
3. How to get your baseball stirrups tight
Pull the stirrup up so that is high and tight.
If the stirrup droops and the material is not taut, it will look sloppy. A streamlined look on the bases can only help you run faster since no sock material will be drooping around your shoe tops and potentially slowing you down.
What is a Simulated Stirrup?
The simulated stirrup is a standard white athletic sock, but it has a stripe sewn into the side to mimic the look of the stirrup worn by older players.
Simulated stirrups are very common in youth baseball. This is an easier way to get dressed for younger baseball players since they only have to put on one sock pair and not two.
Tip
Wear your stirrups high to replicate the old-school look. Keep them low to make a more modern fashion statement.
Check with your coach or team captain before altering your stirrups. The team leaders may prefer that all players present a consistent look.
References
Writer Bio
Steve Silverman is an award-winning writer, covering sports since 1980. Silverman authored The Minnesota Vikings: The Good, The Bad and The Ugly and Who's Better, Who's Best in Football -- The Top 60 Players of All-Time, among others, and placed in the Pro Football Writers of America awards three times. Silverman holds a Master of Science in journalism from the Medill School of Journalism.