How to Tailor Jeans a Size Down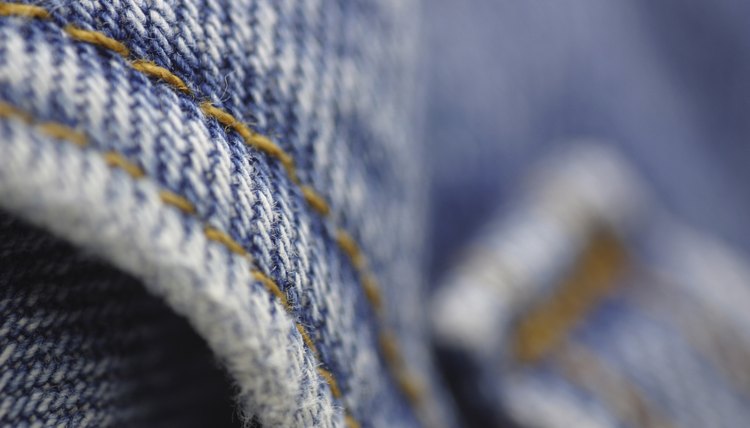 Being able to tailor your jeans one size down can make a world of difference to your wardrobe. Not only will thrift store shopping be more enjoyable, but old, ill-fitting jeans can also be salvaged into chic, wearable pieces. Even dieting can be a more rewarding experience with the knowledge that your favorite pair of jeans can be re-sized to fit you. With a little patience, you will be able to downsize any denim with ease.
Fitting the Jeans
Turn the denim inside out and put them on.
Pin along both legs on the outer seam for your desired fit, starting from below the waistband.
Remove the jeans carefully.
Sewing the Legs
Mark the placement of the pins with your fabric marker or chalk. This will be the new width of your trouser leg.
Using your sewing machine, sew along the new seam that you have marked with chalk using a straight stitch.
Sew a zig zag stitch 1/2 inch beside the straight stitch you have made, along the outer edge of the jean. This will prevent the fabric from fraying.
Trim the excess fabric along the sides of the denim, so there is no bulk.
Sewing the Waistband
Unpick the center belt loop from your jeans carefully, using a seam ripper. This is where a dart will be created to tighten the waistband.
Try on the jeans right side out. Pin the waistband to your desired waist circumference. Make note of the number of centimeters of excess waistband fabric that needs to be removed. Remove pin.
Remove the jeans and turn them inside out.
Create a straight dart by folding the waistband together at the center seam where you have just removed the belt loop. The size of the dart, at its widest part, will be the number of centimeters measured earlier when getting the correct waist circumference.
Pin the dart into place, right sides together.
Mark the dart with fabric marker or chalk. The beginning, or point, of the dart should start from the existing center seam of your jeans.
Sew a straight stitch along the dart line. If there is too much bulk, sew a zig zag stitch along the outside of the straight stitch, and cut off the excess fabric.
Hand sew the belt loop back onto the jeans. Your resized jeans are now ready to wear.
Writer Bio
Regina Olsen holds a Master of Arts in journalism. She has written for many publications, including Textile View magazine. Olsen has also ghostwritten a book about Chinese fashion, published in 2009.