Female Bodybuilding Tips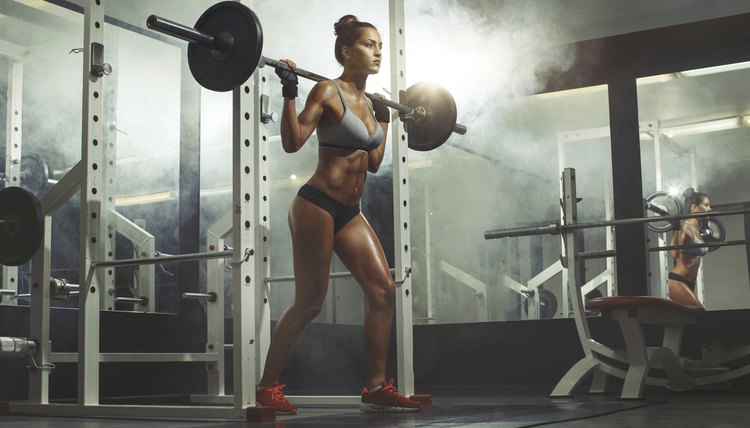 If you are a female considering a bodybuilding regimen, it is important to understand you have a few physiological disadvantages compared to your male counterparts. You have much lower levels of the hormone testosterone than men, which makes it challenging to gain muscle. You also have much higher levels of estrogen than men, which causes you to retain more fat. However, by applying key strategies to your lifestyle, workouts and diet, you can acquire a shapely, muscular physique. Consult with your health care provider to determine if you are fit enough for a bodybuilding regimen.
Considerations
According to The American Council on Exercise, not all females have equal capacities for gaining muscle. Genetics play a key role. For example, females who have a mesomorphic body structure, which features natural muscularity, have an advantage over ectomorps and endomorphs. Also, some females have higher levels of testosterone than others, which gives them an advantage in developing muscle. Despite these genetic differences, most women will experience a 20 to 40 percent increase in strength after several months of strength training, states The American Council on Exercise.
Cardio Exercise
Females, in general, carry a higher percentage of body fat than men. To be a successful bodybuilder, it is important to reduce your body fat, especially directly under your skin. Consequently, you should focus on frequent sessions of low to moderate aerobic exercise. During aerobic exercise, the greatest percentage of calories burned are from fat. Female bodybuilders should perform 35 to 45 minutes of aerobic exercise, five days a week. To determine the intensity of your aerobic exercise, you need to determine your target heart rate zone. Your training zone is determined by subtracting your age from 220, and multiplying the result by between 50 to 85 percent. For very low intensity training, your heart rate should be kept closer to the 50 percent level for at least 20 minutes. For very high intensity training, your heart rate should be closer to the 85 percent level.
Diet
According to muscleandstrength.com, females who are trying to lose fat and develop a lean, strong body, should follow a low carbohydrate diet. Women tend to burn a higher ratio of fat to carbs than men, states muscleandstrength.com. Protein is necessary to develop muscle and should be consumed in small meals throughout the day. The protein you consume should have all nine essential amino acids. Examples of complete proteins are meat, fish, poultry, egg whites, soy and whey. Each small meal should also contain monosaturated fats such as salmon, olives, most nuts and avocados. The carbohydrates you consume, in limited amounts, should be complex carbohydrates. Complex carbohydrates provide you with sustained energy. Examples of complex carbohydrates are fruit, vegetables, whole grain pasta, and beans.
Training
According to muscleandstrength.com, women should not weight train much differently than men. Instead of using light weights and performing 15 to 20 repetitions, you should lift relatively heavy weights, and keep your repetitions to between six and 12. Your focus should be on using mostly free weights, and performing compound exercises. Compound exercises utilize both your prime mover muscle and stabilizer muscles to execute the lift. Examples of compound exercises are squats, dead lifts, lunges, incline bench press, upright rows and overhead presses. It is also important to get enough rest while you are training, as muscle growth and repair occurs during rest.
References
Writer Bio
Based out of Houston, Texas, Michael Hutchins is a personal trainer who has been writing health and fitness-related articles since 1995. His articles have been featured in "Houston Health & Fitness Magazine." Hutchins has a Bachelor of Arts in speech arts from Hofstra University, Hempstead, N.Y.