Free Training for a Duathlon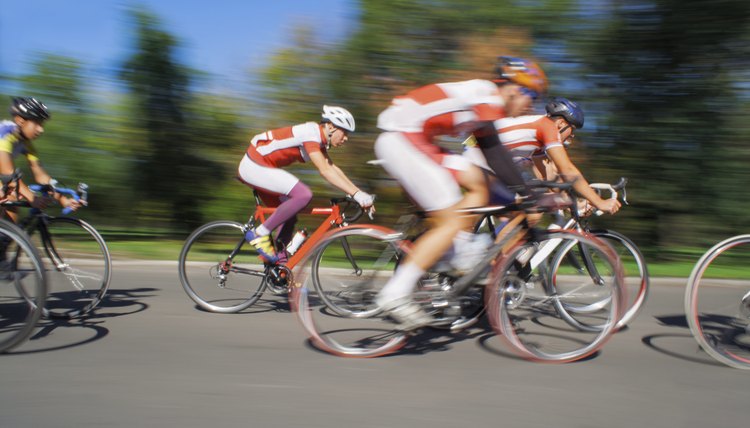 The duathlon is a run-bike-run combination, multisport race. Held as a standalone race or in conjunction with a triathlon, duathlons typically range from 50 to 200 competitors. Run-Bike-Run races are popular with athletes who may not be the best swimmers and in areas without easy access to beaches and where the weather isn't always conducive to swimming. Luckily, if you would like to get started in duathlons or get better at racing them, there are many free training plans available.
Basic Beginner Plans
Duathlete Tom Lowe provides a free 10-week training program at Run247.com. This plan gives bike and run workout times in minutes; if you want to incorporate heart-rate training zones, you'll need to figure those out for yourself. It's important to remember that with this plan, when you see a bike and run on the same day, do the run immediately after the bike. Called a "brick" workout, this trains your body to quickly move from one sport to another.
The Racing Underground offers a free "low-key" duathlon training plan that provides a general idea of the kind of training you need to do for your first duathlon, but without a strict schedule. It's up to you to determine what workout to do on what day, though the plan gives you types of workouts to be done during specific weeks.
For the Performance Oriented
Racing Underground also offers a structured training plan for those who want to focus on performance and who want to know exactly what to do on every day. This plan runs for 24 weeks, basically starting during the winter and taking you through the summer race season. The plan is individualized, requiring you to fill out questions to design your own duathlon training program.
Coach Troy Jacobson, well-known triathlon coach and Head Endurance Sports Coach of Lifetime Fitness, provides a detailed 12-week duathlon training plan on his website. The plan includes benchmark tests, aerobic and tempo workouts, run drills and strength training. Although titled for "beginners," the plan assumes a strong foundation of fitness, an aerobic base and nine to 12 hours a week to train.
Getting Ready, Quickly
If a duathlon is coming up quickly, Triradar.com offers several four-week training plans to get you ready fast. The "Winning Duathlon" plan includes two programs, one for five to seven hours per week and the other for eight to 10 hours a week. The "Spring" duathlon plan gets you ready for early season races with six-hours-per-week and nine-hours-per-week plans for four weeks. And the "Autumn" plan for late season race has two 12-week plans for your next duathlon.
Taking Your Duathlon Performance to the Next Level
If you decide duathlon is your sport, USA Triathlon offers a number of resources to improve your training and racing. These include topics such as how to improve your run speed, how equipment choices can save you time, tips for faster transitions and proper run and bike pacing for your fastest duathlon yet.
References
Writer Bio
Kenneth Johnson escaped the corporate world and now works in the health and fitness industry. He is a wellness and fitness coach, health educator, NASM personal trainer and USAT Triathlon Coach. Johnson holds a Master of Science in exercise science and MBA in marketing.