What Are the Best Women's Golf Sunglasses?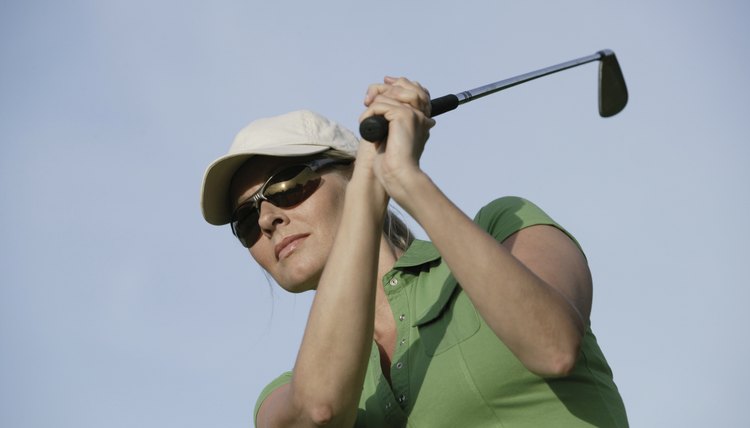 Enhance your golf game with the right pair of women's sunglasses. There are many types of sports sunglasses available for women who enjoy the game of golf; the task is to choose the best pair for you. Choose golf sunglasses that fit you well, you enjoy wearing, and that are the right shade for the conditions that you generally play golf in. A good pair of sunglasses can be the difference between bogeying and shooting below par.
Shape Matters
The shape of the sunglasses that you choose is important. You want to keep the light out of your eyes as much as possible while regulating the available light with tint. Wraparound sunglasses a practical choice, but they are not the most stylish choice for women. Women with heart shaped faces can benefit from cat eye and large round or oval styles. If you have an oblong face shape you should choose a pair of over-sized shades for playing golf. Most shapes work on oval faces. If you have a square face your best choice will not have harsh geometric lines, while round faces benefit from those shapes. Make sure that the shape shades your eyes from the sun, as this is the most important part of sunglasses used for women playing golf.
To Tint or Not to Tint
A brown, gray or green tint is often used to make light appear neutral, which is good if you are used to golfing in sunny conditions. Women often go for these tints for golf sunglasses because they are neutral and can be worn with anything. Yellow and rose tints brighten up the outdoors, which can be perfect for low light or cloudy days. These tints are harder for women to wear, as they stand out much more than neutral tinted shades. If you are going to buy one pair of sunglasses to wear during your golf games, it is best to buy a protective pair with a neutral tint so that you can wear them in most light conditions.
Comfort Wins Over Style
No matter what style or color you choose, make sure that your sunglasses fit your face well and feel comfortable on your face. Choose sunglasses that are specifically designed for women to get the best fit. You need to wear them for at least 10 minutes to make sure that they do not pinch behind your ears or feel heavy and painful on the bridge of your nose. Metal glasses are often lighter than plastic frames, which provides more comfort to wearers. Rubber nose pieces can help keep your glasses from slipping down your nose, and provide added cushion for comfort and support on your face. You do not want your glasses sliding down your nose while you are taking a big swing on the golf course.
Quality, Quality, Quality
The brand that you purchase is the least of your concerns, but you do need to seek out quality women's sunglasses. They do not specifically need to be made for golf, but you should at least try brands that are made with sports in mind. Choose the highest quality women's golf sunglasses that are in your budget, regardless of brand name. You want the technology to protect your eyes, so look at features and fit, not the most expensive brand that you can find.