What NCAA Teams Have Won Both a Football & Basketball Championship?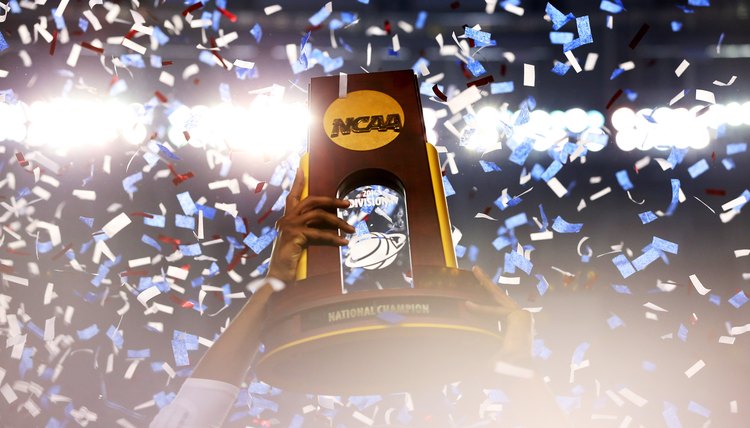 Both college basketball and college football have their blue blood programs at the Division I level. In college football, it often feels like the same few football teams are at the top of the rankings and competing for a spot in the National Championship game come January, and in college basketball, the blue bloods are always sure to leave their mark on March Madness and have solidified themselves as perennial NCAA Tournament and Final Four contenders year in and year out.
It's not often that these football teams and men's basketball teams with rich championship history come from the same school, but there are a select few that have been able to produce National Champions in both sports.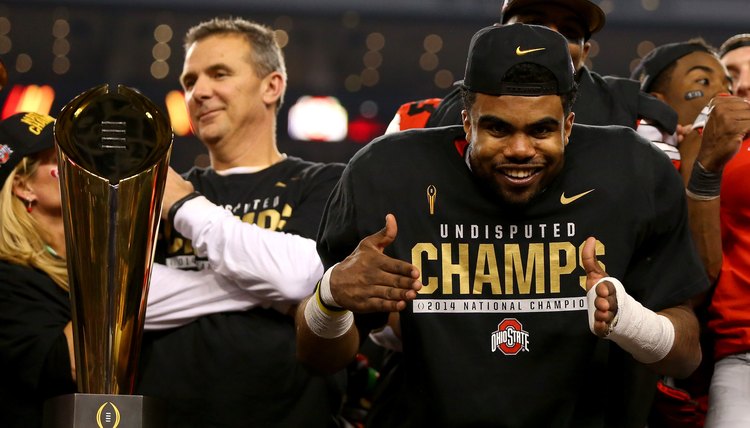 SportsRec
Big Ten
Illinois, Minnesota, Wisconsin, Iowa, Penn State, Indiana and Nebraska have all been National Champions in either football or basketball at one point, but only four schools that currently play in the Big Ten conference have won national championships in both sports.
‌Michigan‌: The University of Michigan won or shared nine NCAA football titles between 1901 and 1997. The latter team was led by Charles Woodson, the only primarily defensive player to win the Heisman Trophy. Michigan won the basketball championship under unusual circumstances in 1989. At the end of the regular season, head coach Bill Frieder announced he would leave for Arizona State the following season. He was then replaced by assistant coach Steve Fisher, who guided the Wolverines to the title.
‌Ohio State‌: Ohio State has won or shared eight football titles, most recently winning the College Football Playoff National Championship in its inaugural year in 2014. The Buckeyes won the NCAA basketball tournament in 1960.
‌Michigan State‌: Michigan State won the football title by itself in 1952 and shared honors in 1965 and 1966. The 1966 team ended its season with a de facto championship game against Notre Dame, which ended in a 10-10 tie when the Irish chose to run out the clock after gaining possession on their 30-yard line with 1:10 remaining. Led by Magic Johnson, Michigan State won the 1979 NCAA basketball tournament, and would earn its second basketball title in 2000.
‌Maryland‌: The Terps won the football title in 1953 and the basketball crown in 2002.
SportsRec
Pac-12
USC, Washington, Arizona, Utah and Oregon have all been National Champions in either football or basketball at some point, but only three current members of the Pac-12 conference have earned titles in both sports.
‌Stanford‌: The Cardinals tied Alabama 7-7 in the Rose Bowl game following the 1926 season and the teams shared the national title, and then won the NCAA basketball title over Dartmouth in 1942.
‌California‌: The University of California won or shared three consecutive football championships from 1920 to 1922, and defeated West Virginia to win the 1959 NCAA basketball championship.
‌UCLA‌: UCLA shared the 1954 football title with Ohio State, but it is best known for winning 11 NCAA basketball titles. The Bruins won 10 championships in 12 seasons under coach John Wooden from 1964 through 1975, then won again in 1995. Four of Wooden's teams went undefeated. His Bruins featured stars such as Gail Goodrich, Lew Alcindor -- later known as NBA legend Kareem Abdul-Jabbar -- and Bill Walton.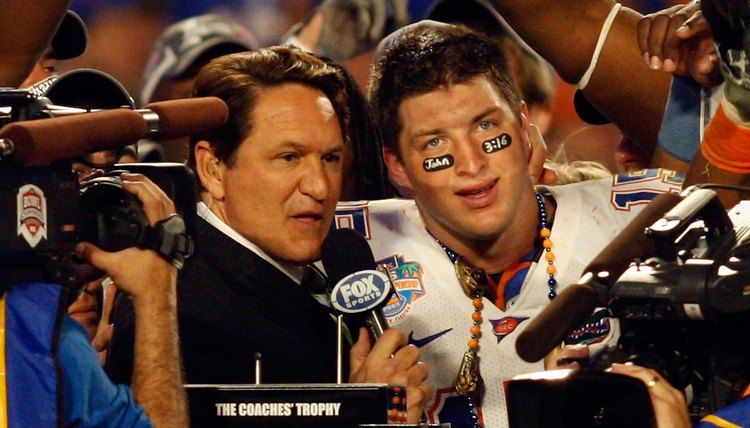 SportsRec
Southeastern Conference
Texas A&M, Ole Miss, Georgia, Auburn, Tennessee, LSU, Kentucky and Alabama have all won a National Championship in either football or basketball at some point, but only two of the current schools in the SEC can claim National Titles in both sports.
‌Arkansas‌: Arkansas shared the 1964 football national title with another SEC school, Alabama, plus Notre Dame. The Razorbacks also won the 1994 NCAA championship game -- with President Bill Clinton, the former Arkansas governor, in attendance.
‌Florida‌: Florida has four undisputed football titles, including BCS championship game victories in 2006 and 2008, and again in 2013 before the FBS switched over to the College Football Playoff model. Tim Tebow, the 2007 Heisman Trophy winner, contributed to the 2006 victory and was the offensive most valuable player of the 2008 title game. The Gators also earned consecutive basketball championships in 2006 and 2007, and in 2006, became the first school to win the NCAA football and basketball championships in the same season.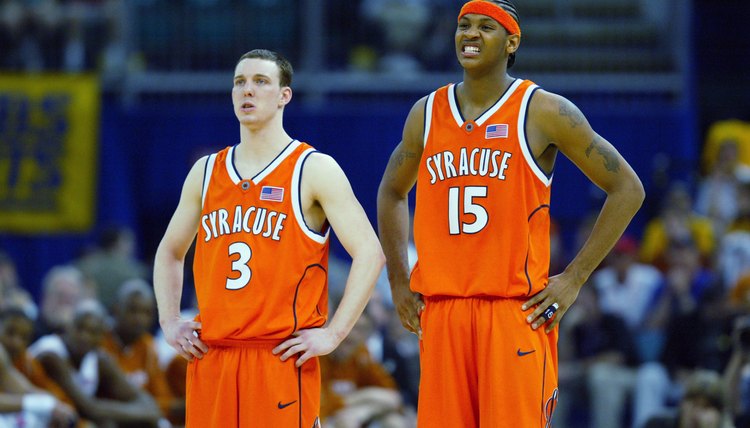 SportsRec
Atlantic Coast Conference
Pittsburgh, Miami, North Carolina, Georgia Tech, Duke, Florida State, Louisville, NC State and Clemson have both won a National Championship in either football or basketball at some point, but of the teams currently in the ACC, there is only one school with an athletics program that has won a National Championship in both sports.
‌Syracuse‌: Syracuse earned its football title in 1959, then won the NCAA basketball tournament in 2003 with a young team led by freshman Carmelo Anthony.
References
ESPN College Football Encyclopedia: The Complete History of the Game; Michael MacCambridge
Writer Bio
M.L. Rose has worked as a print and online journalist for more than 20 years. He has contributed to a variety of national and local publications, specializing in sports writing. Rose holds a B.A. in communications.