The Average Distance Run in a Soccer Game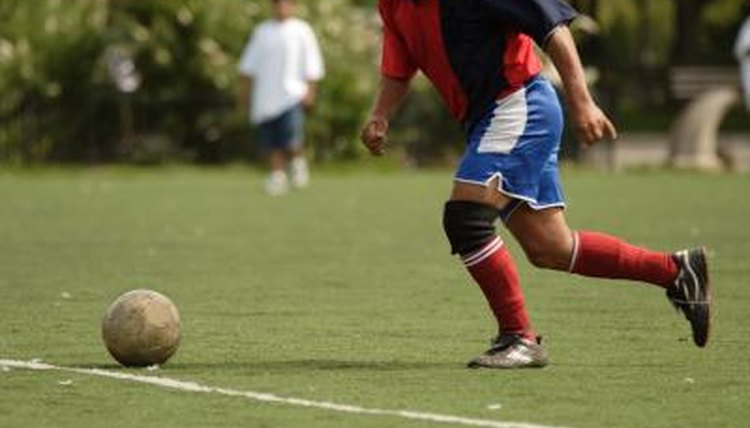 It is a little more than 380 miles from Boston, Massachusetts, to Dover, Delaware, which is roughly the same distance midfielder Steven Gerrard covered while playing for his English Premiere League club team Liverpool FC and the English national team during the 2005-06 season. About one-tenth of that running was done at or near sprinting speeds. This achievement might seem exceptional, but the dynamic Gerrard is only slightly above the norm in the EPL in terms of distance covered.
Averages
According to The Sunday Times website, midfielders in England's Premiership worked the hardest in the 2005-06 season, running on average 7 miles, 246 yards per game. Right midfielders win the distinction of performing the most "high-intensity" runs -- running at a three-quarter sprint speed or faster -- averaging nearly 150 bursts per game that cover 339 yards. Discounting goalkeepers, centerbacks ran the least amount per game, yet still impressively averaged six miles, 332 yards. Gennaro Gattuso of Italy's AC Milan racked up more than 6-1/2 miles in the 2007 semifinal of the Champion's League, suggesting that the particular league a player is a part of has no bearing on the average distance covered during a professional soccer match.
Pace
Soccer players don't run at the same pace for a game's entire 90 minutes. Running speeds vary from jogging to moderate running and sprinting. Quite often, a player will even walk during a game. Research data shows, however, that the degree of moderate running and sprinting activities has dramatically increased in the past several years in professional soccer. The number of so called "high-intensity" bursts performed by teams per game nearly doubled in a three-year span, to the Washington Post story. What's more, players increased the amount of ground they covered during sprints by 40 percent, a sign the game is becoming more intense and that players are raising the bar for physical condition standards.
Tracking Technology
The tracking technology used to measure a soccer player's running distance during a game is a complex system of 16 cameras that record every portion of a soccer field. Computers analyze the feed from the cameras and calculate trajectories of player movements. In addition to figuring out how far a player runs, the system can determine elements such as shot speeds and distances between a goal and ball position during free kicks. Digital tracking technology has vastly improved upon the old-fashioned way of determining running distances, which consisted of reviewing game footage to manually compare each player's movements to the field's dimensions.
Application
Statistics about a player's running distance and intensity provides valuable insight for managers and coaches, enabling them to make informed decisions about who to replace, drop from the team or use in a different position. Tracking technology has made it difficult for players performing below average to hide their shortcomings. At the same time, it has given some players the opportunity to showcase their true potential, such as goalkeeper Petr Cech of the Premiership's Chelsea FC. After defeating Spanish club FC Barcelona in a 2006 Champions League game, Cech came sprinting out of his goal and made the fastest run of the game of any player on the field to celebrate the win.
References
Writer Bio
Dan Harriman began writing professionally in 2009 and has a varied background in marketing, ranging from sports management to music promotion. Harriman holds a Bachelor of Science in journalism with an emphasis on strategic communications from the University of Kansas and earned the International Advertising Association's diploma in marketing communications.