What to Wear Under Pads for Football
Shoulder pads are an essential piece of equipment in the physical sport of American football. Made out of foam-like material that rests against the body, they offer protection around the shoulder, upper back and chest areas of a football player.
Newer shoulder pads use materials that help disperse heat, but it's still important to wear a layer of clothing underneath the shoulder pads to make sure the padding doesn't trap too much heat against your body. Also, wearing a layer underneath the shoulder pads can help keep the pads from sliding around when you begin perspiring. Most football players wear one of three things under their shoulder pads:
T-shirts

Compression shirts

Padded shirts
T-Shirts
This is perhaps the most popular of the garments to wear under shoulder pads. Most people have an abundance of T-shirts, so it's easy to find a few to use. Lightweight cotton T-shirts are the best option so you don't run the risk of overheating in warm weather. Many football players cut the sleeves off of the T-shirts for added ventilation.
Compression Shirts
Also called performance shirts, compression shirts conform tightly to the shape of the body and come in long-sleeve or short-sleeve styles. They are often made from nylon, lycra or polyester, or a combination of those materials. These materials are great for wicking away moisture from the body, which can help keep your core from overheating. An overheated core leads to the risks of the following:
Fatigue

Reduced performance

Dangerous heat-related illnesses

Under Armour, for example, uses special patented materials known as HeatGear and ColdGear in their compression shirts.
HeatGear material uses a special microfiber blend to keep your core dry

ColdGear material traps warmth under the shirt but also continues to wick away perspiration

Other companies that offer compression shirts, as well as warm and cold weather compression shirts, include Easton, Evoshield, McDavid, Rawlings and Nike. Some performance shirts, like the Grippy shirts manufactured by the company Under Armour, use patented ArmourGrip material on the shirt that help hold shoulder pads in place.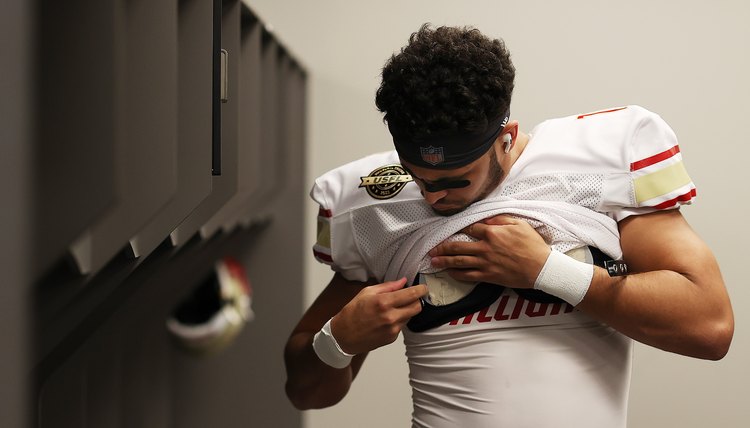 SportsRec
Padded Shirts
These are shirts that offer extra padding for added protection. Under Armour, for example, sells undershirts that offer padding around the sternum, rib area, underarm area and shoulders. These shirts are made from the same HeatGear material that their compression and performance shirts are made from.
Other companies that offer padded undershirts include:
Champro

Nike

Schutt

McDavid

Flak Jackets
Flak jackets, or rib protectors, are a piece of equipment that football players wear to protect their ribs and lower torso, which are not protected by the shoulder pads. Most commonly worn by quarterbacks, they offer a layer of padded protection for the parts of the body that are exposed when throwing the football.
Depending on the brand, some flak jackets are put on and worn like a vest, while others can be screwed onto and attached to the actual shoulder pads themselves.
Precautions
Football is considered a fall sport, but practices often begin in August, one of the hottest months of the year. It is therefore important to take precautions to prevent possible heat-related illnesses:
Limit clothing to a single layer

Keep any undergarments, especially under shoulder pads, lightweight

Avoid wearing heavy clothing or long sleeves during warm weather

Change sweat-soaked clothing whenever possible

References
Writer Bio
Chris Kinsey works as an editor for a medical publisher and has experience dealing with many topics, ranging from athlete's foot to cancer and brain injury. Kinsey has a great deal of freelance experience writing for sports and parenting magazines as well. Kinsey holds a Bachelor of Arts in communications from California University of Pennsylvania.