Why Do Gymnasts Use Chalk?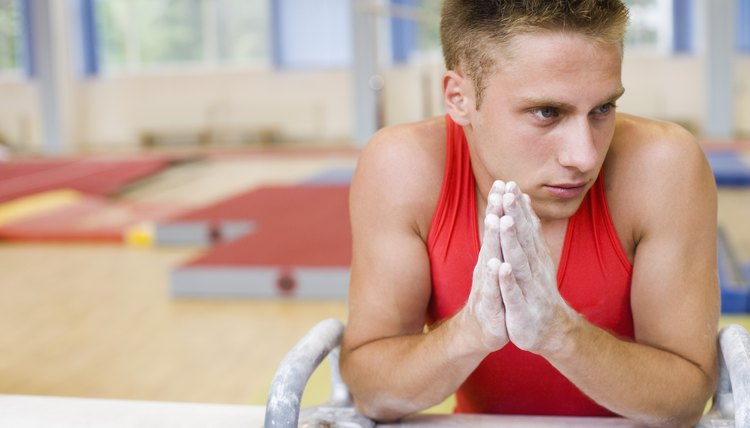 In every gymnastics facility, a large tub of powdered chalk is as common as bars, beams and mats. During practices and meets, gymnasts liberally dust their hands and legs with chalk to absorb sweat and improve their grip strength during events. This type of chalk can be used in almost every gymnastics event and is used in other competitive sports that focus on grip strength.
Types
The type of chalk used in gyms is called magnesium carbonate (MgCO3), a white solid that occurs in nature as a mineral. It is available in three forms: as a powder, a solid block that looks similar to soap, and a liquid. The powder form is the messiest, so using block chalk and liquid chalk is preferable if you train in a gym that forbids messy powder chalk. Liquid chalk transforms into solid chalk seconds after it is applied and is legal for use in all competitions.
Function
Gymnasts use chalk to dry their hands by absorbing sweat. It ensures a reliable and strong grip that prevents slipping off the equipment from your hands. Common events gymnasts use chalk for include pommel horse, rings and bars, and they even chalk their legs for the high bar and uneven parallel bars.
Comparison
Magnesium carbonate is much different from the chalk used on sidewalks and blackboards. It also is not the same as baby powder. Baby powder absorbs sweat from your hands, but it decreases the friction between the bar and your hands, weakening your grip strength.
Other Sports
Other sports and activities that use magnesium carbonate include powerlifting, Olympic lifting, strongman lifting, rock climbing, and field events such as the shot put, javelin throw, hammer throw and discus throw. Any sort of exercise or activity that focuses on grip strength can be benefited by the use of chalk.
Writer Bio
Specializing in health and fitness writing, Lance Fuller is currently interning for the National Education Association in Washington, D.C. Fuller was the first student to write about health and fitness for "The Independent Florida Alligator," America's largest student-run college newspaper. Fuller holds a Bachelor of Science in journalism, focusing on health and fitness writing, from the University of Florida.