Football Basic Skills and Techniques
Football often comes down to the strategy that a team employs at the end of close games. Out-think and out-execute your opponent at crucial moments, and your team often will find a way to win. However, competing hard on a consistent basis requires focusing on the fundamentals of the game. A team must correctly execute blocking, tackling, passing accurately, catching and running with the ball.
Blocking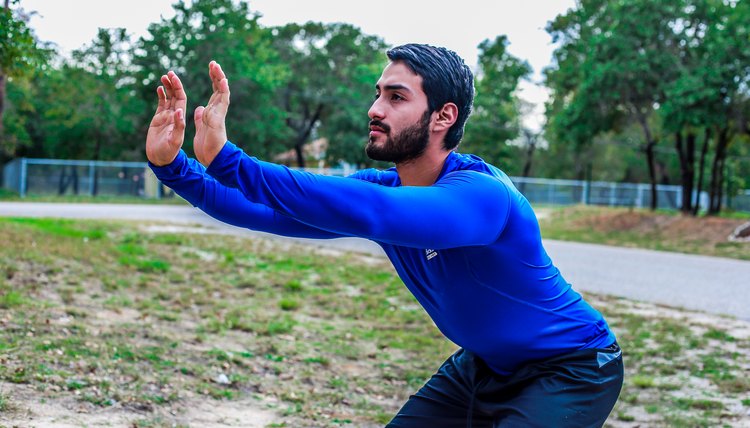 Gabriel Garcia/Demand Media
Offensive football is predicated on strong blocking. The offensive line must open holes for the running backs and prevent pass rushers from getting to the passer. Other offensive players must block, as well. Offensive linemen must drive their shoulders into the midsection of their opponents and move them downfield to effect successful blocks, and they must hold their position and form a pocket around the quarterback to protect him when he plans to pass.
Tackling
Gabriel Garcia/Demand Media
You must show toughness, strength and determination when tackling, but it also takes excellent technique to tackle consistently. It's not enough to run hard at the ball carrier and apply your shoulder to his chest when you make the hit. That play might result in a knockout shot that gets the entire stadium rocking, but it also might result in a missed tackle. Drive your shoulder into your opponent's hip and wrap your arms around his midsection before powering him to the ground. Never let go once you wrap up an opponent.
Passing
Gabriel Garcia/Demand Media
A quarterback needs arm strength, accuracy, a quick release and the ability to take a hit and still make the play. Quarterbacks have to work on their passing form and accuracy in practice so they can be dependable in game situations. Bring the ball back to ear level, step toward your target and throw the ball by extending your arm. Look at several spots on the field before you throw the ball. You can't just look toward the intended receive or the defense will have a strong chance of making an interception.
Receiving
Gabriel Garcia/Demand Media
Pass receivers have to avoid the jam at the line of scrimmage, run crisp pass patterns and learn to catch the ball in their hands. Receivers need to extend their hands in front of their bodies and form a target with for the quarterback with their thumbs and forefingers. Receivers can't let the ball rebound off their chest or shoulder pads and then try to catch it because the rebound may be difficult to control.
Writer Bio
Steve Silverman is an award-winning writer, covering sports since 1980. Silverman authored The Minnesota Vikings: The Good, The Bad and The Ugly and Who's Better, Who's Best in Football -- The Top 60 Players of All-Time, among others, and placed in the Pro Football Writers of America awards three times. Silverman holds a Master of Science in journalism from the Medill School of Journalism.